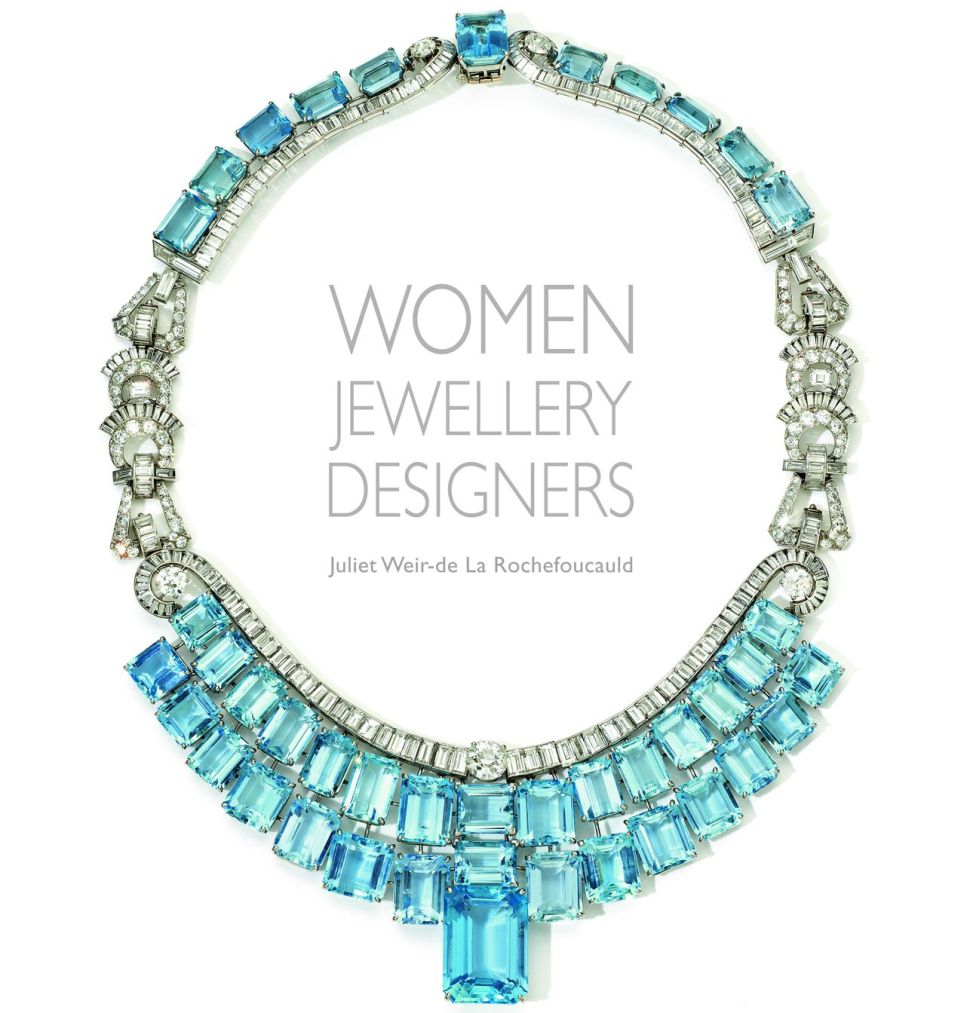 The newest release from Antique Collectors Club is an impressive tome called Women Jewellery Designers. Written by Juliet Weir-de La Rochefoucauld, and clocking in at 360 pages, it's big enough to make you break a sweat if you curled it a few times. This elegant release is exactly how a book highlighting women jewelry designers should look. The icy-blue aquamarine necklace of the front cover, designed by Olga Tritt and currently owned by Wartski (jewelers to the Queen and the Prince of Wales) in London, is well suited to being a cover star.
Divided into three historical sections, the book begins by introducing the female designers who were working between World Wars I and II. Tritt is highlighted here, along with Coco Chanel and Suzanne Belperron. Though women are the primary wearers of jewelry, during this era, the trade of designing these luxury items was almost entirely ruled by men. Weir-de La Rochefoucauld explains how the wars, and subsequent changes to gender diversity across industries, as well as recent artistic enlightenments, brought about about a shift that allowed women entry into the field.
The section that focuses on the period after WWII up to the 1980s features famed designers like Paloma Picasso, Marina B., Elsa Peretti and Angela Cummings. A time period characterized by great optimism after the war, this era saw a surge in creativity in epicenters like New York City and Paris, due in large part to advances in technology, shifting social attitudes in the 1970s, and the 1980s embrace of consumerism.
Perhaps the most exciting part of this hefty edition is its focus on the women that are currently creating and designing. Why? Because they're still working now, actively innovating in the field of jewelry design. These are the designers to keep your eye on—and maybe earmark an item for that upcoming birthday, anniversary, or special event. Here are four you need to know.
The highly acclaimed designer for Dior Haute Joaillerie, de Castellane took over this role in 1998 after a proven track record designing for Chanel for 14 years. Her signature style is bright, colorful, lots of florals and neon. She has a penchant for making fine jewelry fun, in the form of oversized and large-scaled pieces. As she explains in the book, "Undoubtedly this stems from my childhood memory of trying on rings belonging to adults."
https://www.instagram.com/p/BPU0_7NhBwu/?taken-by=nehadanijewels
Neha Dani is known for taking inspiration from both her native India and Europe, fusing them into a unique style that is recognizable across her pieces. Based in India, the young Dani got her start in Mumbai, before moving to Delhi to establish her own line. Her work often features lightweight titanium and neon-colored rhodium plated gold pieces that are absolutely smothered in diamonds.
Crevoshay first began her creativity-filled career as an artist and transitioned into jewelry design after moving to India where she lived for nearly four years. She often uses incredibly unique gemstones—some inlay pieces, some carved pieces—and ancient techniques as inspiration when designing. Her work has been on exhibit at the museum at the Gemological Institute of America, as well as the Carnegie Museum of Natural History.
Since launching her line in 2006 Péan has become known for her use of alternative and sustainable materials, many of which have never been seen before in contemporary mainstream design. A beautiful diamond ring set with fossilized walrus ivory or fossilized dinosaur bone may seem wild for most people, but this is par for the course in Péan's creations. She sources many of these items herself, traveling to connect with artisans in tight-knit communities, and searching for her next unique piece of material.
Available September 15th, 2017, Women Jewellery Designers is an Antique Collectors Club release.