X-rays have been a go-to tool for decades among archaeologists looking to understand art from the past, but recent technological advances are now allowing experts to unlock more secrets from the ancient world than ever before.
Archaeologists working in the world famous Roman era cities of Herculaneum—a resort town that, along with its neighbor Pompeii, was preserved in ash in 79 A.D. following the eruption of nearby Mount Vesuvius—have successfully used a newly developed, high resolution X-ray to reveal a previously unnoticed fresco portrait, as well as to identify the materials used to create the once-colorful work, reports Smithsonian magazine.
The portrait of a young woman was first excavated nearly 70 years ago in Herculaneum's "House of the Mosaic Atrium," according to a press release published on Science Daily. The painting's color and clarity was probably vibrant when it was first discovered, according to Pratt Institute's Eleonora Del Federico. However, exposure and time have worn away the already delicate, over 2,000-year-old pigments, making the painting nearly impossible to see today with without magnification.
"By unraveling the details of wall paintings that are no longer visible to the naked eye, we are in essence bringing these ancient people back to life," said Del Federico in a statement. "And learning more about the materials and techniques they used will help us to better preserve this artistry for future generations."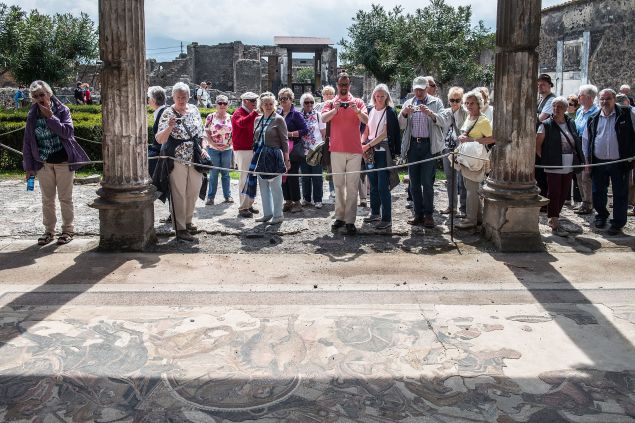 The team working at Herculaneum used a macro X-ray fluorescence instrument called ELIO to scan the faded painting and identify elements and pigments present on the surface of the wall. This the first time that the ELIO instrument has been used to study a Roman fresco, Del Federico told Seeker.
Beneath layers of dirt and seemingly blank space, the team found that iron-based pigment was used to sketch the woman's figure and face, lead pigment was added to highlight her eyes, potassium and a green-colored Earth pigment on her cheeks and for skin tone.
"This young woman is gone forever, but our study has revealed in remarkable detail her humanity, her thoughtful expression and her beauty," Del Federico says.
Del Federico and her team presented their full findings on August 21 at the 254th National Meeting and Exposition of the American Chemical Society.