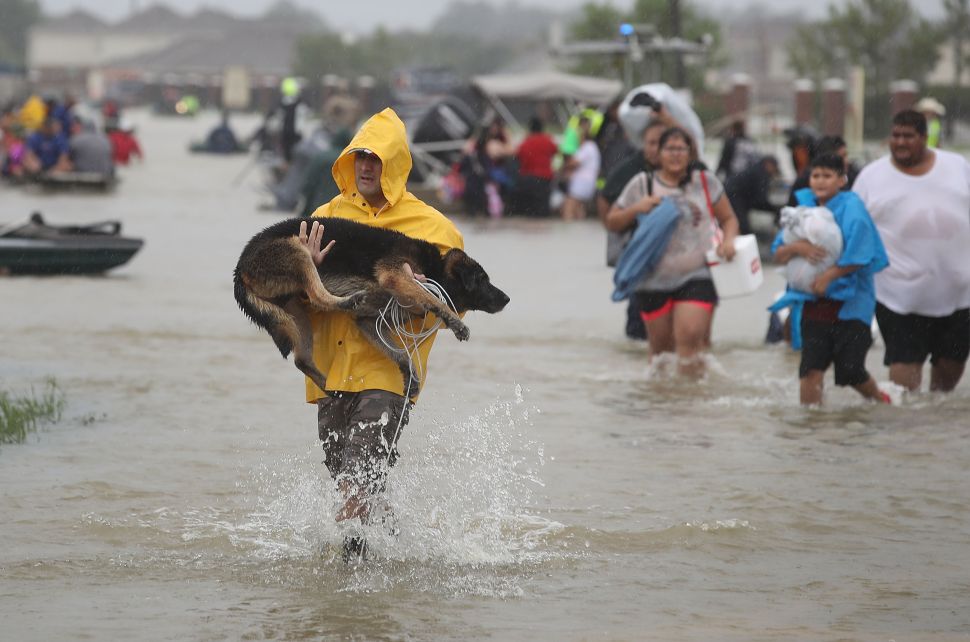 An app that could best be described as a modern CB radio has proven to be an indispensable method of communicating during Hurricane Harvey rescue efforts. Called Zello, it's kind of like a walkie-talkie on your phone, programmed to use a preexisting button on your device for push-to-talk.
Louisiana's Cajun Navy, an informal organization of boat owners who banded together after Hurricane Katrina, recommended that those seeking assistance use the app as the primary mode of requesting help from the group, noting in a Facebook post that cell service was not reliable in the area. They instructed users to type in "Texas search and rescue" once the app had been downloaded and opened. From there, anyone needing assistance could connect to volunteers who would be listening in their local areas.
There are a number of channels that show up if you search "Harvey" or "rescue," but on a blog post explaining how to best make use of Zello in Harvey-afflicted areas, the startup singled out a few of the most robust support groups to contact for immediate aid. Those were CajunNavy, Texas Search and Rescue, The Cajun Navy Dispatch, and Boaterstexas. But channels offering all types of Harvey-related help have proliferated. Both the Harvey Animal Rescue and Harvey Small Animal Rescue channels have been inundated since they were established. 
Manned by what seemed to be one group of strangers-turned-kindred-spirits, the volunteers monitoring these channels used a combination of the Zello app, a Facebook group and a Google crisis map with updatable pins to connect to people. Users advertised available pasture land for horses that needed to be relocated; and a mass decision was made to call in the Texas A&M Veterinary Emergency Team to a vacated property that a group of young men had gone to investigate, finding and an emu, a longhorn steer, lemurs, tropical birds, wallabies, and more cats than they could count in residence.
Last night, after a litter of kittens was rescued and the relieving news was passed along to the channel, the audio equivalents of high fives were voiced across the platform, mixed in with other requests and ongoing conversations. In the world of Zello, attentive listening is crucial. But the critical factor remained: all messages got through, no lines were jammed and no busy signals heard by anyone needing support.
Proving its value during this disaster should only help the six-year-old app become more popular, and more widely used during times of crisis—whether those are national or personal emergencies.  Already midwives can be found on the Zello channels like Houston Midwives for Pregnant Mammas, which was created for moms in labor who were unable to make it to the hospital. Currently available in 22 languages, the company is planning to add hearing aid integrations, and is testing and certifying other accessories to make it more widely available.