Let's raise a toast to L.A.'s drinking scene—which is just as fun, creative and delicious as the city's remarkable food culture.
On Saturday, Cocktails in the City, a London-based festival, held its first event in Los Angeles. Thirty L.A. bars made drinks at the Majestic Downtown, which meant that a wide swath of local nightlife was represented. Of course scene-making heavyweights like 213 Hospitality (Cole's, The Normandie Club and the new Bar Clacson) and Houston Hospitality (Harvard & Stone, No Vacancy, Good Times at Davey Wayne's) were there. Jumbo's Clown Room cheekily offered beers and shots. H.Wood Group's The Peppermint Club had a soulful singer in its crowded back room.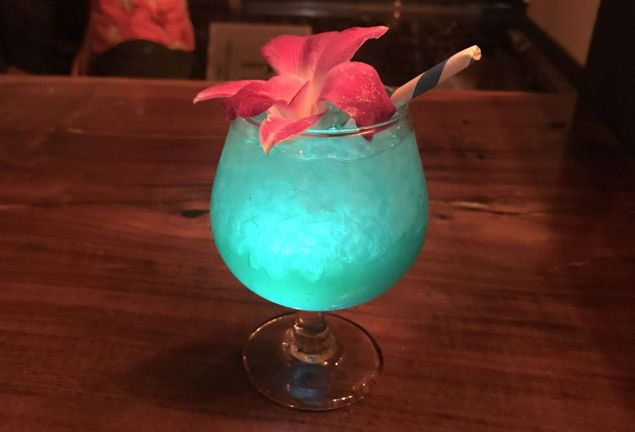 Buzzworthy drinks we tried included the Pelee Punch with Rhum Clement from Bird's and Bees, a new lounge in downtown L.A. known for its tropical cocktails and its hidden entrance; the neon-blue Riptide Rush with Bombay Sapphire gin, elderflower, plum wine, yuzu, yellow chartreuse, Thai basil and jalapeno from The Spare Room at the Hollywood Roosevelt hotel; and the Junglebird with Appleton Estate Signature Blend rum, pineapple, Campari, lime and "cinnamon magic" from Hollywood tiki wonderland Lono.
Our favorite cocktail of the night was The Japangeles, a wonderfully balanced, smooth and refreshing drink from Wolf & Crane in Little Tokyo. The drink, which had a lovely green hue, featured Suntory Toki whisky, honeydew, matcha, ginger and wasabi. It was an impressive mix of sweet, savory and spicy notes.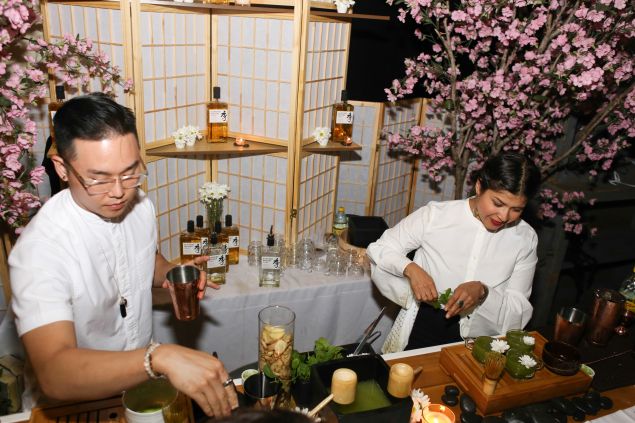 Fellow Little Tokyo watering hole Baldoria, meanwhile, offered the Fashion Killa cocktail, which featured Courvoisier VS cognac, green chartreuse, honey syrup, Peychaud's bitters, champagne and maraschino cherry. It was at once luxurious and intense.
From the mezzanine of the Majestic Downtown, we could look out the window and see the line forming across the street at Little Damage, an Instagram-bait ice cream spot where countless pictures of charcoal-black soft serve with rainbow-hued sprinkles have been taken. But we weren't at all tempted by that spectacle, especially because Hollywood's Sassafras (part of the impressive 1933 Group family of bars) was ready to take care of any cravings for sweets at Cocktails in the City. Sassafras served delightful Sass Floats with Bulleit bourbon, home-brewed sarsaparilla and brown-butter cinnamon ice cream. It's the type of drink that works well for dessert—and it's also the type of drink that fortifies you for a lot more drinking.
So we made a couple more rounds through the Majestic Downtown, past the crowds happily pounding shots, tried a few other cocktails and then found a pick-me-up from Otium, in the form of a Grey Goose espresso martini. Otium, of course, is the grand restaurant and bar adjacent to the Broad museum. It's all part of L.A.'s shiny new downtown.
But Otium felt right at home here at the Majestic, a Beaux Arts building that dates back to 1924, a structure that's on the National Register of Historic Places. We stood behind a Marilyn Monroe impersonator as we waited for our espresso martini. It was a totally classic and a totally modern moment, just like so much of what's happening in L.A.'s cocktail scene.