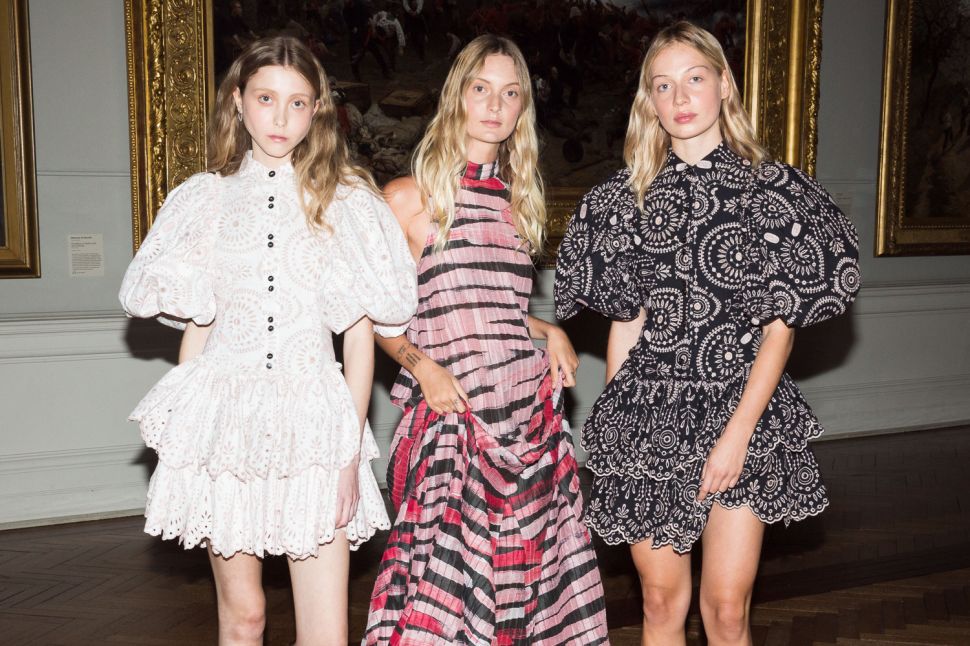 One could argue the point that Australian fashion is having a major moment in the U.S. As New York Fashion Week takes the city by storm, there's no shortage of Aussie designers who choose to show on the official calendar—and have become cult-favorites of editors, buyers and shoppers, alike.
"It's hard to generalize on Aussie fashion but I think there's a certain spirit to it that is really attractive," Laura Brown, editor-in-chief of InStyle and native Aussie, told the Observer. "Whether it's color, pattern or just a dress that makes you feel really pretty, it just feels kind of…freer. Just look at a brand like Zimmermann. They started with swimsuits and now look at them. Their pieces quickly become a go-to. They make you feel like the prettiest version of yourself. You're never lost in Aussie fashion."
Dion Lee, another Australian brand that has a sweet spot for Manhattan, is known for intrinsically casual and cool silhouettes. Tome is yet another well-recognized NYFW regular that has an ultra feminine and laid-back aesthetic from—you guessed it—Australia.
On top of all this, more retailers are stocking up on newcomers from the country. Moda Operandi has shoppable trunk shows pegged to Australia Fashion Week and both Net-A-Porter and Revolve have opted to sell newer brands hailing from Oz. Colette in Paris and Fivestory in New York have been quick to pick up the country's coolest labels and just this summer, the Australian Fashion Chamber brought its official showroom of designers to New York City for the first time.
"In my view, the biggest hurdle the AFC has internationally, is to raise the profile of Australian fashion and change the perception of what Australian fashion can be," says Courtney Miller of the AFC. "Locally, it's how we help new emerging brands build their businesses in a really challenging fashion world with fast fashion, technology changes and a pace that just gets faster and faster"
Along with that, the Australian fashion industry employs approximately 220,000 people (across design, manufacturing, wholesale and retail) and adds $12 billion to Australia's economy per annum. The global fashion market has been valued at $1.7 trillion and employs approximately 75 million people, according to a representative from the Australian Trade and Investment Commission. All that makes for a lot of fashion that can be exported internationally.
"Australian fashion is different because of how we live. We can wake up in the morning on the beach, go to work and go out for a drink (which you might've noticed Aussies love). We also love any excuse for a celebration so I think converse to that we also dress up," explained Miller. You likely already know the big Australian fashion brands out there, but it turns out there's a lot of young, emerging brands worth paying attention to too. Ahead, five Australian fashion brands you may not know yet.
Romance Was Born
Think of Romance Was Born as the chic Australian brand that blends a hint of femininity with bohemian romanticism. Embroidered mini skirts, beaded frocks, long, silky dresses with intricate pleats are the norm and as such, the label's pieces have even been showcased at The National Gallery of Victoria. Celebs like Nicki Minaj and Cate Blanchett are already fans of the Aussie brand, too. It's designed by Anna Plunkett and Luke Sales and was founded in 2005, after the two met in fashion school.
"A lot of our work and themes are inspired by the artists we admire and collaborate with," Plunkett told the Observer. "We have recently worked with renowned Australian artist Del Kathryn Barton who is recognized for her colorful and highly decorative figurative work that centers on ideas around the energy of nature, our relationship with nature and the animal world."
As Plunkett explained, the brand is experiencing major international growth, so look out for the label next year, when it will be showing at Paris Fashion Week for the first time.
State of Escape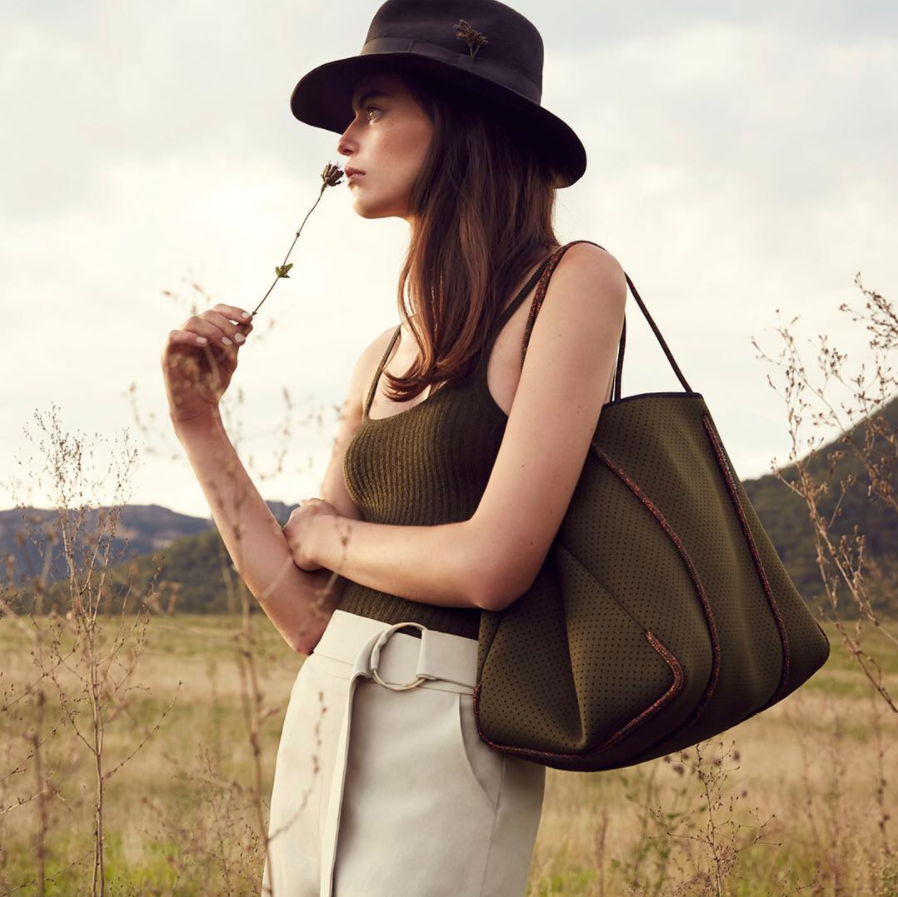 If you've been looking for a new all-day, everyday bag that has all the laid-back qualities of Australian style, look no further than State of Escape. Founded by Brigitte MacGowan and Desley Maidment in 2014, this line of bags is centered around pieces that are strong, lightweight and big enough to tote around everything you need. The sporty carryalls come in a variety of colors: neutral greys, greens and tans, but also vibrant hues of cobalt blue or DayGlo orange. The materials—neoprene and a structured base of elegant sailing rope—cash in on fashion's obsession with athleisure and are a tribute to the beachy aesthetic of Australia as a whole.
"Being a young country, we're not creatively confined by our heritage," MacGowan told the Observer. "It's a case of anything goes. Overall, I feel we have an easy aesthetic, which is driven by our trans-seasonal weather and laid-back attitude to living."
Right now, the brand has a waitlist for its bags in Australia, but they're also sold in Japan, Hong Kong, Singapore, Norway, Spain and the U.K, with plans to launch soon in the U.S. If you're not yet convinced that you need a neoprene bag in your life, consider the fact that fashion plate Olivia Palermo bought one of the label's bags in the past, and it's also appeared on the arms of Eva Chen and stylist Vanessa Traina.
Sarah & Sebastian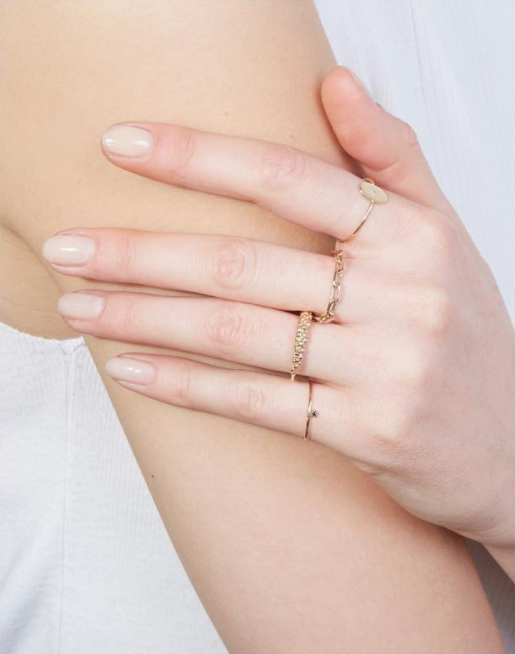 Perfectly understated and minimalist, Sarah & Sebastian is the cult-favorite Australian jewelry line you probably haven't heard of yet. Founded by in 2011 by Sarah Gittoes and Robert Sebastian Grynkofki in Sydney, the brand is best known for its beautifully dainty rings, thin sculptural earrings shaped like faces, all made with beautiful, ethically sourced stones. Tidal, the most recent collection which will be available in October, is full of elegant oyster-shaped earrings that are equal parts organic and structured. If you're a fan of fellow Australian designer Dion Lee, you've likely seen these baubles decorating the faces, arms and fingers of models at the brand's runway shows.
"Australian fashion always exudes a sense of effortlessness which I think stems from our relaxed lifestyle; we certainly prioritize style and practicality in equal measure," Gittoes explained. "Even in jewelry, our brand initially became so popular because we created that barely-there look that women were trying to achieve."
The most interesting thing, however, is that the brand considers itself a made-to-order label. "Our brand ethos are centered around on creating modern yet timeless designs in an honest and artisanal fashion," said Grynkofki. "Every single piece of jewelry is made by a talented craftsman in our Sydney studio; completely made-to-order and never mass-produced."
We Are Kindred
We Are Kindred is the Australian label that has become synonymous with wearable floral jumpsuits, metallic mesh slip dresses and silk blouses. The line was founded in 2013 by sisters Lizzie and Georgie Renkert, who together, have over 30 years experience in fashion. Lizzie worked as an editor at a variety of publications, including Marie Claire and also was host of Project Runway. Georgie studied fashion and has years of experience in design, buying and production.
"Australians do resort dressing very well," said Lizzie. "Because our winters are mild, we tend to dress for warmer climates. We're great at layering and wearing key pieces from season to season. We'll add a boot and a bomber to a summer dress to make it work for the cooler months. Our unique lifestyle, love of the sun and beach culture gives the way we dress and ultimately the way we design, a lightness and fluidity." The same kind of lightness can be seen in the layered maxi dresses, lace kaftans and pretty strapless gowns.
As for developing a cult aesthetic, We are Kindred takes inspiration from nature, like most other Australian designers. However, when thinking about the differences between style in the U.S. versus Australia, the two think there's a world of similarities, which is one of the reasons why the label is so on par with fashion's aesthetic right now. "Melbournites are more like New Yorkers and Sydney-siders are more like Californians," they pointed out.
Aje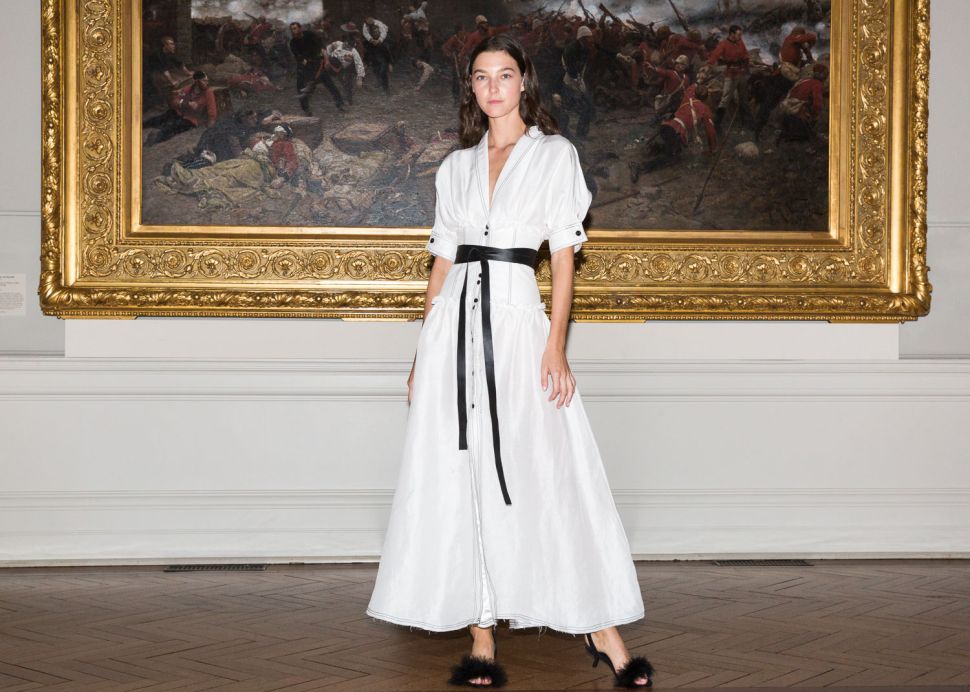 If there is one defining cool girl label of Australia that's still a little under the radar, it would be Aje. The brand was founded in 2008 by two best friends, Edwina Robinson and Adrian Norris. The founders are endlessly devoted to intricate details, such as hand-sewn embellishments, hand-painted prints and the use of artisans to manufacture their clothes.
You can expect flared floral embroidered tops, Victorian collared blouses with a modern edge and high-waisted leather mini skirts with edgy zippers and buttons throughout. "I think the most important thing for people to understand about Aje is our love for artisan techniques and hand-craftsmanship, as this shapes every part of our creative process," explained Robinson. "Whether we're creating mood-boards, sketching, fabric sourcing, designing or color-testing, Adrian and I are extremely tactile and make strong use of the hand as a tool to create."
She continued: "Prior to the birth of social media and the rise and rise of online businesses, Australia was very isolated from the rest of the world. Now we are very much playing on an international stage, but we have found confidence in what sets us apart. In fact, our adversity has become our strength—we are relaxed, unbridled and experimental in our designs. Additionally, our climate has dictated a stronger focus on a summer offering and the global market is turning towards trans-seasonal collections, where layering and styling is paramount."
Nature and a warm climate isn't the brand's only inspiration, though. The design duo got a bit literary for fall 2018, which was inspired by Colleen McCullough's best selling Australian novel, The Thorn Birds.