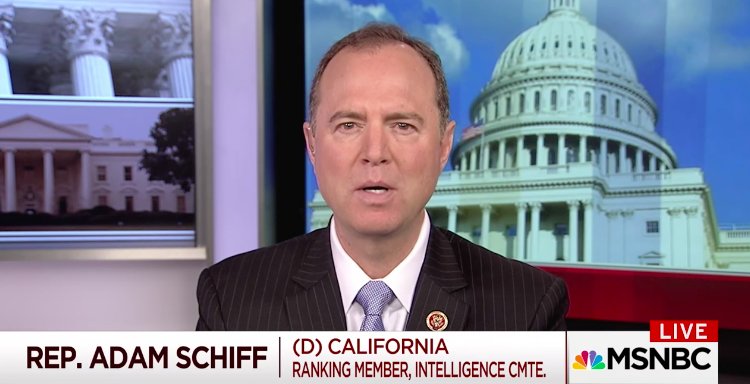 Unlike amateur President Donald Trump, Congressman Adam Schiff speaks coherently and uses measured words, complete sentences and whole thoughts.
All week on TV, the California Democrat has discussed Russian espionage in the 2016 election in favor of Trump. Schiff is the ranking member of the House Intelligence Committee, which is conducting one of several investigations of Trump, Russia and possible collusion.
On CNN, Schiff told Wolf Blitzer Wednesday that "real estate is a convenient way to launder money."
Trump, you night remember, is a super-savvy real estate wheeler-dealer. Big-league! One of the biggest in New York. One of the biggest in the world! This he can tell you. Unbelievable! Believe him. Trump even tried for a deal to build a Trump castle in Moscow while campaigning for President! He kept it secret until recently. And listen to Schiff.
"If there was a time when the Trump organization found it difficult to borrow from banks and responsible financial institutions and it had to turn elsewhere and there was a marrying of interests between the Trump organization and the Russians who have historically needed to launder huge amounts of money and they did business together in that way, that is far more compromising that any salacious video would be," Schiff said.
The "salacious video" Schiff referenced pertains to an unproven allegation about Trump in a dossier compiled against him by a former British spy. (Steele. Chris Steele). It alleged that Russian spies have a video of Trump with Russian prostitutes in a hotel room in Moscow. Urination, reportedly, is involved.
Schiff downplayed the negative effects of such a video—even if one were to exist—because, Schiff said, Trump was elected despite undisputed audio recordings of Trump bragging about how he likes to grab sexy women by the crotch. It's his way of saying hello.
Grabbing money, of course, is another matter. Schiff wants to know more about real estate, Russian money and Trump.
"So, in our national interest, we need to make sure—did this happen?" Schiff said. "Did it not happen? If it did, it means the Russians have continuing leverage over the president of the United States."
One wonders whether Schiff's committee—or any of the investigators—are looking into Trump's 2004 real estate deal in which he bought a Florida mansion for $41 million and sold it four years later for $95 million to a Russian oligarch who never moved in.
Schiff stopped in this week on MSNBC's Hardball with Chris Matthews on Tuesday and on Morning Joe on Thursday. On MoJo, he discussed Devin Nunes, another California representative and also a Republican who chairs the House Intelligence Committee.
Although Nunes supposedly recused himself from the Russia investigation last spring after a clumsy attempt to lobby for Trump, Nunes recently barged back into the Russia mess with subpoenas to the Department of Justice and the FBI for information about the dossier and how it came about.
It appears that Nunes is again acting on behalf of Trump to disrupt the investigation and create false sideshows to distract.
"I find it inexplicable that the chair continues to try to exercise this authority," Schiff told MoJo panelist Mike Barnicle.
BARNICLE: "So, you have a runaway chair?"
SCHIFF: "Well, in this case, yes, we do."
HAND ME THE REMOTE . . .
Tucker Carlson might have inadvertently said something honest on Wednesday when speaking on Fox News Channel with Brit Hume on Tucker Carlson Tonight about Trump's growing reluctance to inflict deportation on 800,000 "Dreamers" of Latin-American descent who came to the U.S. as children. Sighing heavily and pounding his fist lightly on a table, Carlson snarled, "A lot of hysteria has been wasted." Carlson is one of Fox's leading hate-mongers toward immigrants, portraying them as criminals and moochers…
More in line with Carlson's reactionary backlash is Republican Congressman Dave Brat of Virginia, home of Robert E. Lee. Brat fumed to Chuck Todd on MSNBC's Meet the Press Thursday about DACA and how Trump seems to be bending to public opinion. Brat referred to a "welfare state" and warned that Dreamers would bring in "their entire extended family" and that could mean three or four million people. "It ain't gonna work," this folksy fella said. He added, "Health care's blowin' up through the roof." He's a member of the "Freedom Caucus," a cabal of right-wing Republicans whose gang name implies that any opponents must be against "freedom"…
Late Thursday morning, MSNBC showed video of what the view looks like from an airplane that is flying through a hurricane, like Irma, which now threatens Florida. Anchor Stephanie Ruhle began to excitedly describe what you hear. "It sounds like screaming witches," she said. Might have been nice if they played such sound with the video…
On Your World with Neil Cavuto on Fox on Thursday, Seth Kaplan, the managing editor of Airline Weekly, tried to explain airline price-gouging against customers trying to flee the storm in Florida. "A few empty seats were the ones that got the headlines, the $3,000 tickets," he said. "The real story here, Neil, is there just aren't nearly enough seats for everybody that wants to get out of Florida." Actually, Seth, that's only part of the story. The "real story" here is that airline algorithms are designed to squeeze more money from higher demand and that leads to automated price-gouging…