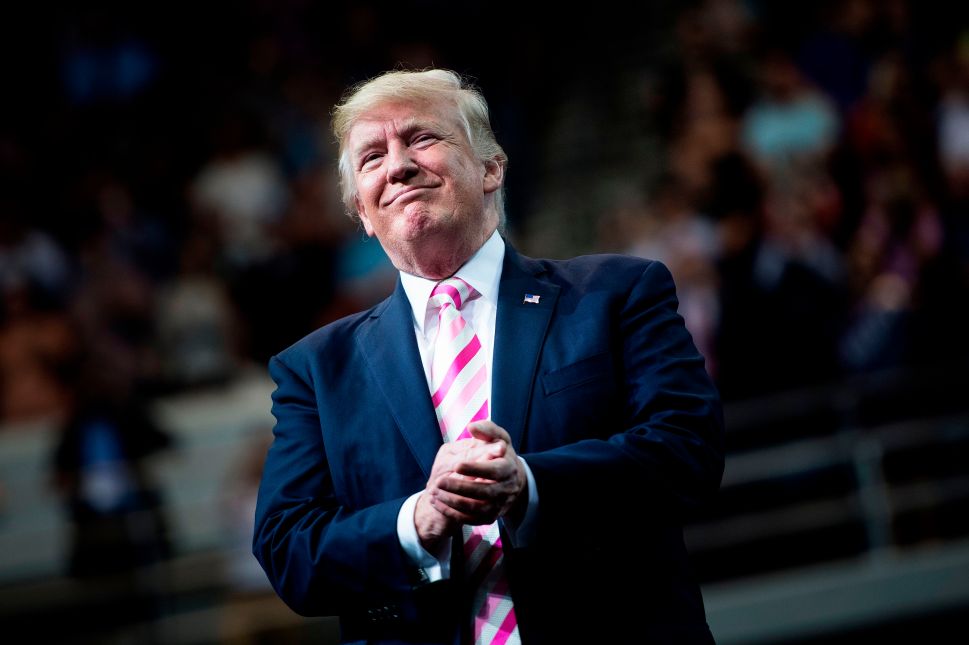 It's not about you, and it never really is. Donald Trump learned this last night when Republican voters in Alabama chose Roy Moore over Trump's preferred candidate, Luther Strange, in a special election to fill a vacant U.S. Senate seat. Trump's immigration ban and attack on NFL players who kneel down for their beliefs wasn't enough. Voters did what they wanted—not what Trump told them to do.
It was no different with Barack Obama, who was supposed to be our first post-partisan president. His brilliance and audacity were supposed to transcend Washington's differences. Instead, eight years passed with just one meaningful legislative accomplishment to speak of—and it was passed on a straight party line vote.
Hillary Clinton's slogan was "I'm with her," but the voters clearly weren't. When Tom DeLay was the House majority leader, he was once told by a waitress that smoking inside a restaurant wasn't permitted by the federal government. Keeping his cigar lit, DeLay replied, "I am the federal government." A few years later, DeLay was indicted on a host of campaign finance violations.
The "it's my turn" candidate rarely wins—just ask Al Gore, Hillary Clinton, John Kerry, John McCain and Bob Dole. Likewise, the cult of personality politician rarely prevails. Because while voters may reward a candidate who they think embodies a particular vision or philosophy, it's just a temporary reprieve—not a permanent hall pass.
You would think these lessons would teach elected officials to be ruthlessly pragmatic and to follow a path focused on attaining tangible outcomes rather than just on building a myth about their personal moral and intellectual superiority. But for most of them, the end game isn't about pointing to results. Rather, it's about brief, shining moments of glory when everyone around them says, "It is all about you!" and they let themselves believe it. Building their personal brand, getting more followers on Twitter, and catering to the tastemakers on the far left and right furthers the narrative of their own righteousness and consumes most of their focus, time and resources.
This is precisely why counting on a big personality to take out Trump in 2020 is a bad idea. Sure, there are dynamics so unusual that a candidate as a brand can sometimes triumph. But by and large, voters know when politicians are genuine, and their decisions at the ballot box typically reflect that knowledge. You may fool them once, but as Trump learned on Tuesday night, credibility wanes fast.
Is it too much to ask for elected officials who want to get things done even if it means sacrificing moments of personal glory? Probably. Human nature tends to pre-select candidates who crave attention and validation.
So we get stuck in a vicious cycle: Someone runs for office believing their personal greatness can transcend reality. They assume they will be able to maintain public support. Occasionally, they tap into the right message in the right election cycle and manage to win. They then govern as if they have a mandate from God. The same thing happens every time: They over-estimate their support, voters teach them a lesson, and their power shrinks. Ultimately, nothing gets done.
It happens again and again. Trump wasn't the first, and he won't be the last. But Americans deserve better.
Bradley Tusk is the founder and CEO of Tusk Holdings, the parent company of Tusk Strategies, Tusk Ventures, Kronos Archives, the Ivory Gaming Group and Tusk Montgomery Philanthropies. In 2009, he served as Mike Bloomberg's campaign manager, guiding Mayor Bloomberg to a third term.
Read More by Bradley Tusk: 
The Best Argument for Mobile Voting? Abysmal Primary Turnouts.
If the End Is Near, Make Tomorrow's Changes Today
Gov. Andrew Cuomo's Run for a Third Term Will Be Successful—but Difficult