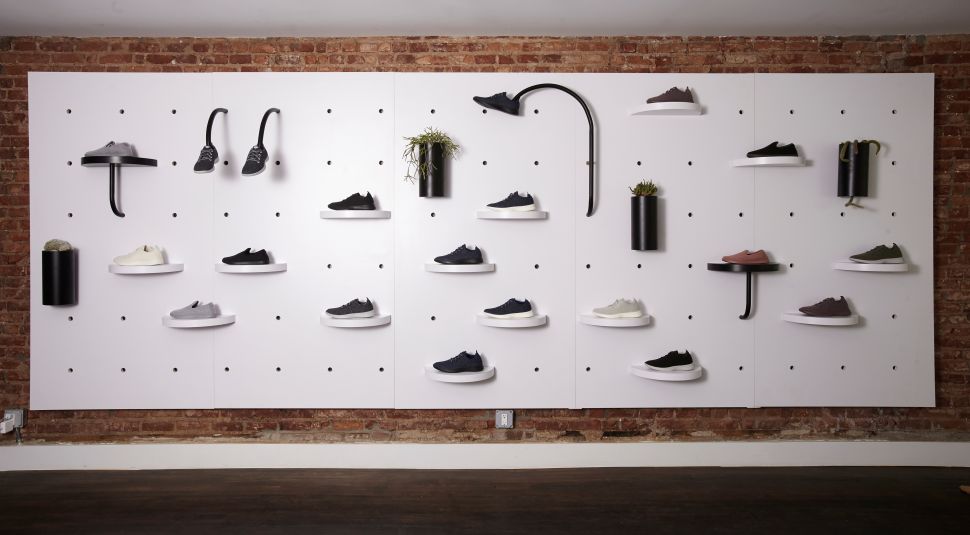 If you're unfamiliar with Allbirds, take the time to get familiar because these wool sneakers are changing the game. Innovation is the brand's middle name, combining wool, comfort and sustainability to make a standout shoe.
In fact, the brand is so innovative that they originally launched as e-commerce and evolved in reverse, by introducing a brick-and-mortar shop. Nestled neatly on Prince Street in Soho is Allbirds' second retail location; the first is located in one of San Francisco's oldest buildings, pretty close to where the company is based.
"With San Francisco, we put the [shop] inside of our headquarters and we carved out about 400 square feet just so we could learn from customers every single day. It's a great way for us to learn to make ourselves better, and we're at such early stages that it's really just about improving ourselves everyday," explained Allbirds co-founder Joey Zwillinger. He picked New York for his second location to tap into the brand's biggest market—and to allure a mixed crowd of NYC locals and camera-wielding Soho tourists.

The newest Allbirds boutique can be spotted from a block away, thanks to its bold black and white sheep mascot and whimsical storefront design. The layout of the interior, in true New York fashion, has exposed brick with crisp black and white displays, really allowing the simple design of the shoes pop. Not that they need much help. Another fun addition that gives the store a very earthy feel, are the succulents lining the wall display. In the spirit of addressing customers' requests are the shoelace buckets, inspired by MTA subway lines; shoppers can match the colorful laces to their daily commute. Oh, and then there's the ever-so-subtle hamster wheel at the back of the store, to allow the customer to "try before you buy." This concept store is going to shake up the shoe shopping experience.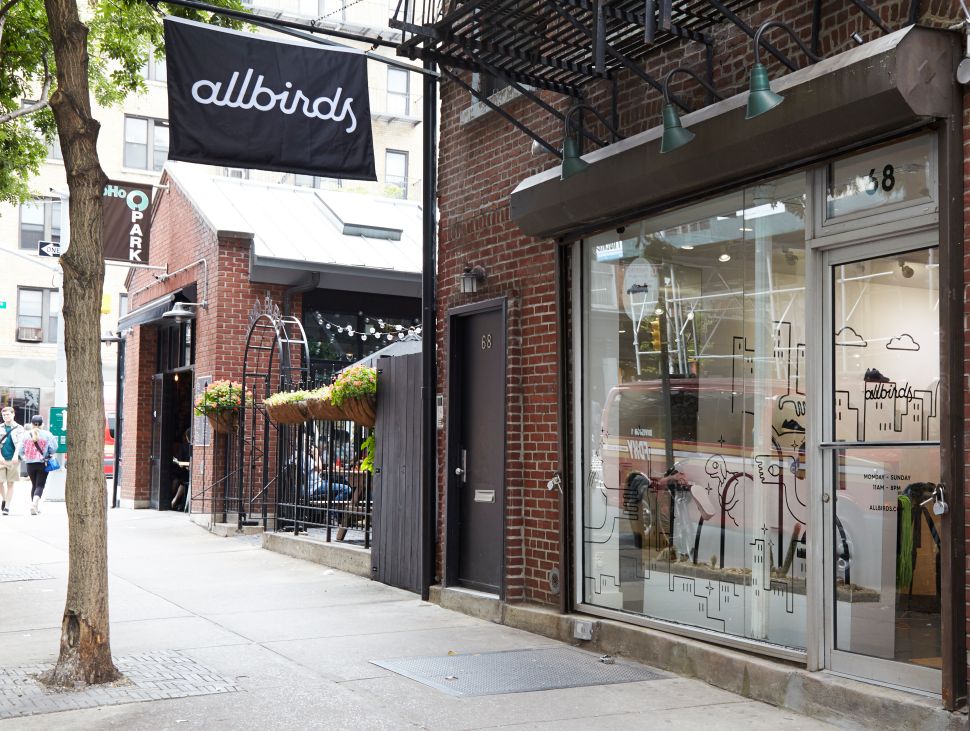 So what about the product is so innovative? For one, Allbirds uses wool as the main material for their sneakers. The wool not only provides warmth in the colder seasons, but also wicks moisture for the warmer months. Even though the shoe is meant to be worn without socks, the technology of the fiber creates a no-smell sneaker, which is pretty much unheard of. Offered in two styles, runners and loungers, Allbirds has an array of colors such as lavender, mint, plum, olive and moss, as well as the classic hues of black and white. Interestingly, the shoes are unisex, so customers can easily order sizes from the men's or women's section without any variation in style or fit. There's also talk of adding kids sizes soon. Along with their newest retail location, they've introduced a new navy hue, called Starry Night, which was inspired by the city that never sleeps.
Here, Zwillinger shares more about the brand's latest business venture, their Soho concept store.

What are you the most excited about with this new store?
Just having the storefront and having the increased awareness in this area is really exciting to me. We've worked in a bunch of new concepts. We have a really cool try-on experience with a wheel in the back that you can actually walk in to try on the shoe, it's almost like a hamster wheel for humans. I'm excited just to try some of these elements out and show off our whimsical brand. 
What makes the Allbirds experience different than your average Soho shop?
The layout is important. For example, we have a bartender analogy wheres there's actually a person serving you the size and the shoe right in front of you, with inventory at their fingertips. You get a really great one-on-one dialogue, just as if you were a person who walked into a bar alone and wanted to talk to the bartender. The goal of doing that is really to make sure that with every single interaction with a customer meets and exceeds their expectations.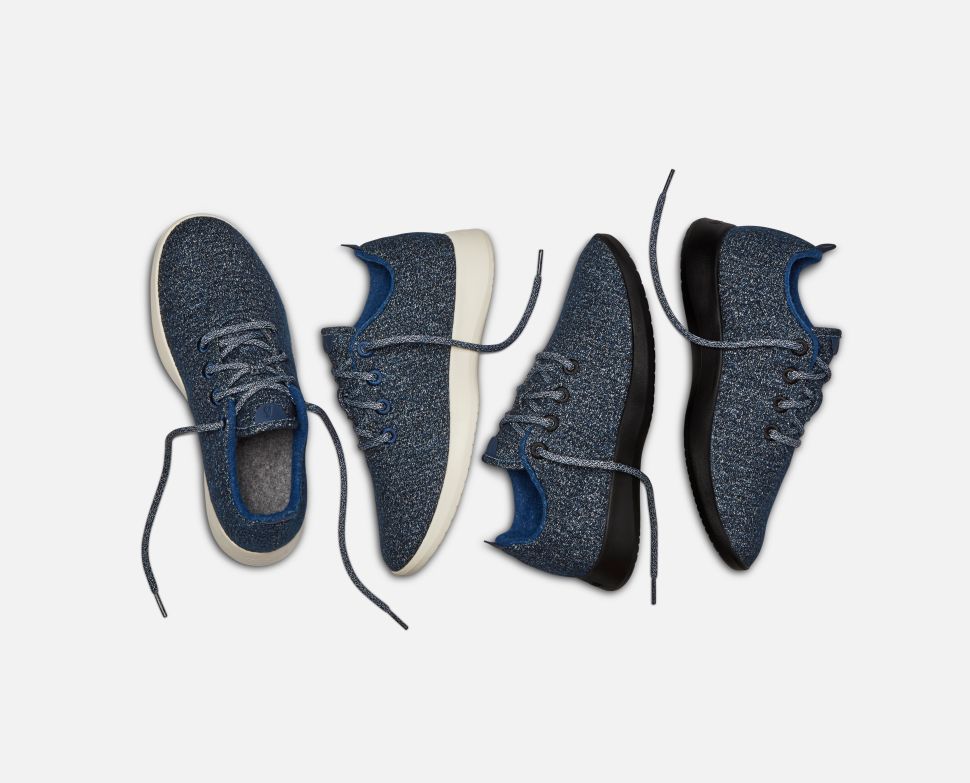 Why is it important for Allbirds to have some tangible boutiques?
I think shoe buying is something that is very tactile. We're really innovating around material and innovating around comfort. For us, it's critical for people to try on the shoe. We're confident that we've designed a product that people will love once they put it on. Having a physical store, where people can touch and feel our product, is vital to our success.
Why is sustainability and transparency so important to the company?
That's sort of my passion in life, and same for co-founder, Tim Brown. We didn't grow up being passionate about shoes, we didn't grow up on sheep farms. I think business is incredibly dynamic and retail is incredibly dynamic, which makes it really fun to be in. But the reason I'm going to get out of bed excited in ten years about still running a great business is because we're doing something that's important for the planet. 
Regarding size inclusivity, your shoes are unisex. How do you think that has helped your brand?
We've tried to be super inclusive. We've tried to do our best to do a really unique and expressive offering on color, one that translates across gender. It's a pretty significant trend going on, where there's a lot more similarity across gender, I think sneakers is one of those categories.
Allbirds has been labeled as "the shoe of Silicon Valley." How do you feel about that?
I think more broadly. It's about a creative class of people who are on their feet for way longer in the day and working for a lot longer in the day than the traditional work environment. Architects, interior designers, entertainers in music and acting all are loving it in the same kind of way.
Before your next trip to Equinox—conveniently located across the street from the pop up—pop into Allbirds and check out their latest design inspired by the city that never sleeps, and try out that human hamster wheel while you're there. Albirds is located in Soho at 68 Prince St.