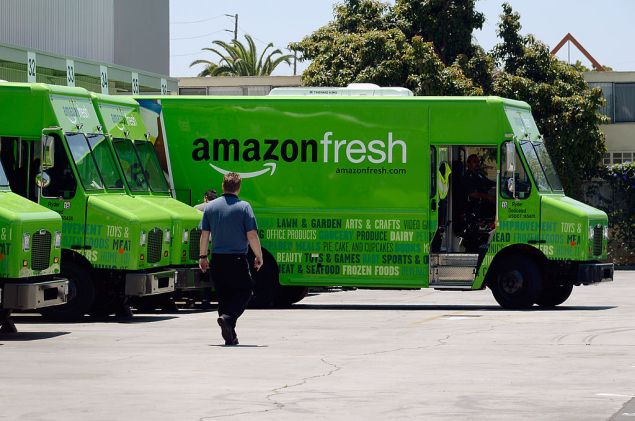 The ink is barely dry on Amazon's merger with Whole Foods, but the online retailer has already found another way to disrupt dining.
Today Amazon (AMZN) announced a new partnership with Olo, a New York-based startup which allows customers to order food from chain restaurants on their computers, phones and tablets.
Olo's clients, which include Chipotle (CMG), Denny's, Shake Shack, Chili's, Jamba Juice and Cold Stone Creamery, will now be listed on Amazon Restaurants, a new platform for Prime users. Customers can order from these eateries online and then pick up their food at the restaurant or have it delivered to their homes.
"Amazon's obsession with providing great customer and restaurant experience supports the evolving expectations and behaviors of today's consumer," Olo CEO Noah Glass said in a statement.
Olo features over 200 different chains which represent 40,000 restaurants across the country. Amazon Restaurants has integrated into Olo's programming interface Rails, and menus for all of Olo's clients are now featured on Amazon so customers can order from them.
"We are excited to leverage Olo's digital ordering technology and continue rapidly growing our network of restaurants to give Amazon Prime members more options for fast delivery from their favorite brands," Amazon Restaurants general manager Gus Lopez said.
Olo is different from a third party marketplace like GrubHub, which allows customers to order from neighborhood, non-chain restaurants through its own app. By contrast, Olo helps chains build their own apps—so its involvement is invisible to most customers.
"We're the technology stack that the company builds their app on top of," Glass told CNBC.
This distinction didn't matter much to Wall Street, however—GrubHub stock was down three percent after the perceived competition was announced. Amazon stock was down less than one percent.
Amazon's increasing influence and the continued popularity of delivery services have taken a toll on brick and mortar eateries. Over 100 Applebee's, 40 Outback Steakhouses and 20 IHOPs are slated to close in the coming months.