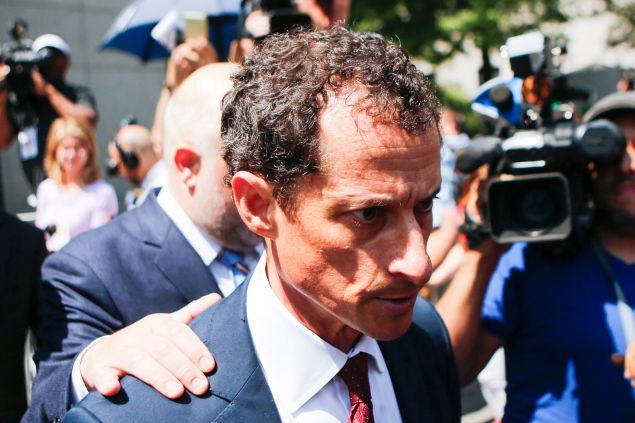 Anthony Weiner, the disgraced former Democratic congressman, was sentenced to 21 months in prison on Monday for sexting with a 15-year-old girl.
After several highly public sexting scandals in recent years, Weiner, 53, pleaded guilty in May to one count of sharing obscenity with a minor after sending explicit messages and images to a 15-year-old girl in North Carolina between January and March 2016. He was released on bail and registered as a sex offender, facing up to 10 years in prison, three years of probation and a $250,000 fine.
Prosecutors wanted Weiner to go to prison for 21 to 27 months as part of his plea deal. His travel was limited to New York City, Long Island and most of upstate New York, and he had to give up his iPhone.
Now, the former mayoral candidate will have to report to a federal prison to be determined Nov. 6 by the U.S. Bureau of Prisons, according to CNN. His lawyers asked that he be put in a prison in Westchester County so that he could be near his 5-year-old son, Jordan Zain Weiner. Weiner's wife, Hillary Clinton adviser Huma Abedin, filed for divorce earlier this year.
Weiner cried when he was sentenced, according to media reports.
"This crime was my rock bottom," Weiner said, according to CNN. "I have no excuse. … I victimized a young person who deserved better."
The incident rocked the 2016 presidential election. FBI Director James Comey announced that the FBI was looking into several thousand emails on a laptop Weiner shared with Abedin. The FBI considered the emails "pertinent" to their probe of Clinton's use of a private email server at the State Department. A week and a half before the November presidential election, Comey sent a letter to Congress about it that became public and, according to Clinton, hurt her campaign in its final days.
A disciple of Chuck Schumer, the former congressman and now Senate minority leader, Weiner is a Brooklyn native and was the youngest person ever elected to the City Council in 1991. He then took over Schumer's House seat in 1999.
Weiner lost the 2005 Democratic mayoral primary to Bronx Borough President Fernando Ferrer, but rose to stardom as he spoke up on Democratic issues on the House floor. In 2009, he married Abedin. He became an early frontrunner for the 2013 mayoral race.
In 2015, he uploaded an image of his barely-clothed genitals to his official Twitter account. After initially denying it, he then admitted to sharing sexual content with six women online. In June 2015, he resigned from Congress.
He tried to revive his career in May 2013, announcing that he would again run for mayor on the Democratic ticket.
But in July, reports surfaced indicating that Weiner used the online moniker "Carlos Danger" to share explicit photos with 22-year-old Indiana native Sydney Leathers. The congressman finished fifth in the primary with less than 5 percent of the vote — paving the way for now-Mayor Bill de Blasio to become a frontrunner.