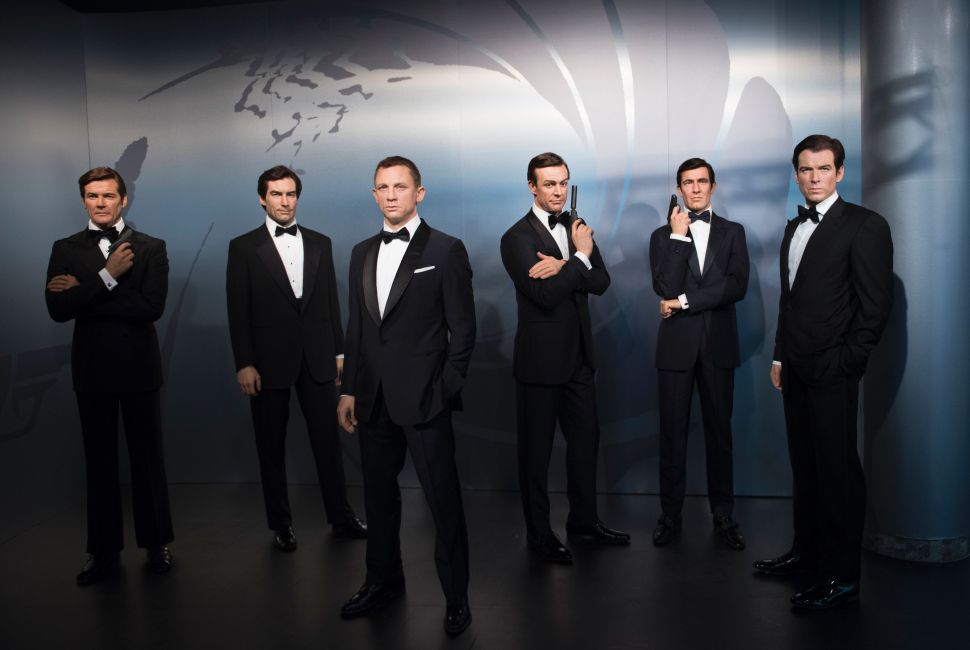 Things just got interesting.
THR is reporting that two surprising companies have joined the bidding war for the James Bond film rights: Apple and Amazon. Previously, five studios were thought to be in the hunt for 007: Warner Bros. (the frontrunner), 20th Century FOX (FOXA), Sony (which held the rights from 2006's Casino Royale to 2015's Spectre), Universal and newcomer Annapurna. Apple (AAPL) and Amazon (AMZN) throwing their hats into the ring changes the entire game.
According to the outlet, the two companies are "willing to spend in the same ballpark as Warners, if not much more, for the rights." WB and Sony have long been thought to be the favorites to land 007, but don't put anything past the aggressive tech giants who are trying to carve out a niche in original content. EoN Productions and MGM have been looking for a deal for two years and Apple is considered such a threat that Warner Bros. is reportedly pushing hard to close out negotiations. Bond is a name brand in the vein of Marvel, Pixar and Lucasfilm and one of the most valuable IPs in Hollywood. One insider told THR that the Bond franchise is valued anywhere between $2 billion and $5 billion.
"In the world of Lucasfilm and Marvel, Bond feels really underdeveloped," a source told the outlet. In addition to Apple and Amazon, there are reportedly several Chinese companies who are angling for licensing rights that could add billions in value to the deal.
In terms of further leveraging the 007 name, Apple's leadership structure suggests a cross-platform expansion. Apple's push is said to be led by new hires Zack Van Amburg and Jamie Erlich, who recently left their posts as co-presidents of Sony Pictures Television. Should Apple land the rights, it seems likely that Bond will make his way to the small screen in one form or another.
As currently constructed, the Bond franchise isn't a huge money-makers for studios despite the prodigious box office numbers. According to Forbes, Sony shouldered 50 percent of the costs and reaped just 25 percent of the profits over their four-picture deal. But in this franchise friendly era of blockbuster filmmaking, content ownership is everything and being able to slap a James Bond trump card on the table means something.
With that in mind, this bidding war has now become about more than just the film rights to the spy series. It's about the future of the franchise overall. Should MGM decide to sell their stake, the winning studio could have control over Bond for the foreseeable future and build out the earnings potential with merchandising, spinoffs and other creative endeavors. We may even see a James Bond shared cinematic universe. As of now, THR reports that other sources have told them Eon producers Barbara Broccoli and Michael G. Wilson's top priority are theatrical movies. But anything can happen in Hollywood.
The untitled Bond 25, which Daniel Craig recently confirmed he wil lbe headlining, will arrive in November 2019. No director has been set yet, though three names have been rumored as frontrunners.