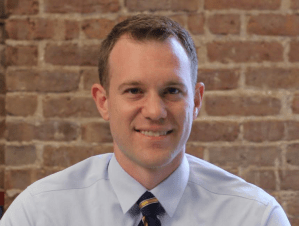 Senator-select Colin Bell and Assemblyman Chris Brown are deadlocked in the Senate race in the battleground 2nd Legislative District, according to a new poll released Friday.
Bell, a Democrat, received 46.5 percent support while Brown, the Republican, had 46.2. percent, according to a Stockton University poll of likely voters. The figures include voters who "lean" toward either candidate.
The new poll challenges the notion that Brown, a three-term incumbent in the Assembly, is the favorite to win the race to replace the late-Sen. Jim Whelan, who died last month and had announced his retirement. The Stockton survey puts Brown and Bell in a statistical tie. The poll of 521 likely votes has a margin of error of plus or minus 4.3 percentage points.
"The 2nd Legislative District is seen as one of the most competitive districts in the state of New Jersey, and the Senate race is living up to that billing," said Sharon Schulman, executive director of Stockton's William J. Hughes Center for Public Policy.
Brown had a 51 to 9 percent favorability rating, while 39 percent of voters weren't familiar enough to offer an opinion, the poll found. John Froonjian, who manages the Stockton Polling Institute, said that Brown is showing more strength in the district than the rest of the Republican ticket.
Most voters (58 percent) don't really know Bell, a former Atlantic County freeholder and prosecutor. But those who did gave him a 32 to 9 percent favorability rating, according to the poll.
Assemblyman Vince Mazzeo (D-Atlantic) leads the Assembly race in the 2nd district, which includes Atlantic City and most of Atlantic County. Mazzeo received 34 percent support, followed by his Democratic running mate John Armato at 25 percent. Republicans Vince Sera and Brenda Taube had 17 percent and 16 percent, respectively.
Atlantic County Democrats could also get help from the top of the ticket this year. Democratic gubernatorial nominee Phil Murphy is beating Kim Guadagno, the Republican nominee for governor, by 22 points in the 2nd district, according to the poll. Murphy had 53 percent compared to Guadagno's 31 percent. Election Day is Nov. 7.