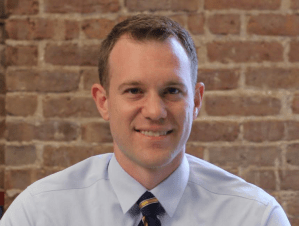 Atlantic County Democrats unanimously appointed Colin Bell on Tuesday to the state Senate seat left vacant by Sen. Jim Whelan, who died in August.
Bell, a former Atlantic County freeholder, was already running for the Senate seat in the November election, since Whelan announced his retirement. He was the only candidate nominated Tuesday to fill the seat during a special county committee meeting in Egg Harbor City.
Senator-select Bell still needs to be sworn in before officially becoming a senator, he said after the meeting.
"There will of course never be another Jim Whelan," Bell told committee members. "Every elected official puts his own mark on the capitol they serve or the people they serve with. I won't pretend that I'm going to be the next Jim Whelan or that I will leave behind the same mark that he did. But I do know what drives me, and it's the same thing that drove Jim, and that's a commitment to stand up the people of Atlantic County no matter who we're standing up against in Trenton."
Whelan, a former Atlantic City mayor who spent nearly four decades in public life, died after suffering a heart attack. He was 68. He had endorsed Bell to replace him. Bell ran unopposed for his party's nomination for the seat this spring.
Bell is running against Assemblyman Chris Brown (R-Atlantic) in what's expected to be a hotly contested race in the 2nd legislative district this November.
Filling the Senate seat could elevate Bell's candidacy, Democrats told Observer in August, giving him the benefits that come with incumbency, if only for a couple months.
State statute required the committee to appoint a replacement for Whelan in a timely manner, Democrats said. But Atlantic County Republican Committee Chairman Keith Davis blasted the appointment in a statement Tuesday, calling it a "campaign stunt."
"Voters will see this appointment for what it is, a campaign stunt trying to give Bell a political advantage in a race where he is already far behind," Davis said.
Bell, a lawyer and former assistant county prosecutor, declined to run for re-election to his freeholder seat in 2015 to run for Assembly, but finished third behind Brown and Assemblyman Vince Mazzeo (D-Atlantic).