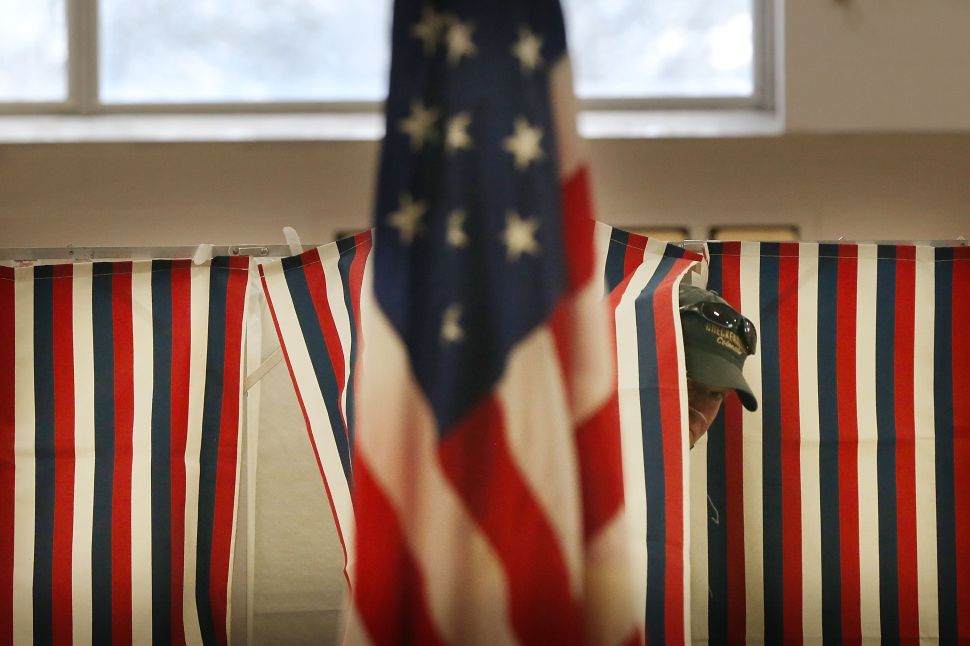 According to the U.S. Census, New York City's population totaled 8,537,673 as of July 2017. In April 2017, there were 4,496,115 registered voters in the five boroughs, and just under 70 percent are registered Democrats. On Tuesday, roughly 420,000 Democrats voted in the primary, the second lowest turnout in New York City history. That's 14 percent of Democrats and barely five percent of total New York City residents. In other words, in the election that essentially chose all of the city's leaders for the next four years, 95 out of every 100 New Yorkers didn't vote. That's a problem, and it isn't specific to New York City. It holds true across the country, but it doesn't have to be this way.
We all perform complicated transactions on our phones every day—we move money, buy goods and services, and express our views and ideas using them. For most of us, our phone is more than a utility—it's indispensable. Yet when it comes to the act that fundamentally maintains our democracy, we toss aside the object we rely on most and revert to an outdated, difficult approach. Voting requires taking time off work or finding childcare, identifying your polling place, finding time to go there, waiting in line, dealing with confused/hostile people working at the polling place, and then driving or walking back to wherever you started. Not surprisingly, few people bother. The solution is simple: If we want more people to vote, we have to make it easier to do so. If voting requires just opening an app, a lot more people will do it.
Most Americans believe the biggest threat to our democracy is that government is too polarized and nothing gets done. On that count, they're right. But they incorrectly assume that nothing gets done because elected officials are dumb and lazy. 
The vast majority of elected officials are highly logical. Their foremost concern is holding office. They know who bothers to vote, and they tailor their views, votes, policies and actions almost exclusively to cater to the people who can elect or un-elect them. And given that those who vote (especially in primaries) tend to be highly partisan, the people they elect religiously represent their views. As a result, little gets done, and when something does get done, it's because one party has captured a legislative body or executive office and their actions are extreme.
The good news is that most politicians are highly adaptable. If 15 percent of their constituents vote in their primary, they'll represent the views of those 15 percent. If 85 percent vote, they'll represent the views of the majority of those voters. Bill de Blasio won around 300,000 votes in each of his mayoral primaries. He may not deserve parades in his honor, but he's also not dumb. He knew that as long as he catered to the needs of that tiny subset of the population, he would win. And that's exactly how he has governed—for around 300,000 people and often to the exclusion of the other 8.2 million. If turnout were higher, either his views would move to the center or someone more moderate would be elected in the first place—and this is true for every elected office in the country. The more people vote, the more mainstream politicians become. And when politicians all act within the mainstream, they will work together and get things done. So what does it take to get this off the ground?
Identify the right platform and technologies

. Mobile voting has to be secure to preserve the secrecy of the ballot. It also has to be auditable and ensure the person voting is who they say they are. Those who like the status quo—in other words, every current politician, interest group, union, major donor, think tank, and anyone else who wants to maintain their power—will raise a host of objections to mobile voting, starting with security. Blockchain and authentication software may be the solution to this, and blockchain voting startups like Voatz are promising.

Figure out the right policies around the pilot program

. Many current election rules will not make sense for mobile voting. We need to create an intellectual framework for mobile voting and a model set of election rules, policies, and procedures that can be adapted for each jurisdiction.

Anticipate and knock down objections

. A change like this will terrify elected officials because it will force them to be accountable to the majority rather than their core supporters. Since they won't say, "I don't want more people to vote because it might not be good for me," they will instead come up with a litany of excuses. Answering their objections before they derail change and progress is critical.

Figure out what a pilot election looks like and whether election officials would compete to be the first.

When you just offer someone something, they may or may not take you up on it. But when you turn it into a competition, people want in. This worked with federal programs like Race to the Top and the Smart City Challenge and with private competitions from startups like Uber (autonomous vehicle deployment) and Hyperloop (where they'll place the first tracks). It makes sense to put together all the elements of a pilot election, offer to provide full funding so there's no taxpayer expense, and then hold a competition to decide where to begin.  

Identify potential jurisdictions for a pilot program

. Major elections won't deploy mobile voting right away. Instead, the change may start with allowing deployed military or those with disabilities to be the first to use their phones to vote. In fact, election officials could run A/B tests to see how mobile voting performs before relying on it to cast and count official votes. There will be multiple objections raised to try to stop this from happening. Some will be legitimate (such as concerns about fraud and hacking) but most will not. But there will be some officials brave enough to do what's right. We need to find them and convince them to begin the process.

Figure out where legislation is needed and how to pass it

. The enactment of mobile voting will require legislation to be passed by the very legislators that fear new voting measures will affect their office. We need to identify the jurisdictions where passage of such legislation is feasible and get the process going.

Make it hard not to participate

. Due to the advent of early voting in most jurisdictions, election day is no longer a one-day event. If voters had a week, two weeks or a month to cast a vote on their phone, participation would be much higher. And if every major social platform—Facebook, Instagram, Twitter, Snapchat, as well as the devices themselves (iOS, Android)—reminded users to vote, participation would rise even higher. Getting buy-ins from the platforms and devices is critical.  

Attain notable supporters

. Given that many powerful people invested in the status quo will come up with every excuse to fight mobile voting, we need credible advocates to push back. This includes civic leaders, business leaders, technology leaders, celebrities, members of the media, former elected officials, former government officials, and anyone else whose support for mobile voting helps prevent maintaining the status quo.

Generate coverage

. While many election officials will fear the ramifications of supporting this change, most politicians' inherent need for attention can overcome fear of disapproval from their peers. The media, broadly, is well aware that our system is broken. A credible attempt to replace the current election system with something innovative, efficient, and designed to radically increase participation will generate a lot of coverage. And as soon as a few election officials and elected officials start getting positive coverage for supporting mobile voting, others will follow.
None of these steps are easy, but they're all necessary if we want to accomplish reform, which is essential to saving our democracy. At Tusk Montgomery Philanthropies, we have begun work on this list already. But change this big requires a movement. If you are someone who looks at our country and asks, "Can't we do better?" this is the way forward. We hope you'll join us.
Bradley Tusk is the founder and CEO of Tusk Holdings, the parent company of Tusk Strategies, Tusk Ventures, Kronos Archives, the Ivory Gaming Group and Tusk Montgomery Philanthropies. In 2009, he served as Mike Bloomberg's campaign manager, guiding Mayor Bloomberg to a third term.
Sheila Nix is the President of Tusk Montgomery Philanthropies. Previously, she served as the Chief of Staff to Dr. Jill Biden and as a Deputy Assistant to President Obama. She has worked on voter outreach plans for various presidential and gubernatorial campaigns, helped develop policies as Deputy Governor of Illinois and Chief of Staff to two U.S. Senators, and coordinated resources to fight poverty and disease in Sub-Saharan Africa as the U.S. Executive Director of Bono's ONE Campaign.