Bill Clinton and Ted Danson.
Patrick McMullan
Lea D'Auriol, Adrian Grenier and Jordan Roemmele.
BFA
Andrew Sharpless and Bill Clinton.
Patrick McMullan
Abbey Lee Kershaw.
Patrick McMullan
Sam Waterston, the evening's host Susan Rockefeller and Violaine Bernbach.
BFA
Daniella Perez Lopez, Loic Gouzer, Kara Ross, David Rockefeller.
BFA
At New York Fashion Week, Nicki Minaj and Nicole Kidman were the guests of honor, appearing front row to toss their hair around and pose for pictures. But just a mere hour or so after Marc Jacobs wrapped up the week of runway shows, the term "special guest" had a different meeting.
Tucked among the rolling hills of Tarrytown, in the cavernous Hayloft of the esteemed farm-to-table restaurant Blue Hill at Stone Barns, the annual New York Gala dinner for Oceana took place. Drawing a crowd of elite supporters of the ocean, those willing to donate thousands of dollars towards protecting the delicate aquatic ecosystem and its intricate array of marine life, the dinner was filled with meaningful chatter. There was no discussion of the twisted turbans worn by Jacobs' models nor talk about the triumphant return of Helmut Lang—instead questions about climate change were flung across tables and the punchline of every joke was Washington, D.C.
Oh, and the surprise guest of the evening was none other than former president Bill Clinton.
Greeted with a standing ovation and delivering an entertaining speech that touched upon sustainable fisheries and the legislation he passed to protect them during his presidency, Clinton also provided quite a few jokes—and took a few shots at the current POTUS, Donald Trump. Namely, he called out Trump for his ignorance towards and disdain for anything that has to do with protecting our planet. While Clinton's titillating speech might have overshadowed the fact that he was simply on hand to introduce the night's honoree, Ted Danson, the crowd was overjoyed by his presence.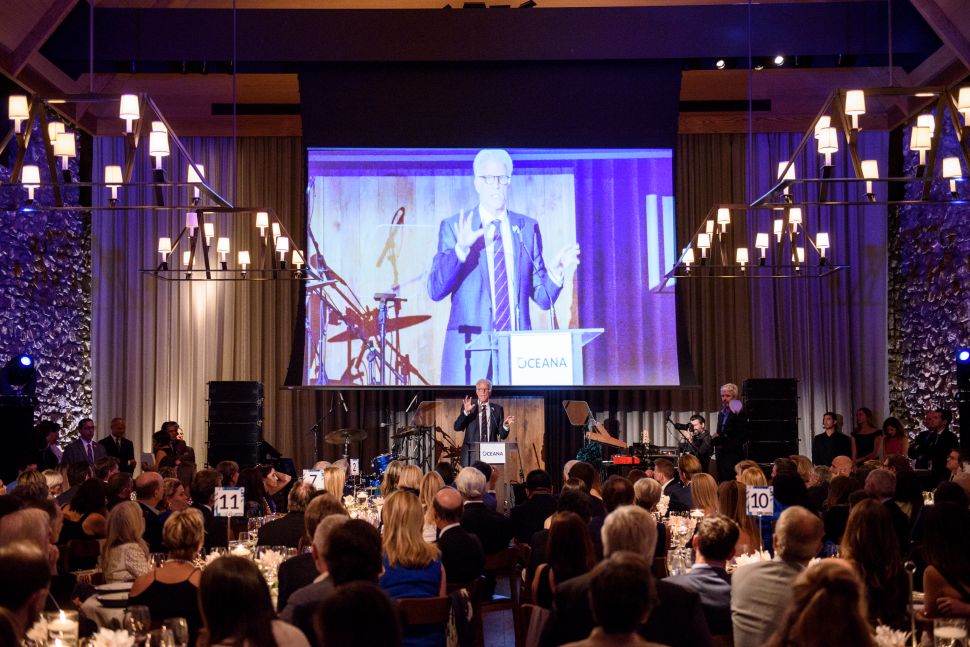 "The real reason you're giving Ted Danson this award tonight is that for more than 30 years he has been at this cause," the former POTUS reminded the audience. Danson, however, thanked the Oceana donors for their help, reminding the room that everyone's actions matter.
"It's about stewardship of what we've been given. I think about my children not being able to experience what I have and what we have. That's one of the reasons why I'm still here," the The Good Place actor stated.
The room was also decorated with a handful of famous fashion names. There was model-turned-actress Abbey Lee Kershaw, jewelry designer Kara Ross and fashion consultant Julie Gilhart. Other avid defenders of the ocean included Entourage actor Adrian Grenier, Grace and Frankie actor Sam Waterston, music scion Lyor Cohen, Leonardo DiCaprio's BFF and contemporary art specialist at Christie's New York Loic Gouzer, Susan and David Rockefeller and Leslie Zemeckis.