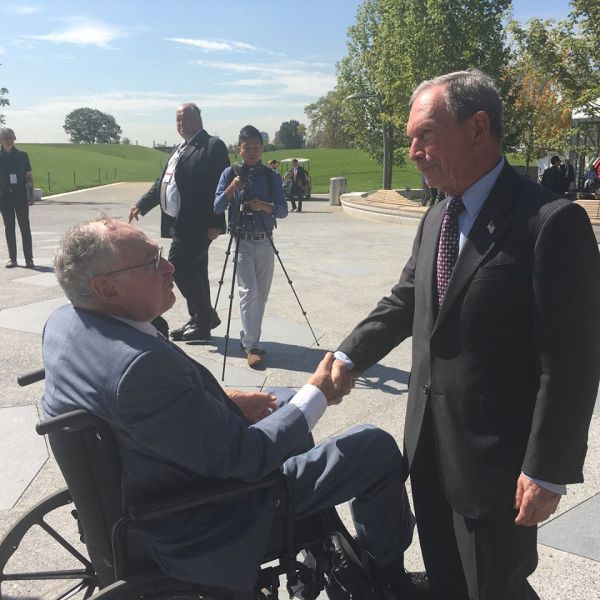 Former Mayor Michael Bloomberg hailed the official opening of the Cornell Tech campus on Roosevelt Island as a sign that New York City is putting itself in the same playing field as Silicon Valley in the world of technology.
In 2015, Bloomberg — who was mayor of New York City from 2002 to 2013 — donated $100 million to the $2 billion campus on Roosevelt Island, a sliver of land on the East River. The donation, made through Bloomberg Philanthropies, financed construction on the $2 billion campus. The first academic building was named the Bloomberg Center, in honor of the billionaire's daughters, Emma and Georgina.
This fall, 30 faculty members and nearly 300 graduate students are moving from Google's New York City building — where it was based since 2012 — to the first phase of Cornell Tech's campus. Three buildings opened this month as part of the first phase.
Bloomberg thanked Mayor Bill de Blasio and Gov. Andrew Cuomo for supporting the campus and their work to bolster the technology sector in the city and the state, as well as Robert Steel, Bloomberg's deputy mayor for economic development, and Seth Pinsky, head of the city's Economic Development Corporation under Bloomberg, who came up with the idea in December 2010.
"This really is an amazing milestone for both universities and for the Roosevelt Island community and for the whole city," Bloomberg said at the ribbon cutting ceremony Wednesday morning. "In many ways, this campus helps bring New York City back to the future. For most of our history, this city has been a global leader in science and technology."
He noted that the first commercial steamboat, the first power plant, the telegraph, talking movies, the cell phone, the ATM machine, lasers and MRI machines "all grew out of New York City."
"Technological innovation played a central role in allowing New York City to become a global economic capital and it must continue to play a central role for New York to remain a global economic capital," Bloomberg continued. "This campus will help ensure that what we do and is a great example of what made that partnership possible."
When complete, the campus will include 2 million square feet of buildings and more than 2 acres of open space and house more than 2,000 graduate students and hundreds of faculty and staff.
In 2011, the city estimated that the campus would create up to 8,000 permanent jobs, hundreds of spin-off companies and more than $23 billion in economic activity over 35 years. The campus is built on 12 acres of city land.
Cuomo said Bloomberg "literally changed the face of New York" and compared him to the late President Franklin D. Roosevelt, after whom Roosevelt Island is named. FDR, Cuomo said, was "about change in practical terms."
"The goal of an elected official is to make change for the people they serve," he said. "Mike Bloomberg's tenure reflected FDR's theory: politics and government one level is a science, my friends. Not as technical as the science you teach here, but Mike Bloomberg had a formula: vision plus competence plus achievement equals progress."
De Blasio also congratulated Bloomberg. In June 2015, in a rare meeting, de Blasio praised Bloomberg for his work in bringing Cornell Tech to Roosevelt Island and for donating to the school. They had rarely appeared together since they shared a stage at de Blasio's 2013 inauguration ceremony.
"It's been a labor of love for them [de Blasio administration] to continue this important work that was started by my predecessor and this is one of those moments that you don't see a lot in public life where we get an opportunity to give credit where credit is due," de Blasio said. "Now I don't think I've been accused of being a Mike Bloomberg sycophant, so I will say that therefore I hope the praise is seen as that much more genuine."