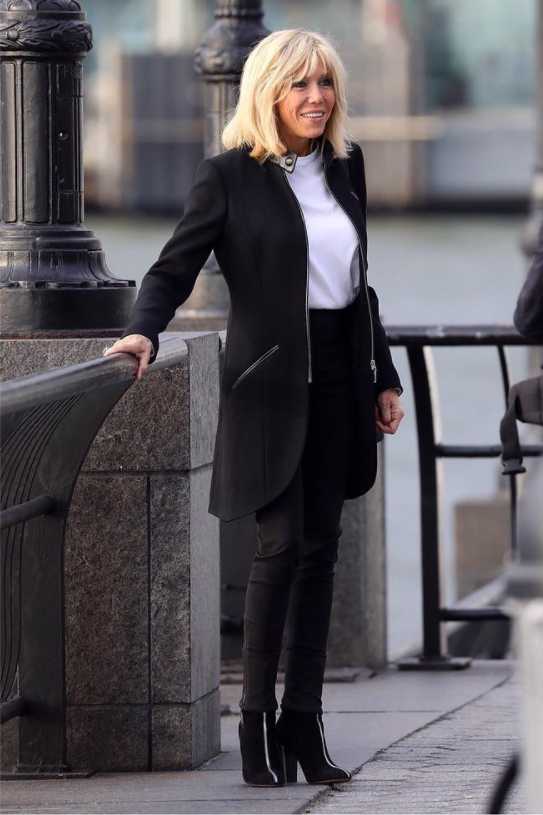 The French first lady, Brigitte Macron, has touched down in New York to accompany her husband, Emmanuel Macron, to the 72nd session of the UN General Assembly. And as such, her very Parisian wardrobe has been updated accordingly, to New York standards.
Gone are her vibrant frocks of royal blue and bold red—in a nod to the French flag—and in their place is a staple that most natives of this city have come to embrace: head-to-toe black.
For a stroll along the East River and a solemn visit to the 9/11 Memorial, Macron pulled together a Fall friendly outfit of black skinny jeans, a white t-shirt and a long black overcoat with a bold silver zipper and subtle leather details. For accessories, she opted for a mini black tote from her all-time favorite brand, Louis Vuitton, and finished off the outfit with black ankle booties featuring a stripe of white down the front. It was, by all means, an outfit most New Yorkers wear as soon as the leaves start to change color.
For a visit to the UN on September 19, where she was spotted proudly supporting her husband, Macron opted for a trendier vibe. Her white dress, decorated with lingerie-inspired lace, was a tad risqué for a day spent in the company of world leaders, but still had all the markings of the first lady's signature style. The frock demurely hit right above her knees and was paired with a black blazer and a polished updo, so the sexy details were smartly downplayed.
Keep an eye out for even more stylish first ladies, as they are sure to don more stunning looks before the UN General Assembly comes to a close late next week.