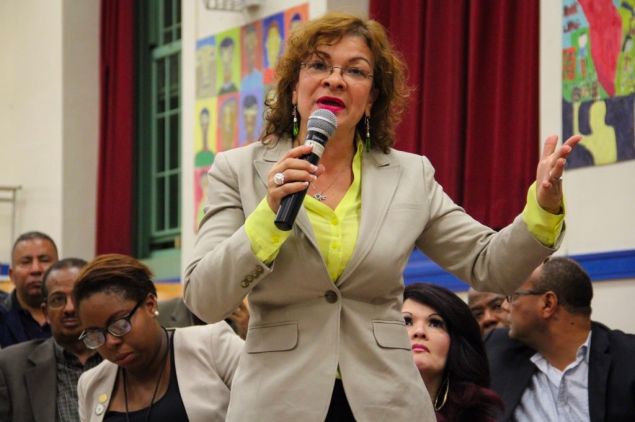 One City Council race in the Bronx pits a group of young progressives challenging a conservative Democratic senator from the old guard of Bronx politics.
A group of first-time candidates is running to replace term-limited Bronx Councilwoman Annabel Palma: Democrats Elvin García, 30, former Bronx borough director for Mayor Bill de Blasio; Amanda Farias, 27, who served as director of special projects for Queens Councilwoman Elizabeth Crowley; and community organizer Michael Beltzer, 31, who has served on the NYPD 43rd Precinct Community Council and volunteered on former City Comptroller John Liu's citywide campaign.
Another Democrat, William Moore, 49 who unsuccessfully challenged Palma in 2013, worked as special assistant to the commissioner of the city's Department of Youth Services (now the Department of Youth and Community Development), Richard Murphy, and in the press and speech writing offices of former Mayor David Dinkins, the city's only black former mayor, in the 1990s. He also worked as deputy press secretary for former Bronx Borough President Fernando Ferrer and as chief of staff to former Brooklyn Councilwoman Una Clarke.
They are all facing off against Bronx State Sen. Rubén Díaz Sr., 74, an ordained minister known for his support for President Trump and his anti-LGBT record, though he's also known for his strong constituent services and support for affordable housing and charter schools. He briefly held the Council seat in 2002 before entering the Senate.
"He's running as a de facto incumbent and it's really unfair, it's really unfair to the rest of the candidates running and I can speak for all the candidates running because it creates the power of incumbency," Moore said.
Díaz did not respond to requests for comment.
The seat covers the neighborhoods of Soundview, Castle Hill, Parkchester, Clason Point and Harding Park. The primary is on Tuesday.
MICHAEL BELTZER
Beltzer told Observer he grew up poor on Long Island, spending his formative years with his aunt and uncle. He briefly struggled with drug addiction, as did his parents, and also experienced homelessness. For those reasons, he said, he can relate to people who have had similar issues.
As a community advocate for the past decade — and a "proud parent" of a seven-year-old daughter — he has served on Community Board 9 and volunteered to help clean Bronx Community District 9. And he has educated residents about city services, registered voters and organized hundreds of people during one of the largest community-based planning efforts in the borough in the past year.
"I'm committed, I'm capable, I care," Beltzer told Observer in his campaign office in Soundview.
His platform is centered on police reform, affordable housing, education, transportation and getting people more civically engaged at the local level, noting his experience on the Bronx Democratic County Committee.
He wants to improve police-community relations, noting that the neighborhood coordinating officers program is a step in the right direction but also said that the city's Civilian Complaint Review Board needs to be an elected body and called for more community investments. He also wants to update the transportation system in the district and tackle overcrowded classrooms and making sure schools have all the materials they need.
Residents, he said, say they see him at the park, at their tenant meetings or that they have seen him registering other people to vote.
"I need to listen to people first," he said, and expressed his frustrations with the pace of change. "Nothing is really happening in our community as organically as we would like."
Beltzer also served as a merchant representative for the Bronx Chamber of Commerce and as a financial analyst at the New York City comptroller's office.
ELVIN GARCIA 
García — the only openly gay candidate running for the seat — says he grew up "very modestly" with a single mother and is a product of public schools. He said he reflects a "cross-section of this district."
"I'm also the only son of an immigrant who's a second English Language learner and I think those values also reflect the emerging immigrant population and working class community in this community," he told Observer at his campaign office in Soundview.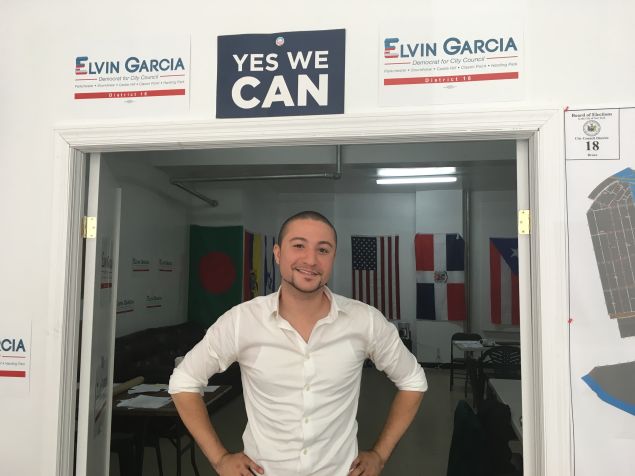 His platform is centered on education, public safety and transportation. He wants to build stronger police-community relations with the Neighborhood Coordination Officers program, bring more security cameras to New York City Housing Authority developments and youth jobs and after-school programs. He also wants to bring career and technical education back to schools, himself a product of a technical high school where he studied to become an airplane mechanic.
And García wants to ensure that the implementation of Mayor Bill de Blasio's upcoming ferry service in the district considers community needs and work with advocacy groups to give district residents a voice at the table.
"A lot of transformational things happening," he said. "We need a transformational candidate, a next generation candidate, someone who's worked with every city commissioner at the highest level of City Hall, at the executive."
His experience includes building support for the legislation to finance Pre-K for All and working with the city's Economic Development Corporation to organize multiple ferry service scoping meetings. He also worked as a field organizer in Nevada for former President Barack Obama's reelection campaign and as a community representative for Bronx State Sen. Gustavo Rivera and Bronx Assemblyman Marcos Crespo.
AMANDA FARIAS
Farias — the only woman running for the seat — is the oldest of three children in a single parent household. She got her "foot in the door" working for Crowley.
While managing the Council's Women's Caucus, she organized campaigns around equal pay, women's healthcare services and providing more opportunities for minority- and women-owned businesses and enterprises.
"I think we've had the same elected officials for a long amount of time and that's really what disengaged community residents," she said. "Folks don't have faith in the system."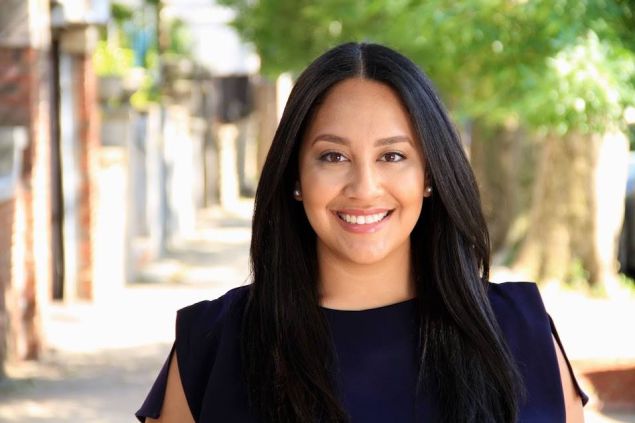 She is focused on transportation and healthy food access: bringing Select Bus Service to major bus lanes in the district, expediting bus service, bringing Citi Bike and protected bike lanes and expanding green markets. She also supports parental choice and STEAM (Science, Technology, Engineering, Arts and Math) in schools.
"It's really important that we are making sure that not only our students are benefiting from their education system, it's really about ensuring that my parents feel confident about bringing their kids to our local public schools," she said.
Farias also fought voter suppression and mobilized Black and Latino communities for Obama's 2012 reelection campaign and served as director of participatory budgeting for City Council District 30.
WILLIAM MOORE
Moore's platform includes tackling gentrification by raising the median income from $30,000 to $60,000, which would involved creating inroads to union labor; shutting down Rikers Island and transforming it into "something useful," such as hosting industries and building affordable housing; and creating a multicultural center with a small business incubator. He also wants to replace the "overstretched" 43rd Precinct, increase childcare funding and homeless families to be placed in NYCHA developments instead of shelters.
"I believe gentrification is an ethnic cleansing of poor blacks, poor hispanics and poor whites … these are folks who have been in the Bronx for a long duration of time. When the Bronx was burning, they had to rebuild the Bronx," he told Observer in a telephone interview.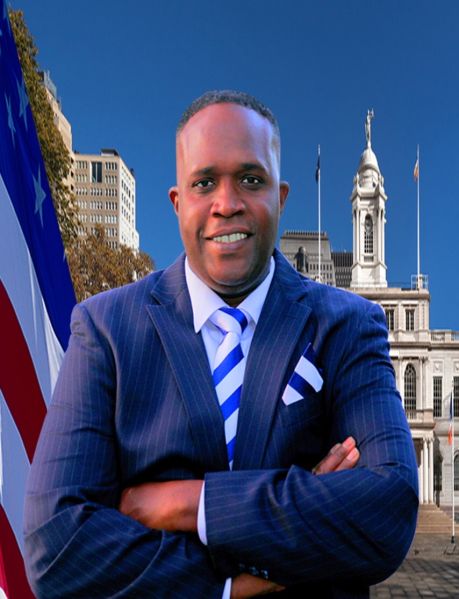 Moore said he came up with the "Youth Watch" program at the Department of Youth Services, monitoring negative youth-related stories and suggesting conflict resolution strategies. He believes he can challenge the "political subversion of our Bronx democracy."
"I believe the democracy in the Bronx has been hijacked by folks who call themselves Democrats but are nothing but ultra conservative Republicans," he said.
To combat Trump, Farias called for an end to arrests for low-level offenses, García emphasized the city's status as a so-called "sanctuary city" for undocumented immigrants, and Moore said he would strengthen that policy by closing any loopholes. Beltzer  he will "always be a resister" and stressed the need to fight at the local level.