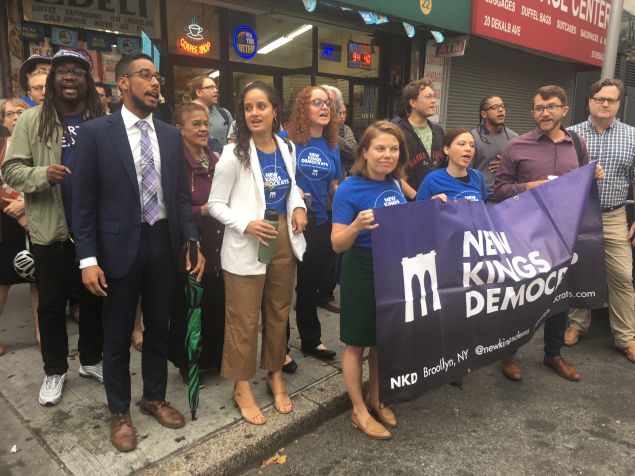 A group of progressive Brooklyn Democrats blasted the head of the Brooklyn Democratic Party for not holding a vote to pick the candidate for a vacant state Senate seat up for a special election.
The district covers lower Manhattan and northern Brooklyn, and the seat became available earlier this year when Sen. Daniel Squadron resigned. When Manhattan Democrats gathered at a meeting of the New York County Democratic Committee on Sunday, Manhattan District Leader Paul Newell received 72 percent of the vote from his borough to be the candidate for the special election. Manhattan State Assemblyman Brian Kavanagh received 28 percent.
But one day earlier, Brooklyn Democratic Leader Frank Seddio had announced that the Kings County Committee — meaning, the Brooklyn Democratic Party — had endorsed Kavanagh, which allowed him to clinch the nomination. Seddio endorsed Kavanagh without calling for a vote by members of the county committee, a move that angered the New Kings Democrats, a progressive organization formed in 2008 that had endorsed Newell.
The party's nominee is selected from a vote from the two counties, with Manhattan accounting for 65 percent of the votes and 35 percent from Brooklyn, according to Barry Weinberg, executive director of the Manhattan Democratic Party. On Monday morning, roughly 50 individuals from the New Kings Democrats protested outside of Junior's, where the Brooklyn Democratic Party was holding a post-primary breakfast.
Anusha Venkataraman, president of New Kings Democrats, said that Seddio was not responsive and that they planned to peacefully protest. "We heard nothing from Frank," she said.
Speaking to reporters before the breakfast started, Seddio said that Manhattan's process is different from Brooklyn's. He insisted that they were "just following the rules."
"This is a Democratic seat so it's very unlikely a Republican could win but we should have the best person who has the best experience … some people may not agree with it, but that's the process," he said.
Weinberg told Observer that he wished "everyone had our rules" but that they cannot "force anyone to play by them."
He explained that the Manhattan county committee rules give them the option to hold a joint convention but that the Brooklyn Democratic Party declined.
In early August, Squadron announced that he was leaving the state Senate. Because Squadron stepped down after the deadline for petitioning, the seat has to be filled via special election.
The party nominee for the November election is chosen in a selection process spearheaded by the chairs of the Manhattan and Brooklyn Democratic parties. The rules permit the chairs to conduct a process whose result is determined exclusively by party activists from Manhattan, or to give party activists across the Senate district a vote.
Brooklyn Councilman Antonio Reynoso — the only elected official at the protest, who was among candidates endorsed by New Kings Democrats for the September primary — said that who the candidate is "is irrelevant" at this point. He said that it is unfair that Manhattan can move through a county committee process but Brooklyn cannot.
He also referred to the 200,000 voters purged from the rolls in Brooklyn during the April 2016 presidential primary.
"It's so glaringly disrespectful, and it's an embarrassment to Brooklyn," Reynoso said. "We should be the progressive bastion for Democratic politics across the country. After what we see happening, after the presidential election, after we see voters purged in Brooklyn, all these mistakes continue to happen and it's because people are not allowed to be a part of the process and we're done with it."
Reynoso said that they are "tired" of a small group of people making decisions on behalf of the entire borough and that they "have no time to negotiate."
Kavanagh was endorsed by 21 Democratic elected officials, including Gov. Andrew Cuomo, Mayor Bill de Blasio, Lt. Gov. Kathy Hochul, Comptroller Scott Stringer, Public Advocate Letitia James, and Squadron himself. Newell, for his part, has been backed by the New Kings Democrats, Downtown Independent Democrats, the Lower East Side Democrats, Grand Street Democrats and Brooklyn Assemblyman Robert Carroll.
In a statement, Newell accused Manhattan Democratic Party Leader Keith Wright of orchestrating a deal in which Kavanagh would take the seat. Newell said Squadron "clearly fostered and approved of the back-room deal to benefit his friend and chosen successor."
"A deal made between two party bosses in the back room of Junior's Restaurant is an appalling replacement for a public vote — and is a stain on the Democratic Party in New York," he said.
Susan Lerner, executive director of Common Cause New York, a good government group, also blasted the process, accusing Seddio of undermining democracy "through a high-handed power play."
"It's clear why increasingly New Yorkers, millennials in particular, decline to register with a party," Lerner said. "A political party whose role is to foster democracy should be democratic itself. Frank Seddio failed."
At the breakfast, Kavanagh said that the process has been "long" but that "Brooklyn people have been welcoming."
"I particularly wanna thank the leader, Frank Seddio, who really has been very welcoming and really screened so many candidates as part of the process and hopefully all of this will work out and I look forward to representing Brooklynites," he said.