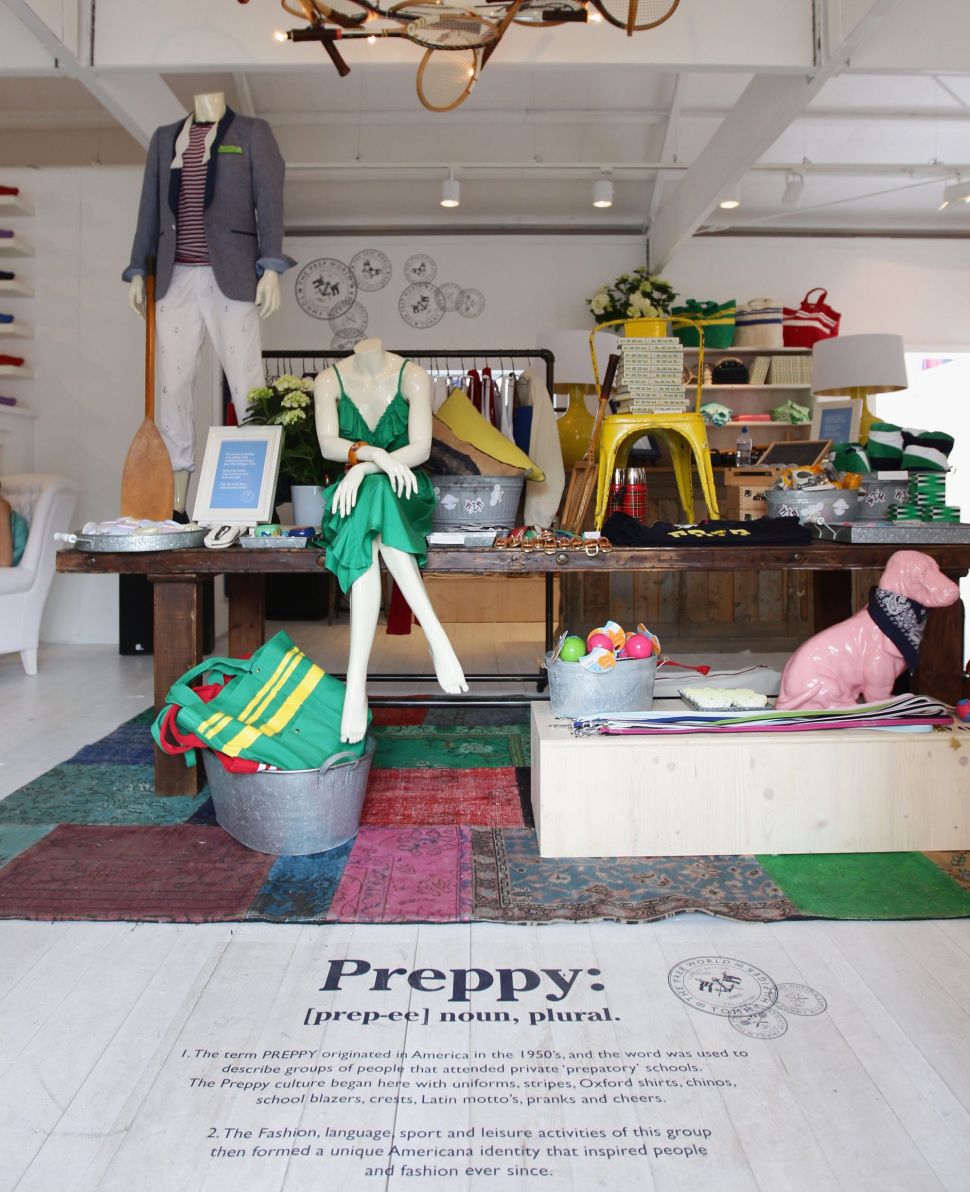 The preppy, resort-wear look seems to be experiencing an industry boom. The style was popularized decades ago by the late Lilly Pulitzer (she died in 2013), who channeled the Palm Beach-to-Nantucket way of dressing to great success. Now, several newcomers have jumped on the bandwagon and are running for the profitable finish line.
To those unfamiliar with the trend, because you don't get out of whatever downtown urban enclave you're inhabiting, I will attempt to describe it. The look is old WASP as worn by a very select few in places like Edgartown, Massachusetts; Fishers Island, New York; Hobe Sound, Florida, and their spiritual sister communities. People in these places had lots of money, usually for generations, and were utterly secure in their social status. They were the Brahmins of America—often Mayflower descendants or those that arrived shortly afterward. They usually stuck to themselves at their respective yacht and tennis clubs. They sailed on Wianno 25-foot gaff-rigged sloops, and if you don't know what a gaff rig is you aren't one of them. They generally married one another to keep the blond, thin and square-jawed gene pool intact. This group was the type to drive their rusted Dodges into the ground while having ten million shares of American Tobacco gifted from their grandfather in their portfolio.
The key fashion signifier was the red, green or yellow colored pants for men (short or long) and the brightly colored floral patterned pastel dress or tunic top for women. There were, of course, brightly colored cotton sweaters and linen shirts to go along. Often there were adornments of little cute graphics depicting whales or tennis rackets. The crew neck was emphasized, as was the cable knit. There were, except for Pulitzer, no designer names or labels associated with this style.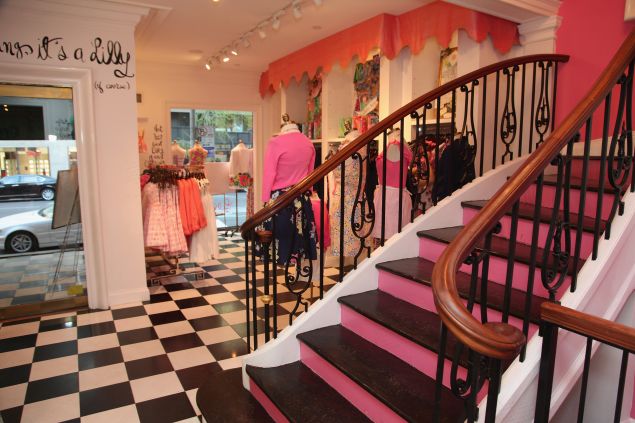 Garments were made well and sold in local stores. Or if you were in the town, i.e. New York, you could find this style at Paul Stuart or the pre-conglomerate Brooks Bros. The style was de rigeur in the aforementioned resort towns for decades, and there was no attempt to either export this style or import a new one.
Cut to today. Fashion brands like Vineyard Vines, J.McLaughlin, Brooks Brothers, J. Press and others have all adopted resort-town prep. Pulitzer, the line Lilly created, is also still in the hunt. It appears, based on the success of Vineyard Vines (with its 102 stores and counting), there is an eager market of wannabe old money fashionistas. It's the resort equivalent of what Ralph Lauren did for the Olde English country house style.
But the wearers of these clothes have a moral issue to contemplate: 99 percent of all these garments are made in China or other low-wage, lax-labor-law countries. Even the original Bermuda shorts by Tabs of Bermuda are now made in China. Nothing is made by anyone in the communities where these brands sell their wares. Only J.McLaughlin claims to makes anything domestically in its Brooklyn factory. However, in a cursory examination of their Southampton store it seems everything was made in China, India, or Peru. Their men's jackets come from Portugal. I did not see one garment with a Made in U.S.A. tag of origin.
What this means, is that the fashion look created by the patricians of America for themselves, and now copied by the hoi polloi, is sustainable only when one is contributing to their own economic and political destruction.
China, according to our president, is "taking our jobs and turning America into a third world country." China is spending hundreds of billions to build up a military to oppose us in the South China Sea and worldwide. They encourage and defend North Korea, which pledges to annihilate us with nuclear bombs (they claim Nantucket is now in reach), China tortures its dissident poets and human-rights lawyers, imprisons Christians, steals American patents, restricts our tech and automotive giants from doing business, and opposes U.S policy on toppling genocidal dictators everywhere—and that list is just off the top of my head.
So the old-money, American gentry look is now brought to you by your political and economic enemy. How unpatriotic; how idiotic. It is great that Emma Watson is concerned about the sustainability of clothes and the environment, but who is concerned with the human cost of offshoring all these jobs?
It is certainly understandable that people need cheap clothing, but does mimicking the WASP lifestyle need to be at that price point? We are not talking about clothes for low-wage families going to school or work here, we're talking about clothes in which to parade, ice-cream cone in hand, down the cobbled streets of Nantucket or the broad, leafy avenues of Edgartown. The stores that sell this fashion are all in upscale desirable locations. Where is the ethical awareness of a purchasing decision? As I see it, this desire to buy into the leisure lifestyle on the cheap mirrors the horrific effects of the fast fashion industry: all for me. Forget about the actual makers of the clothes.
As the brilliant research paper The China Shock points out, the loss of these manufacturing jobs has had a devastating effect on American communities. The loss, according to the researchers, has contributed to the opioid crisis, a surge in broken families, and the devastation of low-skilled-worker communities.
So, there you have it. A fashion style based on self-destruction. How quaint.
By the way, there is one fashion company that makes clothes in this look. Old Bull Lee claims to be made in America. That to me is ethical luxury, and it is luxurious to be ethical.