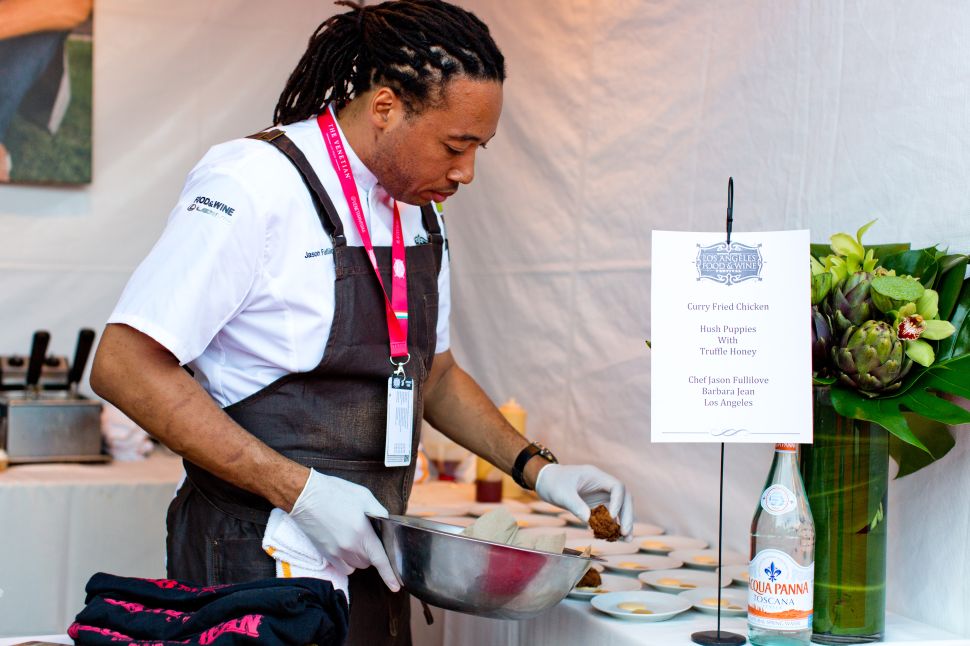 Chef Jason Fullilove had our favorite bite of last month's Los Angeles Food & Wine Festival: curry fried chicken alongside hush puppies topped with truffle honey and truffle caviar. It was a Southern-inspired dish from a chef who clearly has fine-dining chops to spare. It was a great example of how there's nobody else in Los Angeles who cooks quite like Fullilove does.
Fullilove is the man behind modern soul-food restaurant Barbara Jean, tucked away on the back patio of the Melrose Umbrella Company cocktail bar. It's a place that was thrown together quickly, a restaurant where you feel like like you're dining in a cool friend's backyard. It's also the culmination of a pretty crazy journey. Fullilove was the executive chef at elite restaurant Campanile and also at Patina Restaurant Group's LACMA Café. He went on to become executive chef for the high-profile reopening of Clifton's Cafeteria.
We remember enjoying Fullilove's carefully composed salad with saffron-pickled apple, shaved raw apple, avocado puree, red walnuts, dates, red grapes, Petite Hearts on Fire micro greens, shaved celery and baby lettuce at the 2015 Los Angeles Food & Wine Festival. But it did seem to be a peculiar choice for a chef who was at the time repping Clifton's, a place where turkey dinners with mashed potatoes and/or macaroni and cheese are the norm.
Fullilove didn't have a long stint at Clifton's. Then it was time to focus on what he really wanted to cook. He did Barbara Jean pop-ups with Feastly. He put together some other limited-engagement dinners.
And now he's got a "permanent brick-and-mortar" restaurant, which we've always found to be a funny term in an industry where things can be so ephemeral. But the point is clear: Fullilove has found a home, where he's doing his food on his terms. He's not roving anymore. He doesn't need a big blockbuster restaurant because he's got the freedom to serve whatever he pleases at the 45-seat Barbara Jean. This means celebrating his African-American roots while simultaneously showcasing his formidable cooking skills.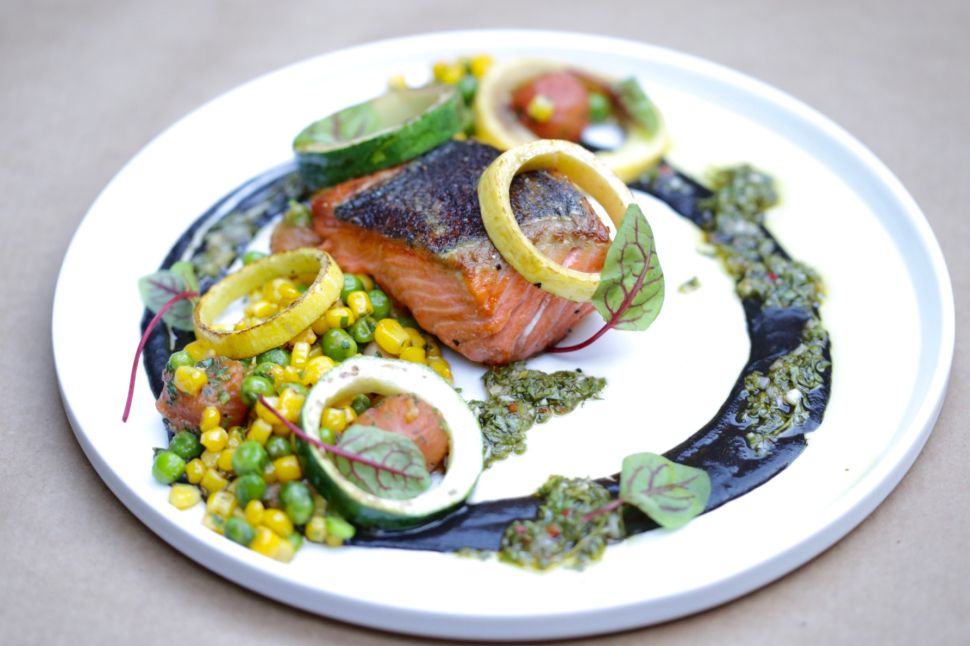 Barbara Jean serves riffs on Southern fried chicken, ribs and fried okra. The latter comes with velvet mustard. One popular starter is a deviled-crab toast with avocado and truffle caviar on sourdough. It's a tremendous improvement over typical avocado toast.
Fullilove also does things like put barbecue pork in agnolotti. He braises short ribs for 12 hours and serves them with poached apples, asparagus and carrots. He makes a black tomato puree for an Ora king salmon dish that also features summer squash and succotash. 
Not surprisingly, Fullilove is a chef who still enjoy changing things up on the regular. He's always tweaking his dinner and weekend brunch menus, based on the availability of "locally farmed, wild and foraged ingredients." When we visited Barbara Jean (which is named after the chef's mother) for dinner last week, Fullilove was excited about a new presentation of California brook trout with littleneck clams, forest mushrooms, pancetta and garlic confit. It's a bright, rich and earthy dish, and the trout's perfectly crisped skin makes every bite crackle.
Fullilove has also served California brook trout with black-eyed peas, romesco and tapenade. The point is clear: Don't be surprised to see trout and many other dishes evolve in the future. Barbara Jean opened its full-time incarnation in July. Fullilove, no longer itinerant, is only getting started here.