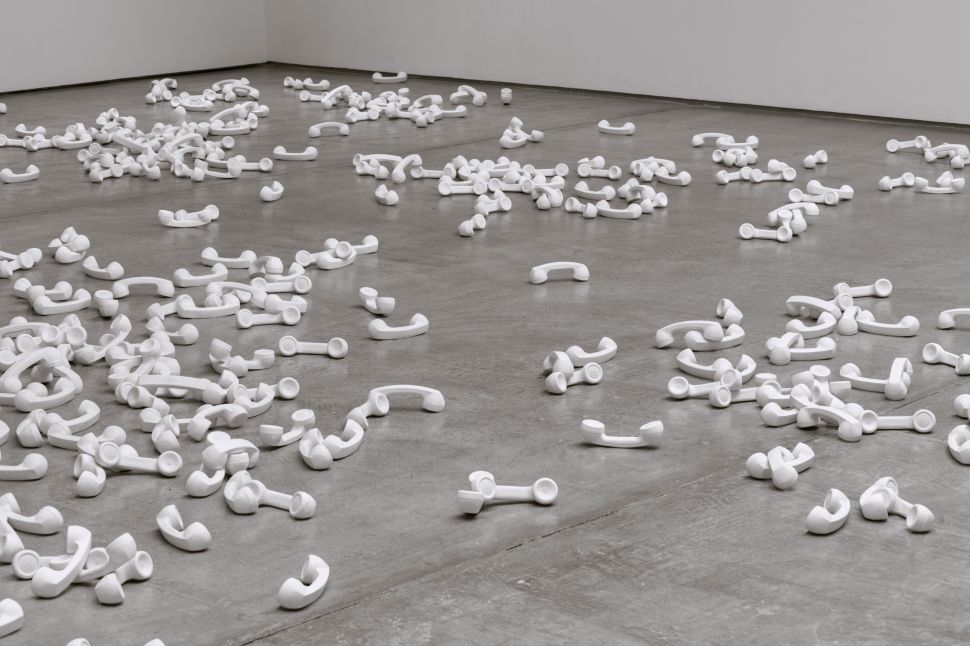 Before there was the clock, there was the phone.
"Phones," at Paula Cooper Gallery, is a journey back to Christian Marclay's work from two decades ago. His longtime admirers will retrace some earlier steps. Those who know him from The Clock will see work that seems to be a prequel to that project.
The Clock, for the record, is Marclay's 2010 installation of thousands of film and television clips in a 24-hour loop. A carousel of motion picture fantasy, it also displays the accurate time, as if to anchor the viewer in something real. Marclay's interplay of reel and real was a hit wherever a museum made the time for it.
Up the stairs at the Paula Cooper Gallery, the room that you'll enter shows an installation that Marclay named Boneyard when he created it in 1990. 750 phone shapes in faded white are strewn on the floor, like dried skeletons whitened over time in the desert.
It's not a game to find which one is ringing.
Is it a boneyard for a mute superannuated technology? There are elements of a generic memorial site here, in  contemporary art's desiccated language of genocide or historical crisis. But these are phones, after all, not people, and this expanse of receivers, as they were called, seems like the 1990s version of the dead letter office—a cemetery for a device whose time has past.
Now you know what it's like to be put on hold for too long. As the media theorist Marshall McLuhan used to say, when an object ceases to have a function, either it passes into extinction, or it becomes a work of art.
(If you want to see what collections of distinctly un-iconic discarded mobile phones look like, try the photography of Chris Jordan, in a collection of pictures that he calls "Intolerable Beauty: Portraits of American Mass Consumption."
Moving through in the tiny lobby on the second floor, you see the work most reminiscent of his Clock, Telephones, a video monitor which shows a cycle of clips from Hollywood films in which the telephone is part of the action. But unlike his time-keeping masterpiece, this one lasts a mere seven minutes. Marquee names from Katherine Hepburn to Meg Ryan dial numbers, greet the voice on the other end of the connection, speak in edited haikus, and then end conversations with a range of emotions. No surprise, the 1995 parade of moving pictures includes plenty of visits to the phone booth, which has passed into near-extinction along with the rotary dial.
If you can't get to the gallery, look for Telephones on youtube. It's usually up briefly before someone forces it to be removed.
The third room in this tour through the pasts of both Marclay and the telephone is Extended Phone II from 1994, which looks like a coiled hose wound with a phone at the end.
There's an obvious warning here—that the telephone which distances you from real contact with people and places can constrict around the person using it and cause harm. The threat seems oddly charming now, since the telephone cord is as far from the digital world as you can get. So why look at Marclay's creations? Well, why look at a dinosaur? A museum uptown shows plenty of them.
Marclay's originality is in the arrangement of objects, rather than in the objects themselves. Consider his rapid-fire clips of cigarette butts and chewing gum underfoot.
Bear in mind that Marclay wasn't the first to make the phone the center of a work of art. In 1948, no less than Norman Rockwell painted a cover for the Saturday Evening Post, The Gossips, that illustrates the flow of salacious news from one friend to the next. There are five rows of gossipy pairings on Rockwell's grid. Only four of those pas de deux have telephones in them, but Rockwell lets you see the device's potential.  Now that device is an archaeological object, somewhere in a landfill. If only we could say that about gossip.