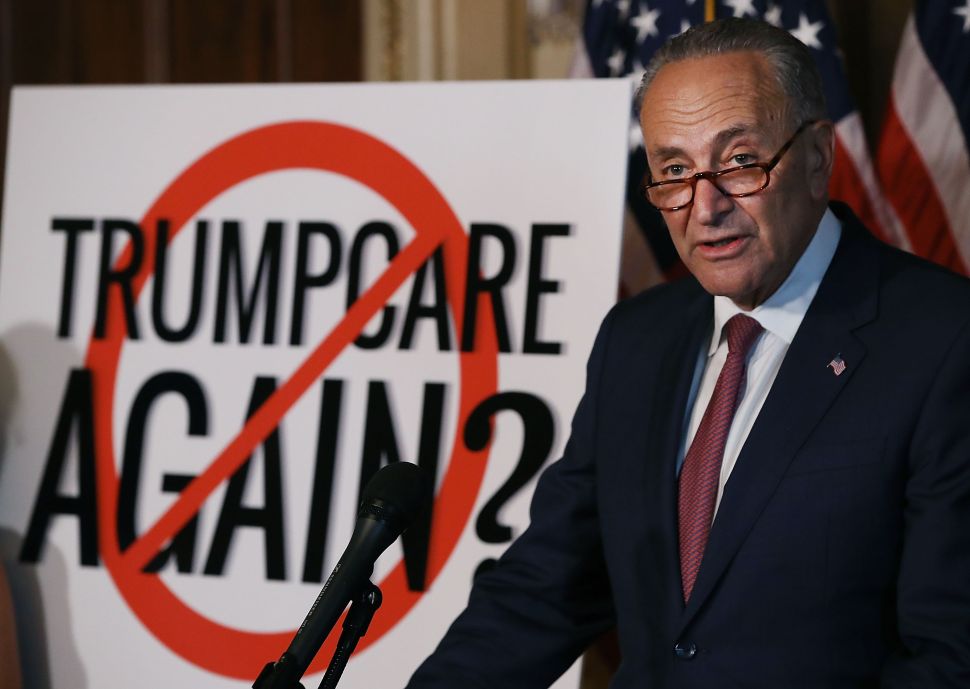 Senate Minority Leader Charles Schumer called the proposed Graham-Cassidy health care legislation a "sham" and dubbed it "Trumpcare II," maintaining that Republican lawmakers "are ashamed of this bill."
The legislation, which is sponsored by Sens. Lindsey Graham (R-S.C.), Bill Cassidy (R-La.), Dean Heller (R-Nev.) and Ron Johnson (R-Wis.), repeals the structure of former President Barack Obama's Affordable Care Act and substitutes it with a yearly block grant run through the Children's Health Insurance Program given to states to fund people's health care. The proposal gives states wiggle room to determine the manner in which the money is used.
The block grant, which is subject to appropriation, would replace the federal money spent on Medicaid expansion, Obamacare tax credits, cost-sharing reduction subsidies and basic health plan funding. The legislation stands to put 2.7 million New Yorkers at risk of losing health coverage and will cost New York $18.9 billion annually by 2026, according to the Center on Budget and Policy Priorities.
Schumer blasted Republicans for simply calling one hearing on one day without a Congressional Budget Office score and "only two witnesses against the bill."
He also spoke at a rally against the proposed legislation on Capitol Hill.
"The latest version of Trumpcare may live under a new name—Graham-Cassidy—but no matter how many ways they try to dress it up, they try to hide it, it's even more dangerous and more reckless than the previous bill that was defeated," he said at a press conference in Washington, D.C. "Simply put, Trumpcare is a sham. They're crafting it in the dark of night."
Schumer said that Republican senators "don't wanna go home" and tell a mother who learns her daughter or son has cancer and that an insurance company "can make insurance unaffordable for them." He also noted a scenario in which a middle class family in the suburbs is told that their mother or father who is living in a nursing home "may no longer get coverage."
Republicans, he said, are "ashamed of this bill."
"They're afraid to find out what it actually does and so we get another bill in the dark of night," Schumer said. "So the process is awful. Our Republican colleagues—you know, we've heard of justice being blind? Our Republican colleagues should be walking around with blindfolds 'cause they don't want to see what's in the bill they're being forced to vote for with all the cuts to people, with all its unpopularity, with all the basic meanness in this bill."
He noted that 10 governors, five Democrats and five Republicans opposed to the legislation released a letter outlining their opposition, saying that they prefer a bipartisan negotiation such as the one currently being carried out by Sens. Lamar Alexander (R-Tenn.) and Patty Murray (D-Wash.). House Speaker Paul Ryan and Trump have expressed opposition to their bipartisan effort.
But ultimately, Schumer said, it is the people who will suffer.
"There was a word missing: people, patients, care," he added. "All this stuff, Democrat, Republican, governors, Washington, how about how this affects people. Millions will lose coverage, no guarantee of preexisting condition and an end to Medicaid as we know it. Tens of millions of people could well lose coverage. People who desperately need essential services would lose it."
Sen. Kirsten Gillibrand noted that the legislation will roll back protections for Americans with preexisting conditions and that it will have a "devastating impact" on women's access to reproductive health care.
Brooklyn Congresswoman Yvette Clarke said that health care "is a right, not a privilege" and that she awaits the day the Republican Party "understands this."
Queens Congressman Joseph Crowley, the House Democratic Caucus chairman, also weighed in on the legislation, saying the fight "isn't over" and that Senate Republicans are looking to pass the "worst version of #Trumpcare yet."
Gov. Andrew Cuomo said that New York accounts for 14.5 percent of total Medicaid Disproportionate Share Hospital funding but is facing 16 percent of the nationwide DSH cuts that will go into effect on October 1 unless Congress acts. The $2.6 billion cut to the state by 2025, he said, is substantially higher than the cuts other states are facing, including California ($1.2 billion), New Jersey ($1.2 billion) and Texas ($1 billion).
"The federal government is still trying to decimate our health care system by targeting the quality of care low income Americans are able to receive," Cuomo said. "Health care is not a privilege or something for those we have the means to afford care—it is a fundamental right."
Mayor Bill de Blasio echoed similar sentiments.
"Washington Republicans are hoping you won't notice they're trying to take health care from millions," de Blasio wrote on his Facebook page. "Prove them wrong."