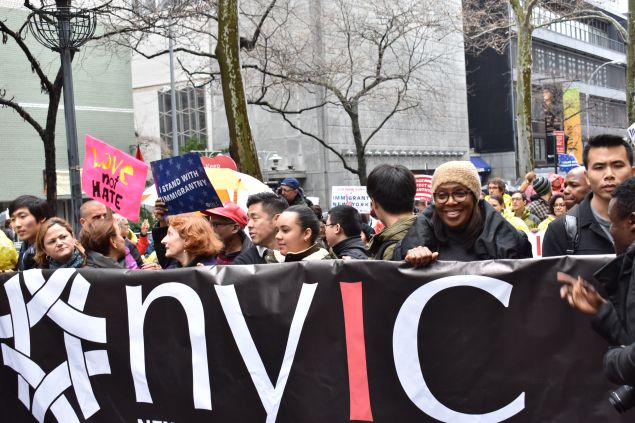 The City Council has passed a package of bills that will expand the role of the Mayor's Office of Immigrant Affairs to increase protections for the city's immigrants, at a time when President Trump has announced an end the Deferred Action for Childhood Arrivals program for undocumented youths.
Council Speaker Melissa Mark-Viverito first announced the legislation at Mayor Bill de Blasio's rally on Tuesday, calling for the passage of the bipartisan New York State DREAM Act in the immediate aftermath of Trump's decision to terminate DACA. The Council's Committee on Immigration passed the bills at a hearing on Wednesday.
Forty-two Council members voted in favor of both bills, while two Council members — Staten Island Councilmen Joseph Borelli and Steve Matteo — voted against them. Brooklyn Councilman Chaim Deutsch abstained on both pieces of legislation.
"It goes without saying that immigrant rights are facing relentless attacks under the current political climate," Mark-Viverito said. "More than 3 million immigrants calling New York City home, standing up for residents representing our communities, serving those who elected us and showing up and speaking out in defense of those who choose to make their lives in our great city all mean the same thing."
Matt Dhaiti, a MOIA spokesman, said that the office worked in conjunction with the Council on the legislation.
"The Mayor's Office of Immigrant Affairs worked closely with the Council on legislation to codify critical work of our office, such as sister agency partnerships that further our goal of making NYC a more inclusive city for immigrant New Yorkers," Dhaiti said in a statement. "We look forward to our continued partnership in serving immigrant communities in all five boroughs."
MOIA said that the city provides free, confidential immigrant legal services, that the city provides mental support through First Lady Charlene McCray's ThriveNYC initiative and touted the city's IDNYC card, a free, official government-issued ID card. The city has also conducted more than 450 "Know Your Rights" forums this year.
One bill would expand MOIA's role and mission by having it lead the city's efforts to support immigrants' welfare regardless of their immigration status and work with the Civil Justice Coordinator to evaluate the legal service needs of immigrants. It would also establish a state and federal affairs unit to keep track of changing federal laws and policies.
The legislation also requires MOIA to seek advice from city agencies on the implementation of laws and policies meant to protect immigrants, approach agencies on best practices for serving crime and human trafficking victims and report annually to the Council on its activities and the specific needs of immigrant communities.
Mark-Viverito; Queens Councilman Daniel Dromm, former chairman of the Immigration Committee; and Upper Manhattan Councilman Ydanis Rodriguez, sponsored the bill.
The other piece of legislation — sponsored by Mark-Viverito and Brooklyn Councilman Carlos Menchaca, current chairman of the Immigration Committee — would establish a MOIA-led interagency task force to unite the heads of city agencies and mayoral offices to evaluate the needs of immigrant New Yorkers as well as provide agencies with recommendations.
Agencies would also look for ways to coordinate city services for immigrants, with a particular focus on vulnerable immigrants such as crime and human trafficking victims, individuals who are LGBTQI, individuals with criminal justice system involvement and minors.
When Observer asked Mark-Viverito how the Council and MOIA plan to respond to Trump's recent decision to end DACA in light of the proposed unit tracking federal policies and laws, the speaker said that they are "trying to offer an alternative course of action."
She also said that they will look at the relevant agencies, the services and programming provide to immigrant communities and how they can serve them better.
"We have to be able to analyze and really focus particularly since this administration has made it very clear that they have sanctuary cities in their crosshairs, to be able to monitor and figure out what are the implications of those policy decisions at the federal level for us as a city and what can we do to respond to it," the speaker said. "Whether it's being vocal and taking some sort of offensive position or being able to figure out if there's adjustments that we can make to existing resources, existing programs, invest more money, for instance."
And she said the bill has been in the works for a while.
"This is a bill we've been working on for a while," she continued. "Obviously we believe in the role of MOIA and this is a way of continuing to support the agency and the office and also to expand its role."
On Tuesday morning, U.S. Attorney General Jeff Sessions said that the U.S. Department of Homeland Security will no longer process new applications for DACA, only those that were already submitted. Trump called on Congress to pass immigration legislation within the next six months and said DHS would not prioritize DACA beneficiaries for deportation or enforcement. The program offers legal protections to nearly 800,000 people in the United States, including nearly 42,000 in New York.
De Blasio said that the city will not ask for people's documentation status and that the NYPD would not turn into a "deportation force." He also said that undocumented immigrants will continue to have access to city services and that sites such as schools and hospitals will remain safe spaces.
New York Attorney General Eric Schneiderman, along with 15 attorneys general throughout the country, filed a lawsuit against Trump on Wednesday afternoon over what they allege is the "discriminatory animus" of his decision to end DACA.
This story has been updated to include a statement from the Mayor's Office of Immigrant Affairs. A previous version of this article stated that Queens Councilman I. Daneek Miller voted against the bills due to an error the City Council made in recording the vote.