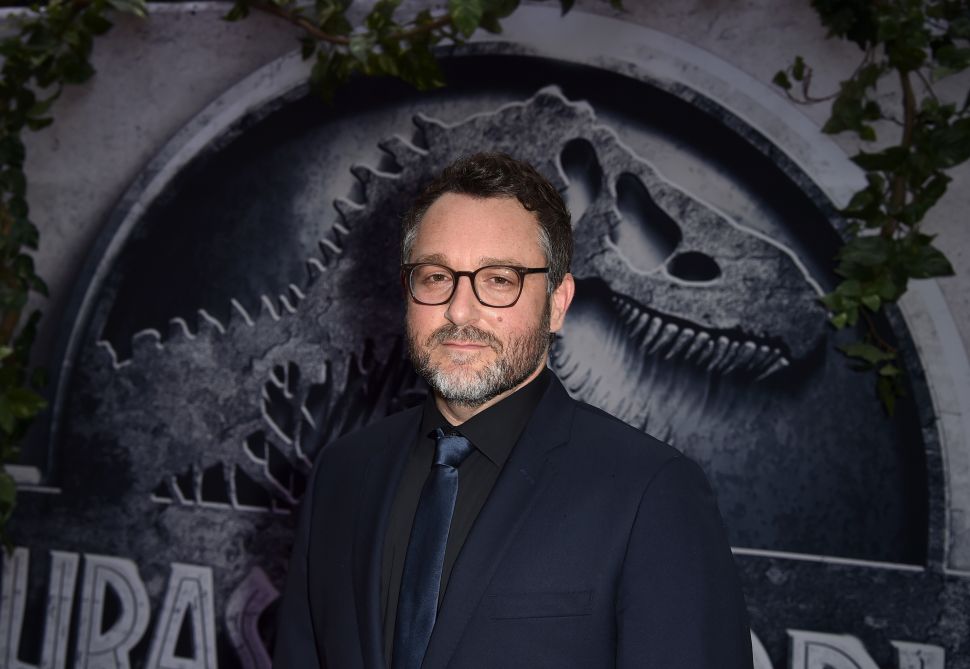 On Tuesday, Lucasfilm surprised absolutely no one when it parted ways with Colin Trevorrow (The Book of Henry, Jurassic World), who was announced as the director for Star Wars: Episode IX back in 2015. Here was the studio's official statement:
"Lucasfilm and Colin Trevorrow have mutually chosen to part ways on Star Wars: Episode IX. Colin has been a wonderful collaborator throughout the development process but we have all come to the conclusion that our visions for the project differ. We wish Colin the best and will be sharing more information about the film soon."
If you haven't noticed, Lucasfilm is a cold and calculating machine that will unceremoniously dump anyone to protect its brand. This is the fourth director shakeup since Disney snatched up the studio and the second in three months (anyone who says Lucasfilm president Kathleen Kennedy needs to go is nothing but a scruffy-looking nerf herder). While that's not a pretty precedent to set long-term, there really hasn't been any immediate fallout from all of this creative shuffling. Star Wars: The Force Awakens was great and made a ton of money and Rogue One: A Stars Wars Story was great and made a ton of money. Lucasfilm: 2, Singular Visions: 0.
But even if the new era of Star Wars film are content on being producer-driven (nothing wrong with that, just ask James Bond), Episode IX needs a director. Here are six choices Lucasfilm can't go wrong with.
Ava DuVernay
Hey, remember that time Force Awakens director J.J. Abrams touted DuVernay as the perfect Star Wars director? And remember that other time that DuVernay directed an Oscar-nominated documentary and the universally praised Selma? Oh, and what about that time that her $100 million A Wrinkle in Time looked absolutely fucking awesome?
https://www.youtube.com/watch?v=08BAKVJlfDA
This is an easy choice, but would DuVernay subject herself to Lucasfilm's rigid structure? Remember, she passed on directing Marvel's Black Panther, so she could be looking for a little more creative freedom. Then again, A Wrinkle in Time comes from Disney, which owns Lucasfilm (and Marvel)…so you just never know.
Joe Johnston
This choice has a bit less pizazz to it, but would make sense from Lucasfilm's perspective. Johnston has some really solid credits to his name (Captain America: The First Avenger, October Sky, Jumanji, The Rocketeer, Honey, I Shrunk the Kids) and some not so solid ones (The Wolfman, Hidalgo, Jurassic Park III). But he is a straight shooter who would fit within the studio's structure and expectations. More importantly, he's familiar with the Star Wars saga having designed famous characters and vehicles for the original trilogy. This wouldn't be a flashy hire, but it would be a safe high-floor type of move in the mold of grabbing Ron Howard to finish out the Han Solo movie.
Plus, Johnston sure knows his way around fun action.
Denis Villeneuve
You could make a strong case that Villeneuve is already one of the most talented working filmmakers in Hollywood despite a short resume of English-language features. He would be a dream choice that would excite both the Star Wars fandom and the more art-centric chorus of critical thinking voices in cinema. But Arrival was caked in his original touch and the upcoming Blade Runner 2049 gave him more room to work with, so would Villeneuve's uniqueness really mesh with Lucasfilm's assembly line approach? And where would he even find the time? He's eyed to direct the Dune reboot and possibly even Bond 25.
But, man, imagine this curious eye in a galaxy far, far away?
Patty Jenkins
She still hasn't officially signed on for Wonder Woman 2 yet…Just saying.
https://www.youtube.com/watch?v=MlwHKphUU_Y
Sam Mendes
Skywall was great, Spectre was not. We can all agree on that. But we give credit to Mendes for trying to make Bond a real person in the latter, even if the execution was lacking. Throwing in some human strokes is always admirable. Combine that authenticity with Star Wars' blockbuster entertainment and you could have something worthwhile.
Mendes' specialty is people recognizing their flaws and either overcoming them or accepting them and moving forward. As IX will be the concluding chapter of this new trilogy, the film's characters are going to need some closure on their arcs, especially Kylo Ren. That's where Mendes shines.
J.J. Abrams or Rian Johnson
So far, Abrams and The Last Jedi director Johnson are the only two filmmakers to come through the Lucasfilm grind unscathed. We would be perfectly happy with either of them landing the plane X-Wing. Both have proven their worth on their own and within the franchise (The Last Jedi looks to be a darker take a la Empire Strikes Back, which we are all for). Promoting from within usually works out well and it's reassuring to know someone with first-hand knowledge of this sprawling series will be entrusted to close it out.
https://www.youtube.com/watch?v=8sarFZJl3h0
Honorable Mentions: Ryan Coogler, Taylor Sheridan, Kelly Craig, Christopher McQuarrie, Martin Campbell