U.S. Reps. Adriano Espaillat (D-NY), Luis Gutiérrez (D-IL) and Raul Grijalva (D-AZ), along with City Council Speaker Melissa Mark-Viverito, were arrested in front of Trump Tower for a civil disobedience action that urged passage of the DREAM Act, which benefits undocumented youth brought to the U.S. in early childhood.
Trump is currently working on an agreement with Senate Minority Leader Charles Schumer and House Minority Leader Nancy Pelosi to make DACA permanent in exchange for stronger border security. DACA was established by former President Barack Obama in 2012.
Last week, Schumer and Pelosi said they hoped to clinch a deal with Trump "as soon as possible" and reiterated that both sides agreed during a dinner at the White House that a border wall would not be part of the deal. Gov. Andrew Cuomo recently urged Democrats to "exercise extreme caution" in working out the terms of the agreement, warning that Trump could put forward a "cyber wall."
"We're here, this is a great roundtable discussion with business leaders, academic leaders and some of our congressional members from Illinois, from Arizona, from Brooklyn, and we're here to talk about the DREAMers, and how we can coalesce around an agenda, a strategy," Espaillat told reporters following  the "Moment of Truth: Where America Stands on Immigration" forum, where he announced they would be participating in a civil disobedience action.
Gutiérrez also told reporters that they were planning to partake in the civil disobedience action "to show a way forward."
"Raul and I and Adriano, we made a decision that we wanted to be here today, that we wanted to do something more and we wanted to set an example because we need to fight in the courts and we're doing that and we need to fight legislatively and we're doing that…but the fight has to be in the most important court and that's the court of public opinion," he said. 
The way to protect undocumented immigrants, he said, is "by the millions of documented citizens in this country raising their voices for them." He also said that he and other Democrats have been fighting for comprehensive immigration reform but noted that people can't say they want that and not protect the DACA recipients.
"I understand why people want us to fight for comprehensive immigration reform. We have been fighting for comprehensive immigration reform," Gutiérrez continued. "But … how is it that I am going to look at people with a straight face and say that I can protect 11 million if I cannot protect the most beloved of the undocumented immigrants among us: the DREAMers."
At around 12 pm, Mark-Viverito, Espaillat, Gutiérrez and Grijalva joined immigrant advocacy group Make the Road New York and grassroots group New York Communities for Change for a rally near Central Park.
The lawmakers and advocates subsequently marched to Trump Tower, Trump's headquarters on Fifth Avenue, and sat in the middle of the street with their arms linked together. Police officers repeatedly told them that they would be arrested for disorderly conduct if they did not leave the street, but they remained seated and chanted repeatedly.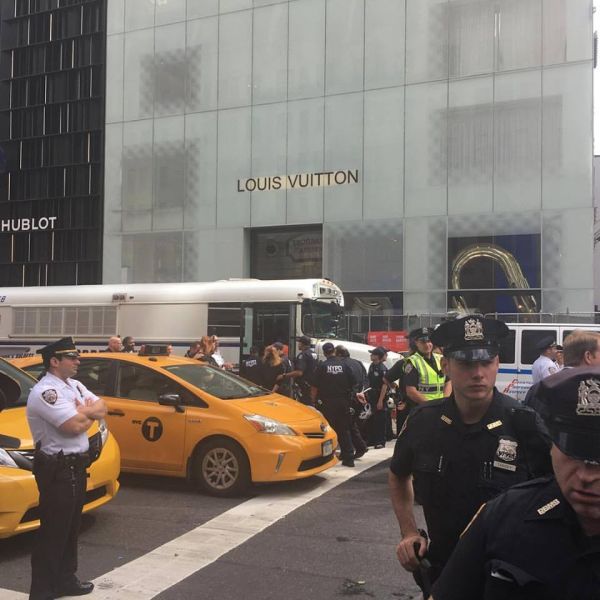 During the rally, Mark-Viverito was seen holding a banner with the phrases "#DefendDACA" and "Aqui estamos y no nos vamos" ("We are here and we are here to stay") and shouting various chants such as "Aqui estamos y no nos vamos!" and "Que queremos? Justicia! Et quando? Ahora!" ("What do we want? Justice! And when do we want it? Now!")
Other individuals arrested include Javier Valdes, co-executive director of Make the Road New York and community organizer Daniel Altschuler, also with Make the Road New York.
The City Council recently passed legislation expanding the role of the Mayor's Office of Immigrant Affairs to increase protections for the city's immigrants. The Council had been working on the bill for a long time, but the passage coincided with the ending of DACA.
In December, the Council also passed a resolution reaffirming the city's status as a so-called "sanctuary city" for undocumented immigrants. At the time, Trump—who had recently been elected president—threatened to deport up to 3 million undocumented immigrants that he claimed were criminals.