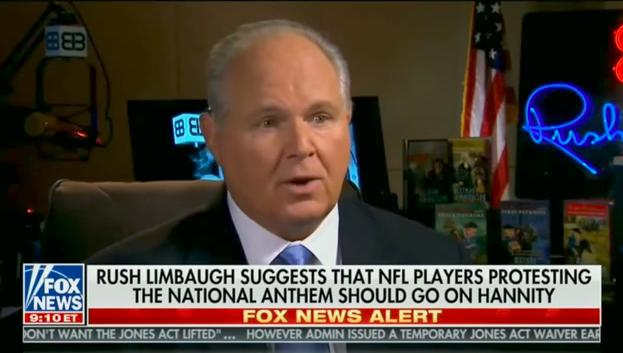 If you watched Sean Hannity and Rush Limbaugh shoot the bull for about 20 minutes Thursday night on Fox News Channel, you learned nothing about:
The wasting of a million dollars of government revenue on private jets chartered by Tom Price, President Trump's self-serving secretary of Health and Human Services who may soon be fired;
The life-threating human misery in Puerto Rico resulting from the fiasco of hurricane relief botched by the Trump administration;
The increasing tempo of multiple investigations into Russian espionage during the presidential election last November in favor of Trump, who upset Hillary Clinton despite three million more votes for Clinton;
The embarrassment to the Republican Party this week when crackpot religious fanatic Roy Moore defeated U.S. Senator Luther Strange in the Alabama Republican primary despite Trump stumping for Strange;
And the threat of nuclear war with North Korea, an erratic nation whose unpredictable, young leader is taunted impulsively by Trump, a large, bellicose, 71-year-old, orange-faced, yellow-haired chief executive.
Instead of discussing such news on this "news" channel, these two right-wing propaganda kings cherry-picked only a couple of topics that might have been met with Trump's approval. Limbaugh complained at length about how Republicans, who control Congress, are squandering their chance to dominate the national direction for decades.
And Limbaugh—a dedicated fan of the National Football League—said he'd play golf from now on each Sunday because he's disgusted by the black athletes who protest police brutality by dropping to a respectful knee during the national anthem before the beginning of their games.
He also attacked the Republican failures to destroy the health care system or to ram through tax cuts to comfort the comfortable and afflict the afflicted.
"This is an embarrassment," Limbaugh said. "A once-in-a-lifetime opportunity is being squandered… It's an absolute crime what has happened here."
Rather than blame the amateur president for his lack of policy details, his belligerent attitude toward even his allies, and his slippery grasp of legislative process, the celebrity broadcaster and admitted drug abuser—in a fanciful twirl of logic—blamed entrenched Republicans who fear what Trump success might mean.
"They can't afford for him to succeed with his agenda," Limbaugh said.
Why?
"The lid's blown, the gig is over, the joke is revealed if an outsider with no prior political experience can come in and fix messes," Limbaugh said. "How does that make them look? They can't allow that to happen."
Limbaugh appeared on the fourth day of the first week of Hannity's new time slot—9 p.m. instead of 10 p.m. He now goes head-to-head against the liberal Rachel Maddow on progressive MSNBC. Her program, The Rachel Maddow Show, has surpassed all Fox shows in ratings recently as Fox has reeled from sex scandals, schedule shuffles and the departure of several stars.
One of them, Bill O'Reilly, was a Hannity guest this week, as was Steve Bannon, the ultra-right wing propagandist who recently left the White House to resume control of the extremist web site Breitbart News. Paul Ryan was Hannity's featured guest on Wednesday, and Limbaugh's recorded interview will conclude Friday night.
Trump last Friday started the football controversy at a Strange rally by telling a hooting Alabama mob that black players demonstrating peacefully were sons of bitches who should be fired.
Trump and his fluffers like Hannity say starting this dispute is a brilliant stroke by Trump because Trump comes out in favor of the flag, the anthem and soldiers while athletes or media who dare to oppose Trump must be against all those patriotic things.
Indeed, this ploy is brilliant if you don't mind insulting black people with a lie and disrupting a major entertainment industry by pouring salt into one of America's most painful wounds and gleefully rubbing it in. Hannity and Limbaugh do this for a living, and Trump has learned from them.
Limbaugh, who bragged about his lack of a college education Thursday, said he knows more about the NFL issue than the black players who have attended college and spoken up.
"I don't even think they understand," Limbaugh said, explaining that they are being manipulated by "The Left." It's all about being a manly man like Limbaugh, Hannity and Trump.
"The Left wants to cause great damage to the NFL," Limbaugh said. "What does the NFL stand for? Masculinity. Strength. Toughness… It's patriotic. You've got the flag. You've got the anthem. You've got uniformed military personnel. All the things that The Left wants to erase from this country.
"They don't like displays of patriotism, strength, rugged individualism," Limbaugh continued. "And that's why the players are being used here. They think it's about police brutality."
Both Limbaugh and Hannity agreed that such silly concerns over fatal police shootings of unarmed black men is exaggerated because black people kill other black people anyway so what's the big deal?
LIMBAUGH: "More blacks are killed in Chicago by other blacks."
HANNITY: "Nobody talks about it."
Joe Lapointe spent 20 years as a sports reporter for The New York Times and worked as a segment producer for Countdown With Keith Olbermann. Recently, he has taught journalism at New York University, Rutgers and Long Island University-Brooklyn. follow him on twitter: @joelapointe
More by Joe LaPointe:
Fox News Bros O'Reilly and Hannity Defend White Race Against NFL
Trump Fumbles Most Dangerous Plot Yet: A Cultural War He Can't Win
Amid Ratings Slump, Is Fox Grooming Shannon Bream to Replace Sean Hannity?