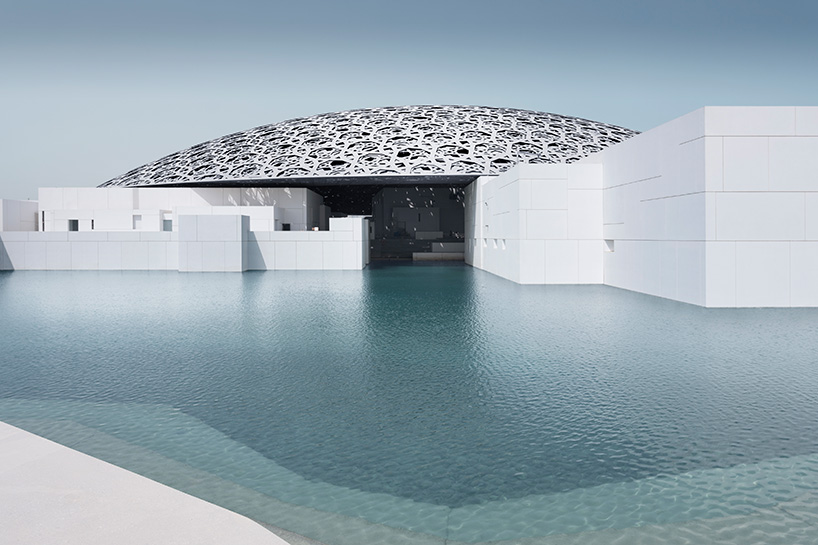 We've all heard the age-old saying, "Rome wasn't built in a day." Located nearly 4,000 miles away from the Eternal City lies Saadiyat (Happiness) Island, in the Arab Emirate of Abu Dhabi. A glittery cosmopolis, it's home to the controversial Louvre Abu Dhabi, which is set to finally open its doors after 10 years of planning and delays on November 11. The news was announced at a press conference held yesterday.
"At a time when culture is under attack… this is our joint response," French Culture Minister Francoise Nyssen told reporters at the news conference after the opening date was revealed.
While "culture" might be perceived to be under attack in today's political climate, a protest group, the Gulf Labor Artist Coalition, has been claiming throughout the duration of this project (and others on Saadiyat Island) that it's the workers employed to build the structure that have borne the harsh price of modern-day development. The group have made it their mission to advocate for migrant worker rights during the construction taking place on the island. As with at many building sites in the UAE, reports were rampant that the laborers (many of whom paid a fee to be contracted onto the project) were subject to security monitoring and overcrowded living conditions, while being locked into the construction site, unable to come and go of their own free will. 
The ultra modern structure designed by Pritzker-winning architect Jean Nouvel made headlines in 2007 after construction was famously halted, due to the worldwide economic crisis. The project continued to receive public scrutiny when it was revealed that three of the Western world's leading cultural institutions—New York University, the Guggenheim, and the Louvre—would establish respective entities in Abu Dhabi to form a high-brow cultural theme park, despite several human rights reports that showed a severe deterioration of liberties for both laborers and women throughout the UAE.
The 23 permanent galleries that are set to open in November are said to resemble motifs of traditional Arabic medinas and reference the design of Arab settlements. And by the time it opens its doors at the end of the year, the museum will have successfully borrowed 300 artworks from historic French art institutions: the Musée d'Orsay, Centre Pompidou, and the Louvre.
So what can we expect to see on display? Pieces include Andy Warhol's Big Electric Chair, Claude Monet's Saint-Lazare, a Gilbert Stuart portrait of George Washington, Mesopotamian Gulf artifacts, and other masterworks. What its attendance will be like, in light of the museum's many controversies, remains to be seen.