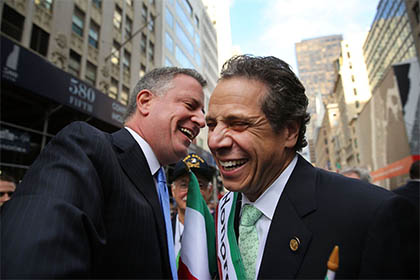 Gov. Andrew Cuomo says he won't be endorsing Mayor Bill de Blasio in the Democratic primary set to take place next week, despite having made endorsements in some local City Council races.
Before he marched in the New York Caribbean Carnival Parade, Cuomo told reporters that he does not vote in primary election — which will be taking place on Sept. 12 — because he lives in Westchester, and that he would not be making any primary endorsements, according to the New York Daily News.
"I'm not voting in this election, so I don't have any primary endorsements at this time," he said.
But he recently endorsed Community Board 12 Chairwoman Adrienne Adams for the seat formerly held by disgraced former Councilman Ruben Wills, who was found guilty of stealing public funds; Queens Councilman Peter Koo; and Queens Assemblyman Francisco Moya for the seat currently held by Queens Councilman Julissa Ferreras-Copeland, who will not be running for re-election.
Monica Klein, communications director de Blasio's reelection campaign, took to social media to dismiss the governor's comments.
Dan Levitan, de Blasio's campaign spokesman, referred the Observer to Klein's comments.
During the 2014 gubernatorial Democratic primary, de Blasio endorsed Cuomo, insisting that he would be "working hard" for him "and doing everything I can to help him. The mayor helped Cuomo secure the Working Families Party endorsement as he sought reelection against his GOP rival, Westchester County Executive Rob Astorino. That announcement marked a reversal, as de Blasio had previously told reporters that he would "obviously" be supporting Cuomo but indicated his belief that the endorsement decision was up to the WFP.
But in a recent interview with New York Magazine, de Blasio would not endorse any progressive challengers to Cuomo or the governor himself, insisting that he is focused on 2017 elections right now.
"No, I'm literally not willing to talk about 2018 right now," the mayor told the magazine. "Period."