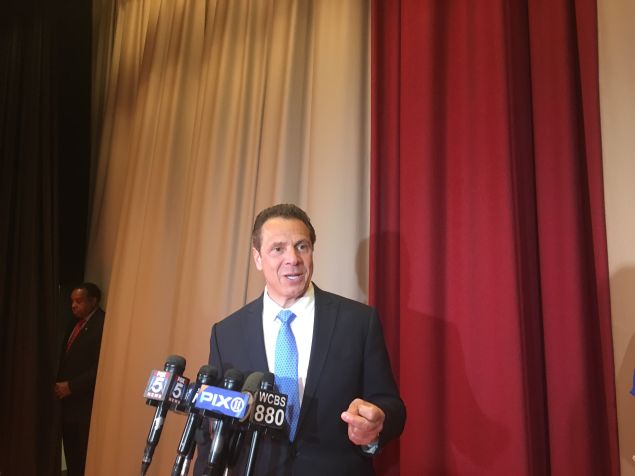 Gov. Andrew Cuomo urged Democrats to "exercise extreme caution" in hammering out the terms of an agreement to protect immigrants covered by the Deferred Action for Childhood Arrivals program. The governor warned that President Trump could put in place a "cyber wall."
Trump is currently working out a deal with Senate Minority Leader Charles Schumer and House Minority Leader Nancy Pelosi to make DACA permanent in exchange for tougher border security. DACA provides legal protectections for undocumented youths brought to the United States in their early childhood, a program established by former President Barack Obama in 2012.
Last week, Schumer and Pelosi said that they hope to seal a deal with Trump "as soon as possible" and stressed that both sides agreed during a recent dinner at the White House that a border wall would not be included.
Cuomo said that he doesn't like the "starting point of this negotiation."
"I think the Democrats have to exercise extreme caution," Cuomo said on GOP billionaire John Catsimatidis' CATS Roundtable Radio Show on Sunday morning. "Because basically what the transaction is is the president saying to the Democrats: I'll give you what you already have, which is DACA, and in exchange I want more money for border security with Mexico, which … is going to turn into a wall by the time he's finished."
Cuomo said that there are signs that Congress was going to pass legislation because "there would be anarchy and it would be the ultimate injustice if they didn't" — noting that he doesn't care "what their bluster says." He also said that cities and states would resist "and you'd have another civil war."
He anticipates that Trump would say that he received more money for border security and that he is putting in cameras, censors and an electric grid "that if anybody was near the grid, it sounded an alarm."
"Then the president would say, 'I have a cyber wall,'" Cuomo said. "'Better than the wall we were talking about. Better than a fence. This is a new, electronic, highly-sophisticated fence. This is a fence for 2020.' That's where it's going to come out."
Cuomo recently signed an executive order barring state agencies from asking about or disclosing individuals' immigration status unless mandated by law or if it is necessary to figure out eligibility for a benefit or service. It also prohibits law enforcement officers  from inquiring about immigration status unless they are investigating criminal activity.
The governor said that the ban includes — but is not limited to — when an individual approaches a law enforcement officer looking for assistance, is the victim of a crime or witnesses a crime.
Cuomo and state Attorney General Eric Schneiderman announced that they would sue Trump if he decided to end DACA. After Sessions formally announced the move, Schneiderman and 15 attorneys general throughout the country filed a lawsuit against Trump over what they alleged to be the "discriminatory animus" of the decision.