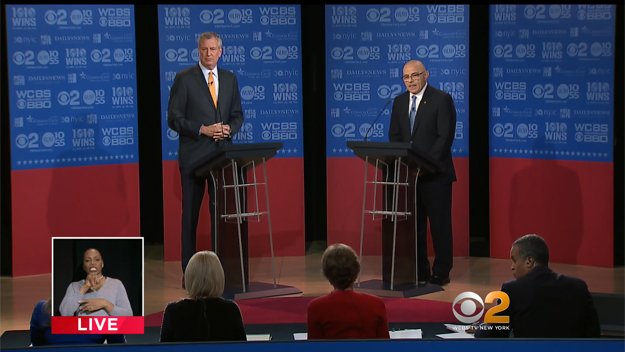 In their final debate before the Democratic primary on Tuesday, Mayor Bill de Blasio and former Councilman Sal Albanese battled to prove they had the strongest visions for the city, delving deeper into some of their policy goals and taking jabs at each other's positions.
During the second debate, hosted by CBS 2 News at the CUNY Graduate Center in Manhattan, the candidates fielded questions about key issues facing New Yorkers, including policing issues, campaign finance and ethics, de Blasio's connections to real estate developers, reforming schools and preparing for storms.
Unlike in the first debate, Albanese offered specific alternatives to de Blasio's plans, saying that he would bring back a proposal similar to former Mayor Michael Bloomberg's $20 billion plan to protect the city from storm surges. Viewers also learned more about Albanese's background. He served as councilman from 1983 to 1998.
"I came here as an immigrant at the age of 8 from Italy," he said. "I am the New York City story. I attended the public schools, graduated from CUNY and I had a great career in the City Council where I was considered one of the most independent members of the body."
De Blasio, for his part, took heat over Manhattan District Attorney Cyrus Vance's comments that the mayor and some donors apparently flouted the "intent and spirit of laws that impose candidate contribution limits." Those comments came as Vance and federal prosecutors declined to bring charges against de Blasio over his failed 2014 fundraising effort for the state Senate Democrats. The mayor insisted that he handled everything appropriately and that the city has strong campaign finance and ethics rules.
The mayor focused on accomplishments from throughout his first term, touting his work on affordable housing and reducing the city's use of the stop and frisk policing method. "I'm very proud of what we achieved in this administration," he said.
Albanese repeated his pied-à-terre proposal that would tax foreign investors for city properties but added this time that he would scrap de Blasio's zoning proposals. The mayor wants to reduce the record 60,000 people living in city shelters by 2,500 over the next five years, and open 90 facilities during that period. De Blasio reiterated that his plan would keep people close to their communities.
When Albanese noted that there are still homeless people in the street, the mayor said he would continue the HOME-STAT program, a comprehensive street homelessness outreach effort. And after Albanese suggested that de Blasio "dropped the ball" and that it was shocking given that he headed the City Council's Committee on General Welfare when he served as councilman, de Blasio dismissed the claim.
"The affordable housing plan requires developers to create affordable housing," he said. "That's never happened before, that's a matter of law. And we challenged landlords. They sued me by the way, the landlord lobby sued me when we had the rent freezes, even though the rent freezes were totally fair."
Albanese also expressed support for a congestion pricing proposal, saying that he likes the Move New York plan that would place tolls on the East River crossings and charge automobiles that enter Manhattan south of 60th Street. De Blasio said that congestion pricing is a "regressive tax" and that Albany hasn't presented a plan for the city to assess, again touting his millionaires tax on wealthy New Yorkers to fund subway repairs and reduced fares.
Albanese and de Blasio both expressed support for quality of life policing, but expressed different views on stop and frisk, with Albanese expressing support for it.
And while the candidates both expressed their disdain for President Trump's policies — Albanese called them "abhorrent" — they disagreed over how to go about working with the president.
"I also realize that I've gotta deal with HUD, I've gotta deal with the Department of Transportation," Albanese said. "I don't wanna get into a personal grudge match, like you did when you went out and protest in front of his building."
"Just for clarification: you're saying that the mayor of New York City standing up to Donald Trump and protesting in front of his building is a bad idea?" de Blasio retorted. "I think it was an important thing to do."
The mayor also defended his op-ed in which he published a list of unnamed donors who did not receive special treatment from criticisms from Albanese, who had asked him to offer the list during the last debate. Albanese said the op-ed was insufficient and blasted him for attacking the press.
During the first debate, de Blasio often accused Albanese of spreading "factual inaccuracies" and touted his record. Albanese, for his part, blasted de Blasio's plan to address the city's homelessness crisis and accused him of fostering a "pay to pay" culture in the city due to his connections to real estate developers. But he was light on clear and specific alternatives.