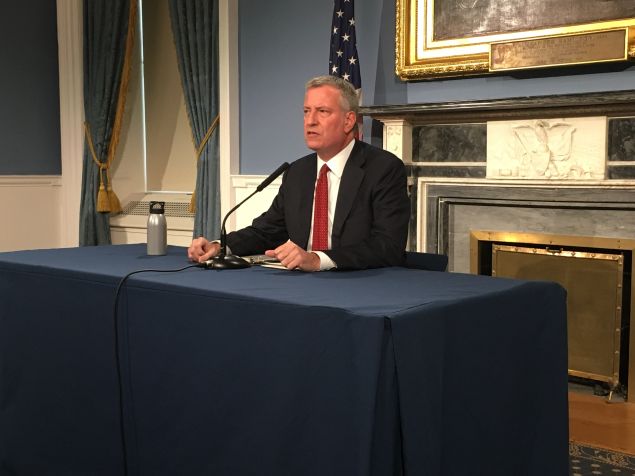 Mayor Bill de Blasio says he regrets promising to provide a list of political donors who did not receive special favors from City Hall, five days after he unveiled the long-awaited op-ed that did not include any names.
On Friday morning, de Blasio published an op-ed on Medium defending his administration and criticizing the media, more than a year after he first promised to provide the list. Ultimately, the op-ed did not list any donors. But he offered examples of several requests his administration got from unnamed donors that were rejected, including a real estate developer who wanted a contract of the city ferry service and another who wanted to know the result of a land use action.
When a Politico reporter asked de Blasio if he regrets promising the list, the mayor responded, "Sure."
"Look, I said it in a moment of frustration that I thought a whole side of the story was not being recognized and obviously it became much more of a dramatic idea than I ever intended it to," he said. "So yeah, you know the old phrase I should have stood in bed, I should have just let it be."
He again reiterated that he should not have said anything, but believes that the op-ed is sufficient.
"But, you know, I'm fine with it," he continued. "Would have been better off saying nothing. I put out something I think that illustrates what I'm trying to get across."
In March, Joon Kim, the acting U.S. Attorney for the Southern District of New York, and Manhattan District Attorney Cyrus Vance announced that they would not file charges against the mayor or his aides for a potential pay-to-play scheme involving de Blasio's now-defunct political nonprofit Campaign for One New York and his failed 2014 fundraising effort for the state Senate Democrats.
Last May, the mayor promised to give the media a list of contributors who did not receive any benefits from his administration. In April, he told reporters that he would instead write an op-ed. But at the end of May, he said that he did not publish the op-ed yet because he did not think that his first draft sufficiently demonstrated "what I was trying to say."
In the op-ed published Friday, de Blasio defended his administration, maintaining that all requests and ideas are assessed strictly on the facts and must face "merit-based bureaucratic decision-making." He did not give any of the donors' names in the op-ed, instead stating their roles, what they requested and the manner in which the city responded.
Without naming them, de Blasio referenced Jona Rechnitz and Jeremy Reichberg, two wealthy Brooklyn real estate developers who are now involved in a police corruption cases that originated in the administration of former Mayor Michael Bloomberg.
He also referenced real estate developer Douglas Durst, who wanted to run the city's ferry service. In response to his inclusion in the op-ed, a spokesman for Durst told Politico, "Winter is coming," a foreboding line from the TV show Game of Thrones. De Blasio, in response, said he would not be attending "if Mr. Durst invites me to a wedding." The "red wedding" is a famous scene from the show full of murder.
Former U.S. Attorney Preet Bharara took to Twitter after de Blasio published the op-ed to needle him for going after the press.
The mayor dismissed Bhara's criticism, saying that it doesn't make sense to him.