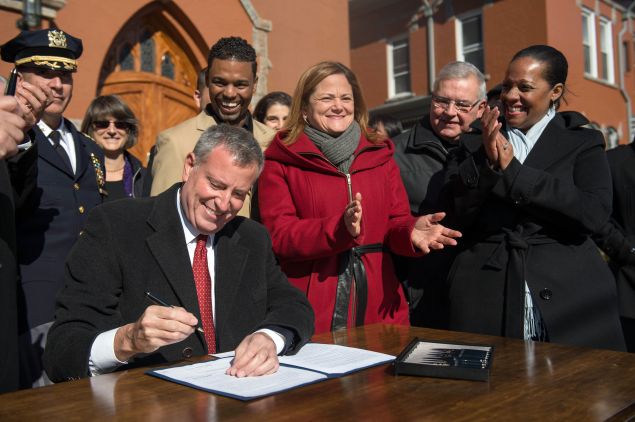 Mayor Bill de Blasio proclaimed that cities like New York City that are inclusive of immigrant communities have the opportunity to define a "good, new normal" that demonstrates why inclusive cities succeed and thrive.
On Monday, de Blasio gave the keynote address at his New York City Global Mayors Summit at the Grand Hyatt on how cities can and are executing policies that encourage migrant and refugee integration, protection of their rights and civic engagement. The event coincides with the United Nations General Assembly and is part of the 2017 annual Concordia Summit.
Program partners were the Mayor's Office for International Affairs, the Mayor's Office of Immigrant Affairs, Columbia University's Policy Initiative and Open Society Foundations, whose vice president, former U.S. Ambassador to South Africa Patrick Gaspard—who spoke at the summit—is a close friend of de Blasio's.
The mayor warned that the concept of the nation-state "is a bit strained" and asserted that national governments are less able and in many cases less willing "to respond to changing dynamics than ever before."
Particularly on issues of migration, he said, the default position is to "let the cities handle it."
"We know an essential truth—we handle these issues because it is our job, it's our moral responsibility because if there are human beings in our midst, they become part of our community," de Blasio said. "It may not be the ideal circumstance, but it's something we instantly feel responsibility for."
In that challenge—calling the trend of powerful national governments deflecting to cities "galling"—comes an opportunity, de Blasio said, in the form of reshaping the "thinking around migration and what immigrants mean in our society."
"We have a chance to define a new normal—a good, new normal—in which inclusive societies are prized and recognized as the most productive, the most modern, the most filled with promise," he said. "That is not the assumption in much of the world. It's certainly not the assumption in many quarters here in my own country. But we're in the process of building that new normal, not through words but through deeds."
He said that even though New Yorkers are "crammed together like sardines in a way that should not be a model for humanity," it "still works" because people of all faiths, ethnicities and income levels are ultimately "mixed together."
Too much of the current national discourse, he said, incorrectly suggests that immigration causes crime and the loss of jobs for Americans.
"We have to show these examples more powerfully than ever in light of the rise of nativist forces and voices of division," he said. "We have to show we have a model that actually works for people. It's not just morally powerful. It's not just something that makes us feel good, it actually works better and it is the future."
During his address, de Blasio said that the city has become "the safest big city in America" over the last 25 years and that it has more immigrants at this point in time than in nearly 100 years, noting that his grandparents came from southern Italy more than 100 years ago.
He touted the IDNYC program, a government-issued identification card available to all city residents age 14 and older, noting that the city borrowed the idea from Oakland, California and New Haven, Connecticut and that Paris subsequently borrowed it from the city. He also noted that the NYPD does not ask immigrants about their immigration status.
The mayor said that Congress has the chance to pass the DREAM Act to protect undocumented youth brought to the United States in their early childhood and "change the whole trajectory of the migration debate in this country." The Deferred Action for Childhood Arrivals, which was instituted by former President Barack Obama in 2012, was recently ended by the Trump administration, which has given Congress six months to pass immigration legislation.
President Donald Trump is currently hammering out a deal with Senate Minority Leader Charles Schumer and House Minority Leader Nancy Pelosi. Pelosi and Schumer have said both sides agreed to a deal that includes tougher border security but no border wall. But Gov. Andrew Cuomo has urged Democrats to "exercise extreme caution" and warned Trump would build a "cyber wall."
"They actually would like to see a DREAM Act to give those young people a chance to contribute to this country," he said. "We all now need to do the hard work on the ground, talking to our Senators and our Congress members to make that a reality. That's going to be one of those turnaround points not only for the United States, it's going to send a message all over the world."