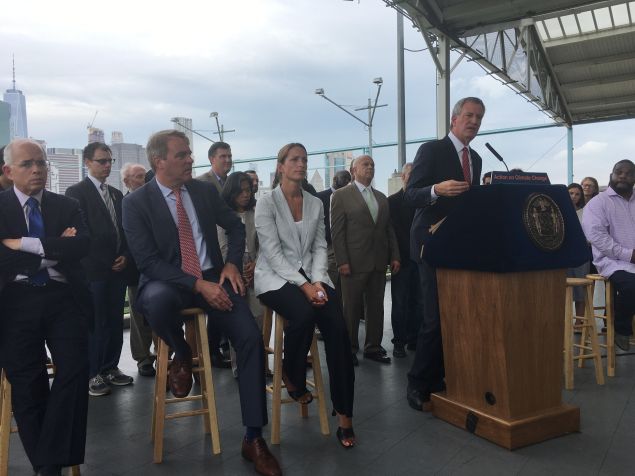 Mayor Bill de Blasio announced that the city will require more than 14,000 buildings it considers to be the least energy efficient to cut down their greenhouse gas emissions — or face severe penalties — as a way to ensure the city meets the goals of the Paris Accord climate change agreement.
Mandated fossil fuel caps will apply to all buildings that are more than 25,000 square feet and lead to replacement of fossil fuel equipment and efficiency upgrades in the worst-performing 14,500 buildings, which collectively generate 24 percent of the city's greenhouse gas emissions. Building owners will be forced to fix boilers, heat distribution, hot water heaters, roofs and windows and make more substantial changes during their replacement or refinancing cycles over the next 12 to 17 years.
The city is aiming to reduce its greenhouse gas emissions by 80 percent by 2050. De Blasio said that it is a "very different approach" than the city has ever taken before.
"It's the largest buildings that are the biggest challenge and they need to dramatically cut their greenhouse gas emissions," he said at a press conference at Brooklyn Bridge Park this morning. "So we are making very clear that there will now be a standard and a timeline and there will be very, very serious consequences if they fail."
At the end of May, Trump announced that the United States would formally withdraw from the pact, which the United States signed on to under former President Barack Obama, along with about 200 other countries in an effort to drastically cut greenhouse gas emissions beginning in 2020. A few days later, de Blasio signed an executive order reaffirming the city's commitment to the Paris agreement.
"We're clear about the fact that we're not waiting on President Trump and his cabinet of deniers to address this crisis. We have no such illusion," de Blasio continued. "We understand it's our responsibility. We're not gonna put our heads in the sand, we're not gonna run away from the Paris accord. In fact, we're going to embrace it even more intensely than ever."
"By stepping away from the Paris agreement, President Trump has endangered New York City and New York City is not gonna take it lying down," he added. "We're gonna take matters into our own hands. And it's important that we feel that we are fighting this crisis like our lives depend on it because in fact they do. It's a life and death matter."
The new targets seek to lower citywide greenhouse emissions by 7 percent by 2035, and create 17,000 green jobs carrying out building retrofits. De Blasio said that the plan will be implemented through legislation supported by his administration and sponsored by Queens Councilman Costa Constantinides, chairman of the Council's Committee on Environmental Protection.
He said that there will be a legislative process and that "fine tuning will occur naturally in that," predicting that there will be a "high level of alignment." His administration and the Council, he said, have had conversations "going back months." He also spoke to City Council Speaker Melissa Mark-Viverito about it yesterday.
"There's still some issues the Council is working on," the mayor said. "We felt this package is ready to go now. We wanted to lay it out because we need to get to work. So I think we're gonna have a very cooperative, positive process but the bottom line from our point of view is we're ready to move. We think the pieces are there."
Robin Levine, a spokeswoman for Mark-Viverito, said that the mayor's plan is not sufficient.
"The City Council will continue to explore more comprehensive legislation that will fully address the environmental needs of our City," Levine said in an emailed statement. "The Mayor's current proposal simply does not go far enough."
The legislation will institute yearly penalties that will increase according to building size and the amount the buildings surpass the fossil fuel use targets.
The mayor said that a 30,000-square-foot residential building functioning significantly above its energy target would be required to pay $60,000 for each year that is over the standard, beginning in 2030, for example. A one million square-foot building running well over its energy target, he said, would have pay as much as $2,000,000 for each year that goes over the target. Failure to comply will have an impact on a building's ability tor get future permits for key renovations.
So far, he said there are 1,211 buildings that are either complete already with their retrofits or are in the process of being completed. Among New York City Housing Authority developments, 420 have either done or are in the process of being completed.
"This starts immediately," he said.
This story was updated to include a comment from the speaker's office.