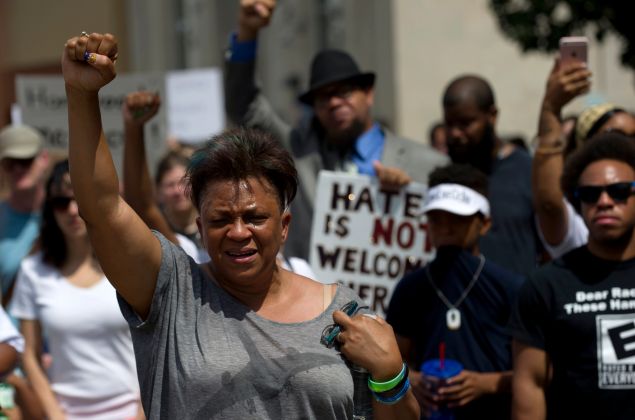 Mayor Bill de Blasio announced the 18 members of the commission that will review the city's statues, arts and monuments weeks after the violence stemming from a white nationalist rally in Charlottesville, Va.
Over the next 90 days, the commission will come up with guidelines for how the city should tackle monuments deemed as oppressive and contrary to the city's values against racism, bigotry and intolerance, de Blasio said. The commission will also review and offer recommendations for a select few items, including pieces that have garnered extensive public discussion.
The commission will issue its recommendations by the end of this year, which will be posted publicly on the city's website, along with a description of de Blasio's final decision. The commission will be co-chaired by Darren Walker, president of the Ford Foundation, and Tom Finkelpearl, commissioner of the Department of Cultural Affairs.
De Blasio said that an "important conversation" is currently underway about history and representation in public art, monuments and markers.
"This diverse group of experts will be creating a thoughtful set of guidelines that acknowledge the complexities of history and the values that matter to us as New Yorkers," he said in a statement. "The commission will also make specific recommendations for a select few monuments and markers that have prompted understandably passionate public discourse. I'm confident that this process will produce a conversation capable of examining our public art through the accurate, contextual historical lens that it deserves."
The ex-officio city agencies are the Public Design Commission, the Law Department and the Parks Department. The mayor said that additional members may be announced before the commission's first meeting, which will be scheduled for later this month.
The commission's final recommendations may include proposed principles for the city's public works collection, policies and actions the city may weigh to review and address city installations and other initiatives.
The commission will operate as an advisory body made up of members with expertise in a variety of areas, including history, art and antiquities, public art and public space, preservation, diversity and inclusion and the law. A small number of city agencies will offer technical and policy expertise.
Its process will consist of opportunities for public and community engagement, including a public forum and a digital survey that will be on the Department of Cultural Affairs' website.
Finkelpearl said that he was "thrilled and honored" to lead the commission with someone of Walker's "intelligence and stature."
"The members of the commission bring an incredible range and depth of knowledge to this important task, and I am sincerely grateful for their service," he said.
Last month, white nationalist and alt-right groups held a "Unite the Right" rally against Charlottesville's decision to remove a statue of the confederate general Robert E. Lee.
James Alex Fields Jr., a 20-year-old Ohio resident, drove his car into a crowd of counter-protesters and killed Heather Heyer, a 32-year-old Charlottesville resident and paralegal, and injured 19 other people. Fields's high school teacher said that he "was very big into Nazism" and "really bought into this white supremacist thing."
The violence in Charlottesville has sparked a movement throughout the country seeking to remove statues, monuments and markers bearing the names of Confederate generals, including in New York City.
City Council Speaker Melissa Mark-Viverito has called for the statue of Christopher Columbus — known for discovering the Americas while sailing for Asia but later known for aggressive moves to colonize and oppress natives — to be reviewed.
So far, de Blasio, who is Italian, won't say whether it should be removed or not despite his spokesman saying the statue would  "get very immediate attention." Public Advocate Letitia James has said the statue should remain, and a group of Italian American leaders led by Staten Island Councilman Joseph Borelli rallied at City Hall to protest discussions of possible removal of the statue.
The 16 commission members include actor, civil rights activist and singer-songwriter Harry Belafonte; Richard Alba, distinguished professor at CUNY Graduate Center; architect Michael Arad, designer of the World Trade Center Memorial; and John Calvelli, executive vice president for public affairs at the Wildlife Conservation Society.
Walker, for his part, said he is looking forward to getting to work.
"I look forward to working with Tom Finkelpearl and the rest of the distinguished commission to assess the symbolism and significance of specific art, monuments, and markers that detail our city's and country's complicated historical legacy," he said.
Other members include Mary Schmidt Campbell, president of Spelman College; Gonzalo Casals, director of the Leslie-Lohman Museum of Gay and Lesbian Art; Teresita Fernandez, a visual artist with experience in public art; Amy Freitag, executive director of the JM Kaplan Fund; and Catie Marron, editor of books on urban parks and public spaces and trustee of the New York Public Library.
Jon Meacham, Vanderbilt professor and Pulitzer Prize-winning biographer of Jefferson and Jackson; Pepón Osorio, visual artist with experience in public art; Harriet Senie, professor of art history and director of the Art History program and Art Museum Studies at City College; and Shahzia Sikander, visual artist with experience in public art, are also members of the commission.
Audra Simpson, Mohawk anthropologist and anthropology professor at Columbia University;  John Kuo Wei Tchen, historian of Chinese Americans in the city and associate professor at New York University; and architect Mabel Wilson, scholar of race, memory, and urbanism, also sit on the commission.