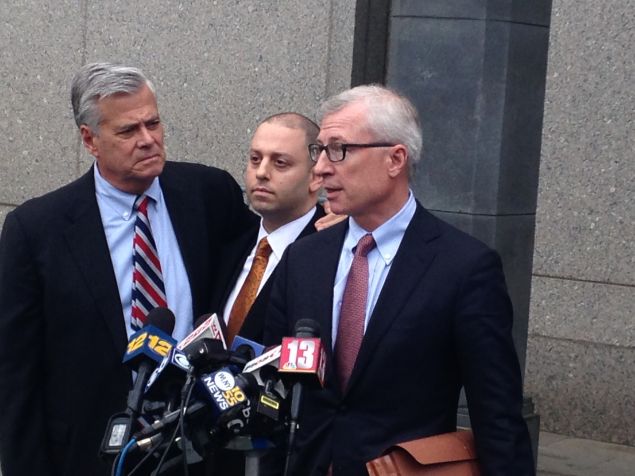 A federal appeals court on Tuesday overturned the 2015 corruption convictions of former Senate Republican Leader Dean Skelos and his son Adam Skelos.
In May 2016, Skelos, who was convicted of using his influential post to help his son Adam get a series of no-show jobs and other benefits, was sentenced to five years in prison. His son, who was caught menacing people over business deals on wiretaps, was sentenced to more than seven years. The former leader was also required to pay a $500,000 fine, and the two had to collectively pay $334,120 in forfeiture funds.
The U.S. Court of Appeals for the Second Circuit ruled that the judge did not give the jury in the Skeloses' trial the right directions as dictated by the Supreme Court decision involving former Virginia Gov. Bob McDonnell, a Republican, last year, according to the New York Times.
In a statement, acting U.S. Attorney Joon Kim said that the appeals court held that a part of the jury instruction "is no longer good law" under the Supreme Court decision in McDonnell despite finding that the evidence "was more than sufficient" to convict them.
"While we are disappointed in the decision and will weigh our appellate options, we look forward to a prompt retrial where we will have another opportunity to present the overwhelming evidence of Dean Skelos and Adam Skelos's guilt and again give the public the justice it deserves," Kim said.
And he said that the U.S. Attorney's Office for the Southern District of New York will continue to fight to weed out corruption in New York State.
"Cleaning up corruption is never easy, and that is certainly true for corruption in New York State government," Kim continued. "But we are as committed as ever to doing everything we can to keep our government honest. That is what we will do in this prosecution as well."
The May 2016 sentencing of the Skeloses' came the week after former Assembly Leader Sheldon Silver, a Democrat, was sentenced to 12 years in prison, also for public corruption. Silver and Skelos made up two of Albany's "three men in a room" — the state's top two legislators and its governor working out the state budget and other key issues, primarily behind closed doors.
In July, a federal appeals court rescinded Silver's conviction, also due to the McDonnell decision. In May 2016, Silver was sentenced to 12 years in federal prison and slapped with a $1.75 million fine for using referral fees from two law firms to take kickbacks from a state-financed mesothelioma research center and a developer looking to receive tax breaks and subsidies.
Former U.S. Attorney Preet Bharara — who brought the cases against the Skeloses' as well as Silver while he was still U.S. Attorney — took to Twitter to react to the news. He said that, similar to Silver's case, the U.S. Attorney's Office will retry Dean and Adam Skelos.
While the Supreme Court "made it harder to punish corruption," he anticipates that "justice should prevail here," he said. Bharara proclaimed that the decision was not surprising but that it was "still disappointing."
In the first alleged scheme, Skelos got work and money for his son at luxury developer Glenwood Management as the company was seeking to get legislation passed in Albany. The developer set up a $20,000 one-time payment to Adam from a title insurance sale on which he did not do any work. Prosecutors contended that Dean Skelos coerced Nassau County Executive Ed Mangano into speeding up payments to Abtech and to persuade Gov. Andrew Cuomo to support state funding for sewer projects that would be advantageous to Abtech.
In the mean time, the former majority leader had his office schedule meetings between Abtech and the New York State Department of Health in an effort to have Abtech convince the agency to support hydrofracking, a controversial natural gas harvesting technique. Dean Skelos did not tell anyone that his son got a second contract with the company to sell its technology to frackers.
In another alleged scheme, Dean Skelos persuaded medical liability coverage provider Physicians Reciprocal Insurers, which also had legislation that would benefit it, into giving his son another job. Adam Skelos barely showed up to work and threatened his supervisor with assault after he complained.