Debbie Reynolds' longtime ranch is going up for auction next month. Scroll through to see inside the late actress' sprawling estate.
Ethan Miller/Getty Images
The 44-acre property is in Creston, California.
Realtor.com
Reynolds owned the home for over two decades.
Realtor.com
The ranch is known as Freedom Farms.
Realtor.com
The main residence spans 7,500 square feet.
Realtor.com
The movie theater is already set for "Singin' in the Rain."
Realtor.com
The ranch was last listed for $4.8 million.
Realtor.com
There are six bedrooms in the main home.
Realtor.com
There's a library and gym inside.
Realtor.com
The property is comprised of multiple residential structures, including a main house and guesthouse, plus a bar and studio.
Realtor.com
A California ranch owned by the late actress Debbie Reynolds will hit the auction block next month.
Reynolds, who passed away in December, just one day after her daughter, Carrie Fisher, owned the 44-acre property, called Freedom Farms, in Creston, California for over 20 years.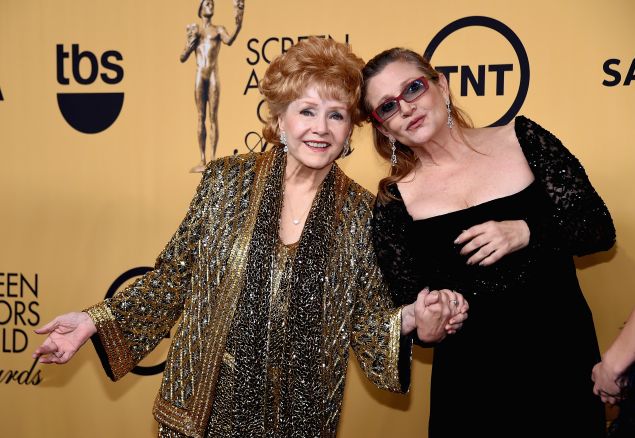 The 7,800-square-foot main residence is comprised of six bedrooms and five bathrooms, and includes two master suites. There's also a custom home theater, library and a gym.
Additional structures on the property include a guesthouse, caretaker's home, art studio and a custom barn. There is also a 10,000-square-foot support building with offices, a warehouse, metal and stage workshops and a full loading dock.
The home was actually listed for sale before Reynolds' death—first in 2015 for $5.8 million, though the price was subsequently lowered to $4.8 million. It was taken off the market in March, but now will go on the auction block from October 7 to 8, as part of Los Angeles auction house Profiles in History's "The Personal Property Auction of Carrie Fisher and Debbie Reynolds." The ranch itself is expected to bring in between $4 million and $6 million.
"I hope fans from around the world have an opportunity to acquire a memento from their remarkable lives and careers. They are both missed," Profiles in History's CEO, Joe Maddalena, said.
A portion of the proceeds from the auctions will go to Reynolds' charity The Thalians, as well as The Jed Foundation, a charity chosen by Billie Lourd.
Other items in the auction include Fisher's life size Princess Leia statue, in an original British phone booth, as well as Fisher's on-set personalized chair from Star Wars: Return of the Jedi and a dress Reynolds wore for Singin' in the Rain.