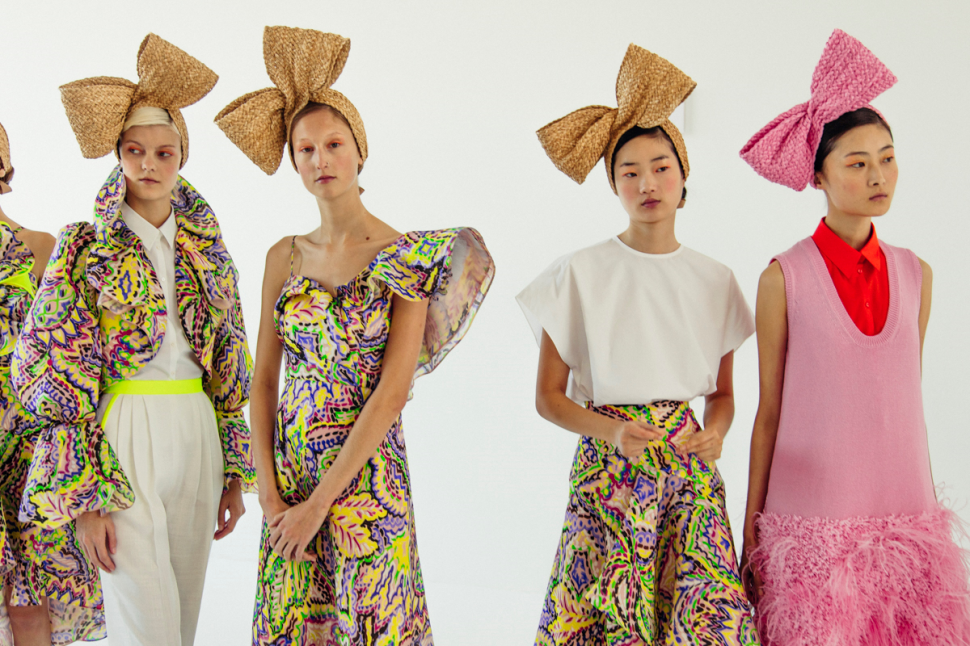 The day before Delpozo's runway show at New York Fashion Week, creative director Josep Font was busy making last minute adjustments and fitting the live 1940s style band with black and white tuxedos, behind closed doors at a studio in Chelsea Piers.
Font was hired just over five years ago to reboot the Spanish heritage brand. Delpozo was founded by Jesús del Pozo in the 1970s; it was first known as simply "Jesús del Pozo."  It was a much smaller brand with little international recognition, until Grupo Perfumes y Diseño, the company that had Delpozo's perfume license, acquired the brand and started a new chapter with a different direction and angle—and they turned to Font to lead it.
"It's sort of like a clean slate," Font said. "It's true, I sort of inherited a company with 19 people, but since then it has grown to 80 or 90. The goal for when I joined the company five years ago was to bring the company where it is now. We're working to expand and be in many countries." The next step? A store opening in Dubai, coming this November.
Less than 24 hours later, Delpozo's models walked out across a white stage while the band played. Most were wearing straw hats fashioned into oversized bows (a motif that's become a sort of code of the house), while others wore headbands. The silhouettes touched on the designer's architecture background, and were highly structured and feminine, with a touch of bold Mediterranean colors. Splashes of oversized paisley print stretched across sheath dresses, while the sleeves of blouses were ruffled and puffed. The show notes credited Slovakian photographer Maria Svarbova's "Swimming pools" series and the music of composer Xavier Cugat as inspiration. "I like to use two elements that are totally different to mix them up," he said.
"I can't really do anything about it, because it's my background," Font said before the show, of his constant and never-ending connection to architecture. "I studied architecture and my head is very set up in that way of looking to pieces in the collection in that manner. It's always a constant influence. It's constant and it's my design aesthetic, especially as I learned about proportion. That's how I apply it into the collection."
The technical, verging on architectural, detail behind the work is not surprising, considering Font describes Delpozo as a "pret-a-couture" brand. Many of the intricate pieces resemble traditional couture in their handiwork, and as such, are not produced in large quantities for retail. According to Font, about 70 percent of his collection presented on the runway is ready-to-wear and 30 percent is "more extravagant gowns and blouses that are very special."
That's one of the reasons why the brand has also become such a hit on the red carpet and with the current FLOTUS, Melania Trump. "Celebrities have come to us. It's been something that has resonated on the red carpet," he said. "I've dressed a lot of people that I really admire; Cate Blanchett, Keira Knightley, Julianne Moore." As for Trump, Delpozo hasn't had any contact with her. And unlike many designers who have made a strong statement about dressing the Trumps, Delpozo remains neutral.
"She's purchased  [the pieces] on her own," he explains. "There hasn't been any relationship in that sense. Delpozo is not a political brand. We dressed the previous FLOTUS. Now it's a new one. We're happy about it, but it's nothing to do with politics."
Regardless of the celebrity influence, Delpozo is a high-fashion brand with high-spending clientele to match. Gowns that are sold through the brand's retailers, like Moda Operandi, can fetch upwards of $5,000, while custom pieces that aren't produced on a massive scale can cost even more.
"Delpozo still works under our own schedule," said Font. "We're going to continue that way because our pieces have certain requirements. We cannot be sped up. We go with our own drumbeat. I'm a firm believer that less is more in the sense." Despite that, the brand functions within the typical ready-to-wear calendar, producing four collections per year, with two high profile shows in New York City during fashion week. All that may seem like a lot, for a brand that's still based out of Madrid, Spain, a city that's far from being a fashion capital.
However popular the brand may be on the red carpet, Font is happy working out of a smaller city, despite being previously based in Paris and Tokyo with his own label. "I like working in Madrid, because being outside that sort of fashion circuit, it's a detox of that industry sound and noise," he said. "I can really concentrate and be outside and not be influenced by anything else. But at the same time, today, you can work from wherever."
As far as having an intrinsically Spanish aesthetic, Font has said that when he worked in Japan, people compared his work to the architect Antonio Gaudí. "Back home, they said I had a very Japanese influence in my designs."
Thinking back on his five years with the company, when Font considers the ideal piece or most technically challenging yet, he can't come up with an answer—but he has a good reason why. "The perfect piece hasn't been resolved yet, it's a work in process," he said. "It's everyday. The day I am able to resolve this complicated, perfect piece, I'll get bored and stop designing."