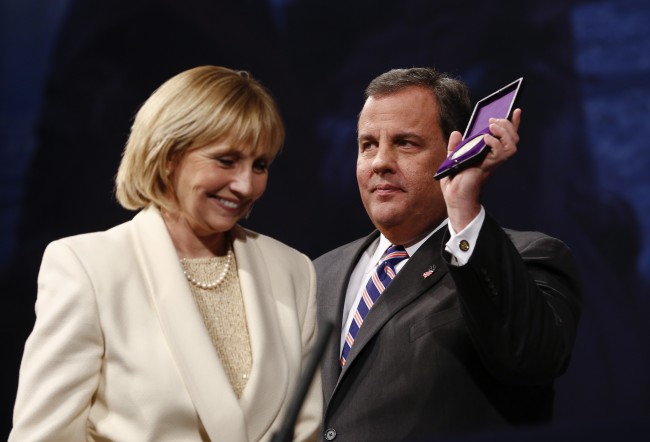 An independent group backed by the Democratic Governors Association launched its first television advertisement in the New Jersey governor's race on Thursday, tying Republican nominee Kim Guadagno to Gov. Chris Christie, who is deeply unpopular in New Jersey.
The DGA-supported independent expenditure group, called Our New Jersey, spent $1 million on the ad buy, according to a Democratic source familiar with the purchase who spoke on the condition of anonymity. The spot is running in the Philadelphia media market on both broadcast and cable.
The 30-second spot, titled "Together," highlights Guadagno's role as Christie's lieutenant governor and uses several pictures of the two, ending with one where they hold hands. A male voiceover calls Guadagno "Christie's hand-picked successor."
Guadagno's eight-year tenure as Christie's second in command has been damaging, polls have shown. Her association with Christie was viewed negatively by 47 percent of likely voters, according to a Quinnipiac poll released last week. A separate Quinnipiac poll pegged Christie's approval ratings at 16 percent, a historic low.
Guadagno is running against Democratic gubernatorial nominee Phil Murphy, who has a 25-point lead in the race, according to a Quinnipiac poll.
The DGA's counterpart, the Republican Governors Association, went on the air with its first TV ad on Tuesday. The RGA bought a 15-second spot in the New York City media market on both broadcast and cable. An RGA spokesman declined to say how much the group spent on that ad buy. The ad attacked Murphy for his plans to raise $1.3 billion in taxes on millionaires, corporations and marijuana smokers.
Guadagno's campaign put up two TV ads last week. One repeats a familiar campaign promise to slash property taxes for homeowners and another attacks Murphy for his tax plan.