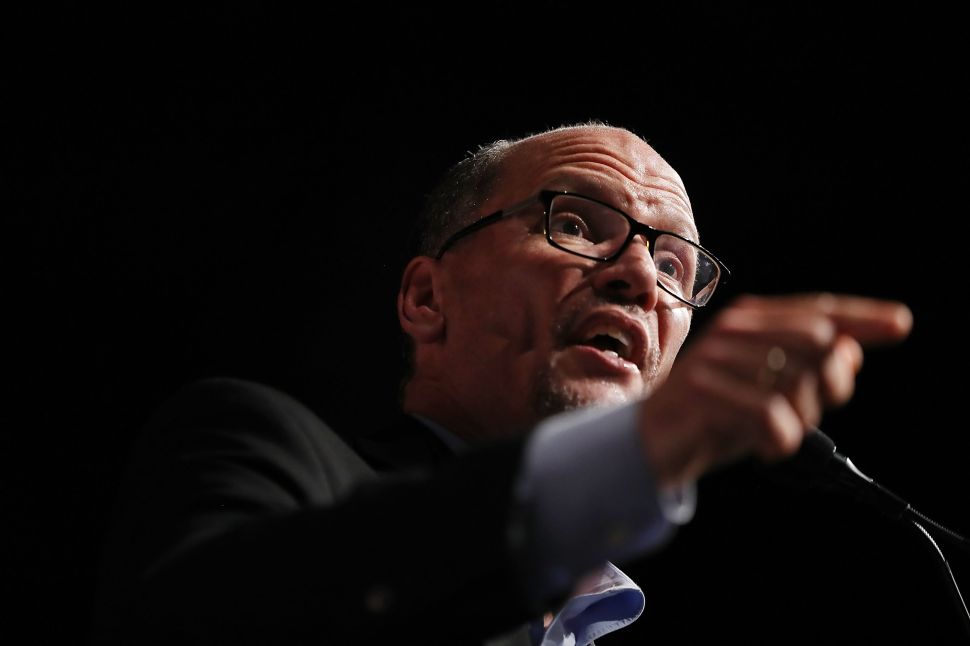 Despite losing a presidential election, majorities in both houses of Congress, and over 1,000 elected offices across the country throughout the last decade, the Democratic Party is still operating under the status quo. Progressives and young Democrats complain that party leaders ignore Republican-leaning areas of the country and employ dirty tactics in order to defend against progressives attaining leadership roles.
In California, establishment-backed candidate Eric Bauman controversially won the State Democratic Party chair race in May 2017 against Kimberly Ellis, who progressives supported. Two-thirds of the elected delegates chose Ellis, while superdelegates appointed by party leaders voted in favor of Bauman. Ellis recently lost a four month battle to attain a proper independent audit of the election, and California Democratic Party leaders antagonize Ellis for trying to hold them accountable. A few weeks ago, Bauman called the police on Ellis to intimidate her into not attending a California Democratic Party meeting. Ellis said in a podcast with Jonathan Tasini, "There has been a lot of hostility and negativity and outright vitriol that has been directed at me, and also in part because I had the Anaheim Police Department called on me earlier in the week. I received a phone call from a Sergeant Griswald who informed me that Eric Bauman had called him suggesting that I might be causing disruption and chaos in a protest at the meeting, and he wanted to check in with me. Eric had given him my name and phone number."
Earlier this year, the Florida Democratic Party chair race was decided in a similar fashion: Billionaire donor Stephen Bittel circumvented party rules to become eligible to run, defeating five opponents who banded together to stop him. The Democratic National Committee (DNC) chair race was also manipulated behind the scenes. Delegates were threatened so that they would switch their support from Congressman Keith Ellison to the establishment pick, former Secretary of Labor Tom Perez.
Additionally, the Green Party filed a lawsuit last week against the Democratic Party alleging voter intimidation, voter fraud, and electioneering in a Pennsylvania State Assembly special election in Philadelphia that occurred earlier this year. The election was held after the two previous Democratic state representatives for the district resigned due to federal fraud charges: Leslie Acosta plead guilty to money laundering charges in 2016, and her predecessor Jose Miranda resigned after pleading guilty to corruption charges. Unfortunately, corruption in Philadelphia, a Democratic stronghold, is a pervasive trend.
In addition to rigging elections, the DNC claims to support a 50 State Strategy but has done little to support it. The organization refused to back special election congressional candidates in Montana and Kansas earlier this year, citing that doing so would disadvantage the candidates. In Alabama, the Democratic gubernatorial candidate has received no support from the DNC, even though Republican Governor Robert Bentley resigned in April 2017 due to a sex scandal. Though the Democratic Party poured millions of dollars into Georgia special election congressional candidate Jon Ossoff—who lost—they ignore the rest of the state.
"It's a shame that the Democratic Party pushes away young people the way they do. I've done so much work and advocacy for the Democrats, and all I've received in return are broken promises and an unwillingness to help," wrote Andrew Niquette, a candidate for Georgia state representative in Georgia and former Bernie Sanders delegate, on September 14. He cited that the Dougherty County Democratic Party lied about holding party elections, and only held one last year because they received negative press after a former state representative spoke out against Niquette running because he is gay. "Our Chairwoman announced the election two days before it happened and did not publish it anywhere… She decided to hold it at the church she attends, with 95 percent of the people in attendance being churchgoers. I was the only person there who was running for an open seat. No members of the committee were even present, except the chairwoman. Yet somehow, multiple people that weren't there were 'elected.' I've done everything I needed to do to start a Young Democrats chapter in Dougherty County. I've been promised resources from the LGBT Caucus of the Georgia Democrats. And the only thing I've been able to accomplish is managing to get someone on the phone only to be told something, and for them to never follow through."
Sam Ronan, a former DNC chair candidate and Ohio congressional candidate, told the Observer, "The fact remains that the party is hemorrhaging supporters daily. Public opinion of the party is the lowest it has ever been. Fundraising is stagnant and worse, desperate. Our presence in rural America hasn't been changed or bolstered since the turn of the election or since my involvement in the DNC Chair race back in February. The doors remain closed to progressives and outsiders wanting to participate, and even worse those elections and decisions that do occur are met with rebuke, or outright denial of 'non-party line' thinkers."
The Democratic Party still exploits the superdelegate system to allow lobbyists and corporate donors to exert their influence. Even though Perez refuses to re-enact the ban on lobbyist and PAC donations to the DNC, it's fundraising has lagged far behind Republicans'. From small donors alone, the RNC has raised $12 million more than the DNC, signaling trouble lies ahead for Democrats in the 2018 midterm elections. Small donors have gradually stopped supporting the Democratic Party because the party's tactics and policies have consistently shut out working, middle class, and low income voters . While Sen. Bernie Sanders and progressives have made significant progress in holding elected officials accountable, establishment Democrats continue to resist and obstruct progressives, opting to risk losing more elections instead of changing the party's status quo.