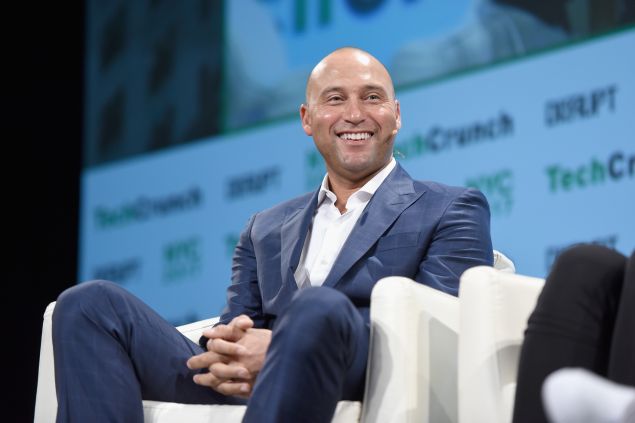 Derek Jeter couldn't stay away from the ballpark for long.
Major League Baseball owners voted unanimously today to sell the Miami Marlins to a 16-person investment group led by Jeter and venture capitalist Bruce Sherman for $1.2 billion. The deal is expected to close Monday.
Sherman and Jeter's investment team also includes NBA legend Michael Jordan, along with former Morgan Stanley wealth management chief Greg Fleming and former Goldman Sachs executive Doug Kimmelman, among others.
Florida native Sherman has a 46 percent ownership stake and will be the team's managing general partner. Jeter, who retired from the New York Yankees in 2015 after a 20-year career, has a four percent stake and will be a limited partner in charge of business and baseball operations.
The Sherman-Jeter team takes over from art dealer and author Jeffrey Loria, who has owned the Marlins since 2002 but decided to sell the team in February. This wasn't a huge surprise, since Loria has been called "the worst owner in baseball." His many controversies included a 12-man trade with the Toronto Blue Jays and a deal that put taxpayers on the hook for the Marlins' $634 million stadium.
None of Loria's actions made the team better—the Marlins are nearing the end of their eighth consecutive losing season, and they haven't made the playoffs in 14 years.
In spite of this, Loria had nothing but kind words for both the team and its new owners in a statement this afternoon.
"Owning the Miami Marlins has been one of the singular honors of my life," he said. "[Sherman and Jeter] are true baseball people, as well as true gentlemen. I have every confidence in their ability as the next stewards of the Miami Marlins to take us to new heights."
Loria, who has a favorability rating of six percent in the Sunshine State, was previously a general partner for the ill-fated Montreal Expos. Four Marlins executives, along with team president David Samson, are expected to exit along with Loria.
Jeter, who first expressed interest in buying the team in April, initially partnered with former Florida governor and Republican presidential candidate Jeb Bush. But Bush backed out in favor of another deal which ultimately fell through. Please clap.