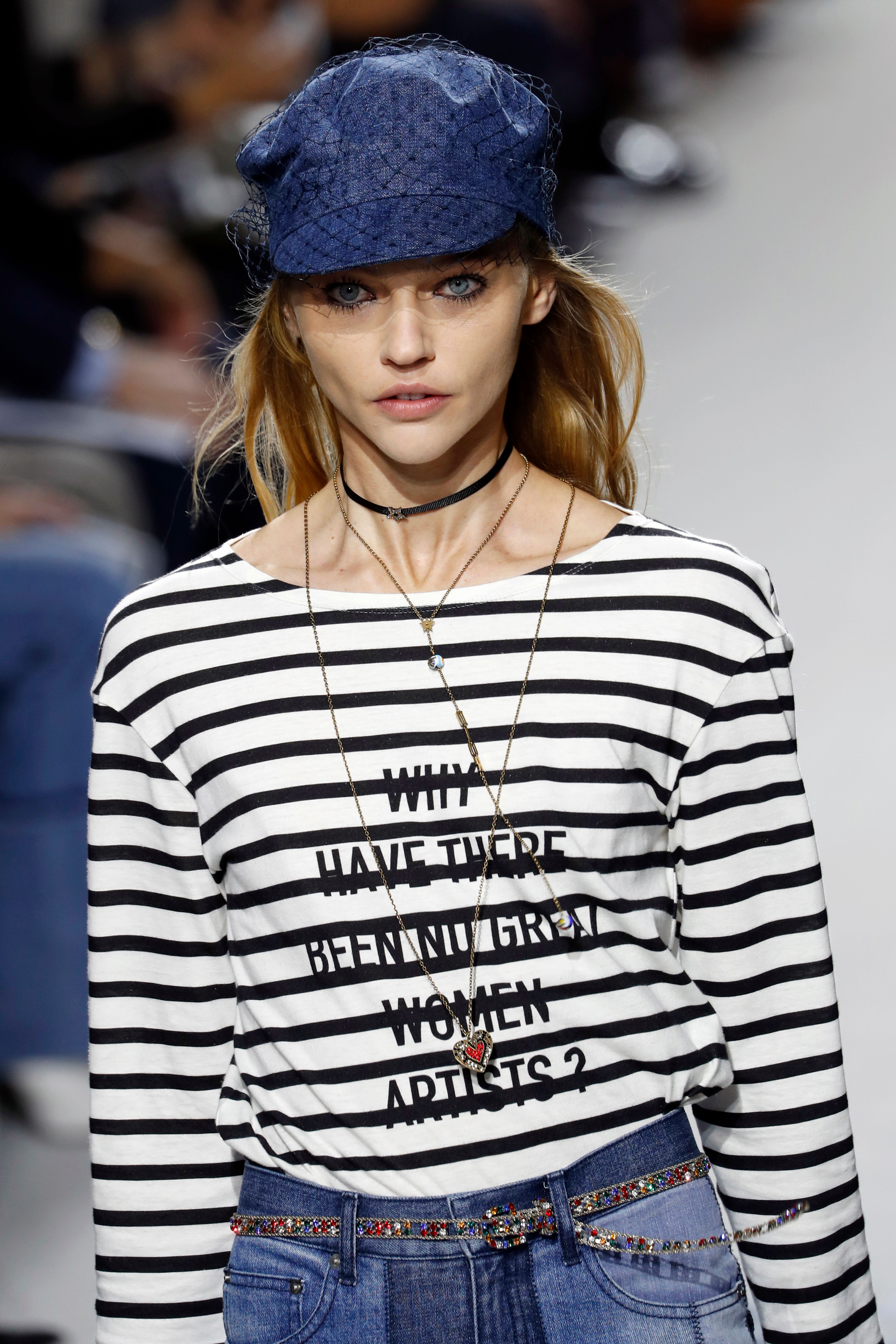 It was nearly deemed illegible by the stripes of a Breton shirt, but the very first look of Dior's Spring 2018 collection made a major statement.
The shirt posed the question: "Why have there been no great women artists?" Worn by model Sasha Pivovarova and paired with a pair of patchwork jeans and a sparkling rainbow belt, it seemed a bit heavy for the start of a fashion show.
But then again, Dior's creative director, Maria Grazia Chiuri made a major statement last September with t-shirts that read, "We should all be feminists." That famous line was pulled from the book (and TedTalk) of the same title, from Nigerian author Chimamanda Ngozi Adichie. Those shirts ended up with price tags of $710, but proceeds from their sales went to benefit Rihanna's charity, the Clara Lionel Foundation.
This time around, Grazia Chiuri was inspired by art scholar Linda Nochlin, who penned an essay titled: Why Have There Been No Great Women Artists? In the piece—which was provided to each and every attendee at the Dior show—Nochlin brought up quite a few questions, not just about the lack of female creatives ("The fact of the matter is that there have been no supremely great women artists, as far as we know, although there have been many interesting and very good ones who remain insufficiently investigated or appreciated…"), but the need to be defensive upon the answer of the question ("The feminist's first reaction is to swallow the bait, hook, line and sinker, and to attempt to answer the question as it is put: that is, to dig up examples of worthy or insufficiently appreciated women artists throughout history…").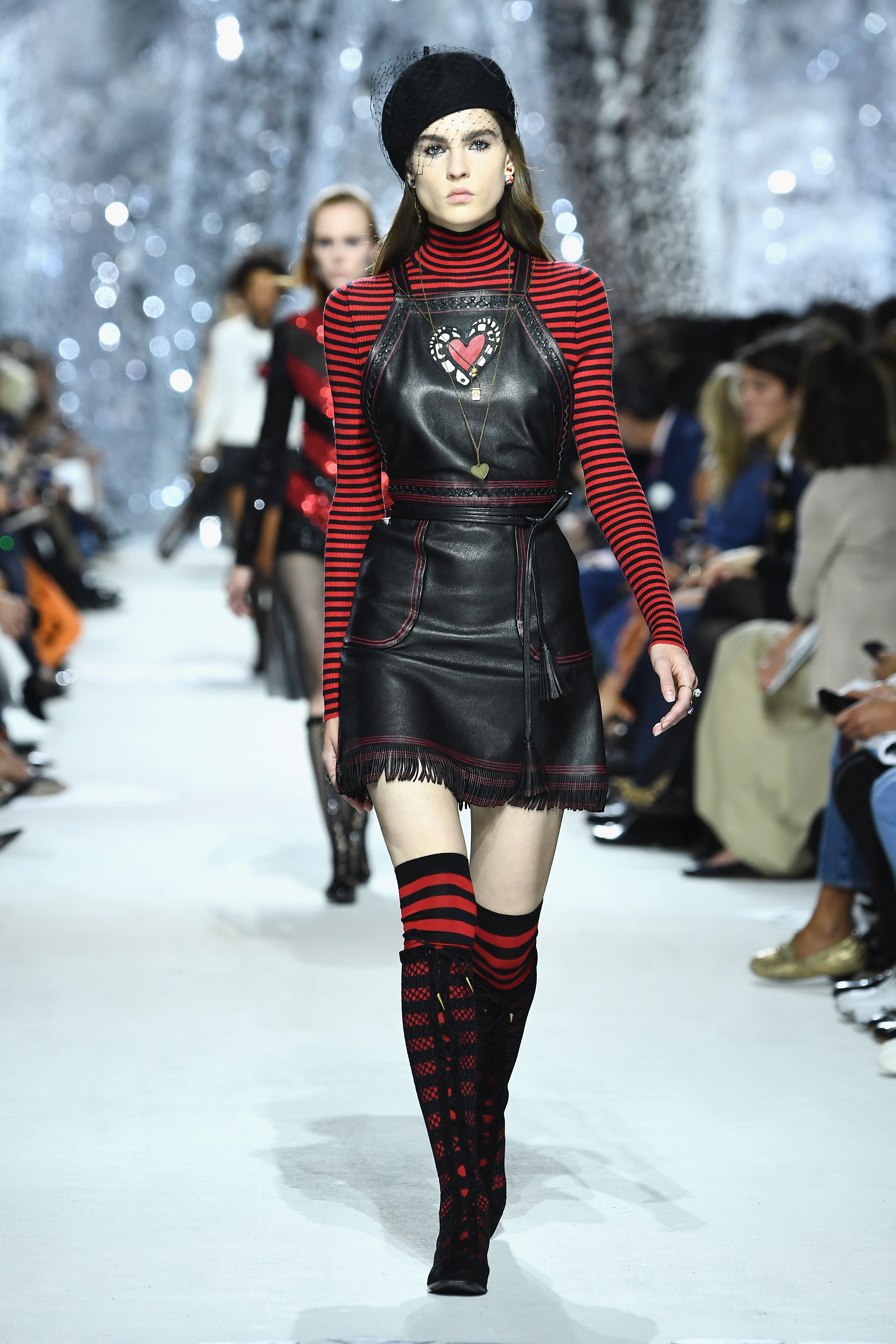 At the time, this commentary was groundbreaking, because it simply wasn't a topic that people discussed. Nochlin explained to ARTnews: "In 1970, there was no such thing as a feminist art history: like all other forms of historical discourse, it had to be constructed. New materials had to be sought out, a theoretical basis put in place, a methodology gradually developed."
She went on to admit that a man had inspired her to pen the essay. The famous gallerist, Richard Feigen, made a comment to Nochlin at Vassar graduation in 1970, where Gloria Steinem was the graduation speaker. He simply asked: "Linda, I would love to show women artists, but I can't find any good ones. Why are there no great women artists?" His statement stayed with for days, almost tormenting her, because she saw that he "assumed this was a natural condition."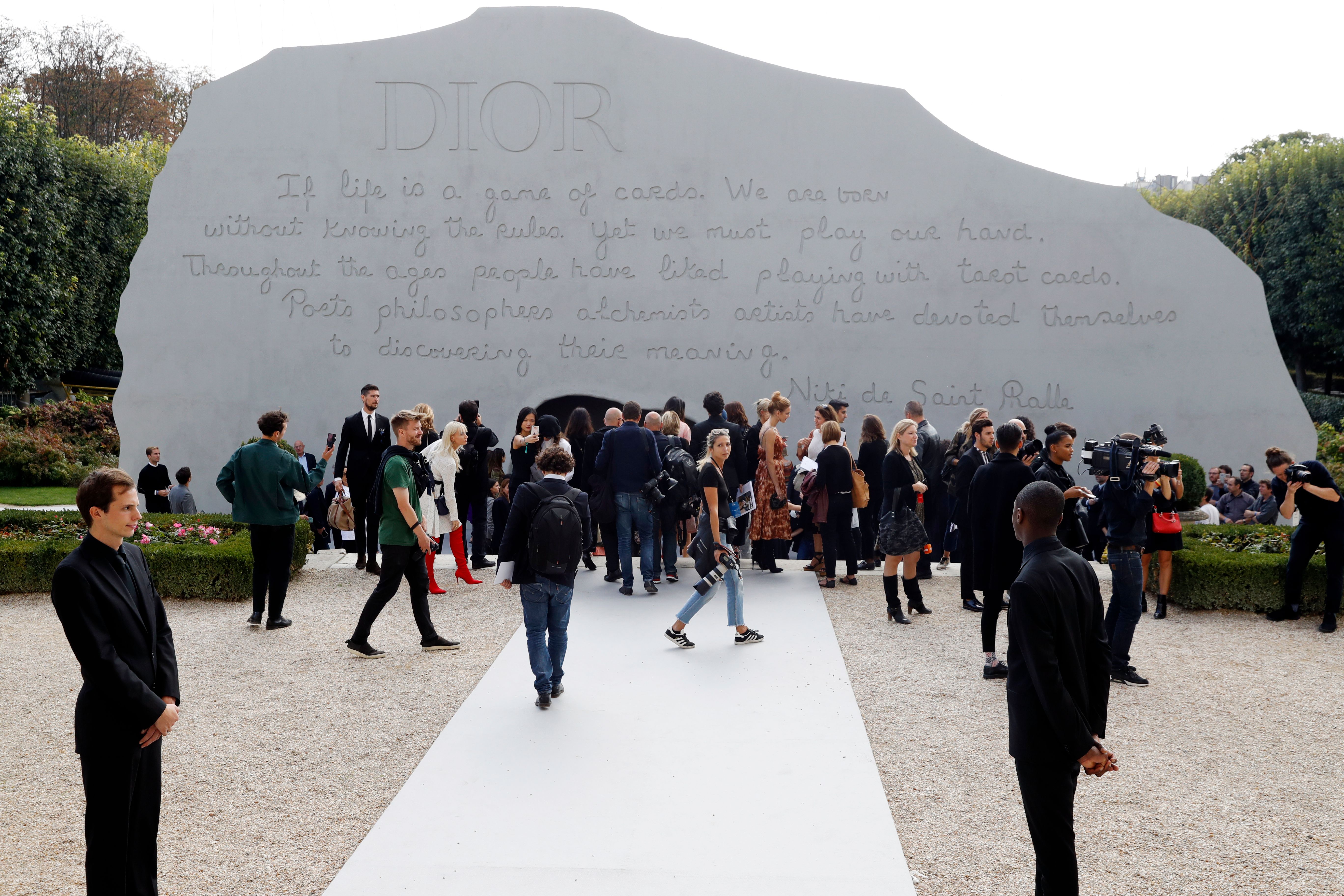 Nochlin wasn't the only notable member of the art world to be honored at the show. To enter the show at the Rodin Museum there was a massive stone façade, inscribed with a quote from Niki De Saint Phalle. "If life is a game of cards. We are born without knowing the rules. Yet we must play our hands. Throughout the ages people have liked playing with tarot cards. Poets philosophers alchemist artists have devoted themselves to discovering their meaning," it read.
The late French-American creative was widely known as one of the most significant feminist artists of the 20th century, so she has also been seen as a champion for women's rights. Her creations, including colorful sculptures of animals and women and bright paintings, were adopted into Dior's woven sweaters and affixed on floating pink dresses, which marched down the runway. Show-goers were also able to soak up Saint Phalle's works firsthand, as a few pillars from her Tarot Garden installation—a sculpture park in Tuscany—were temporarily installed into the Rodin Museum.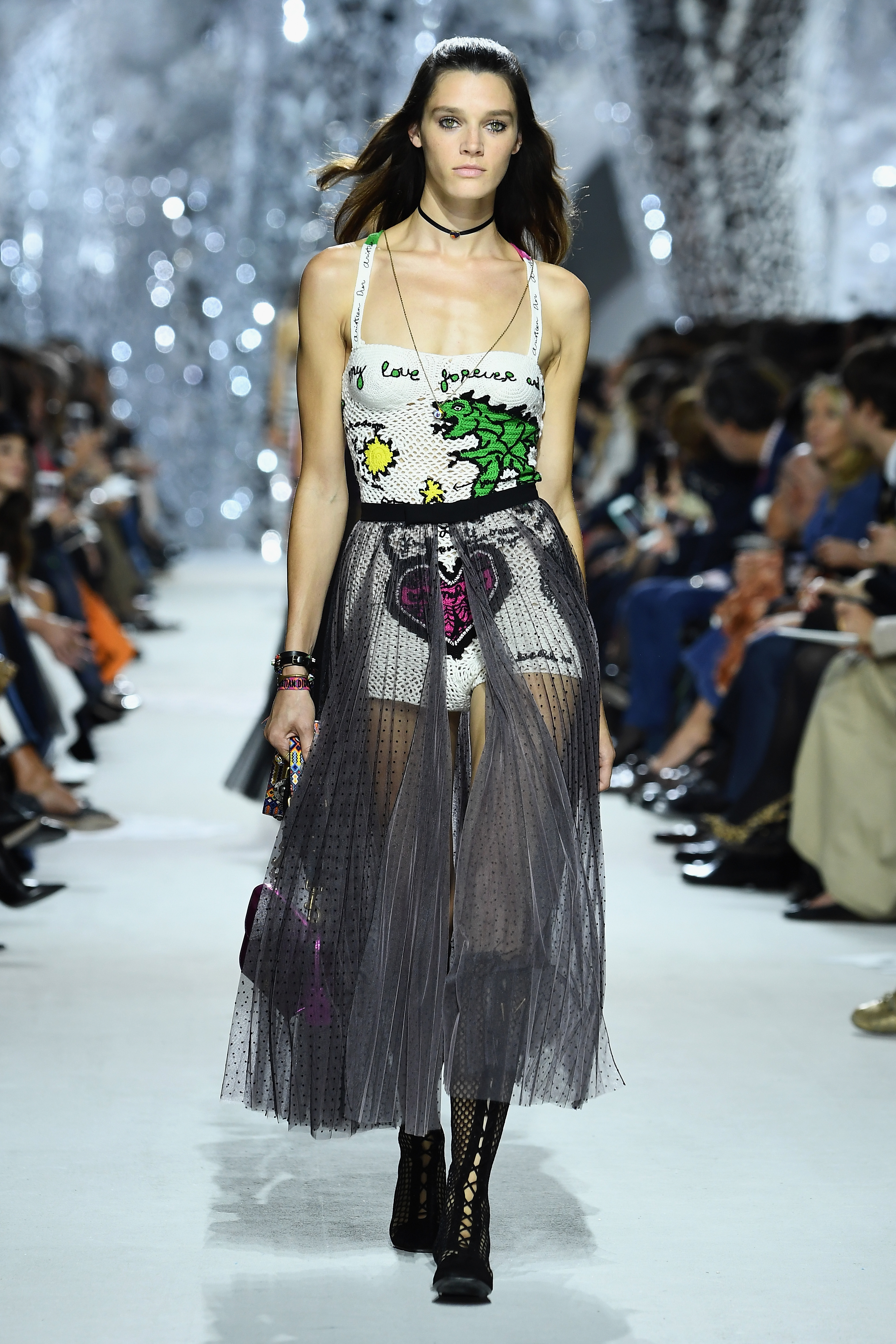 So if you're looking to make a statement with your wardrobe, beyond just being in touch with high fashion trends, perhaps a Dior feminist piece will do the trick? It's surely a chic way to fight for women's rights.