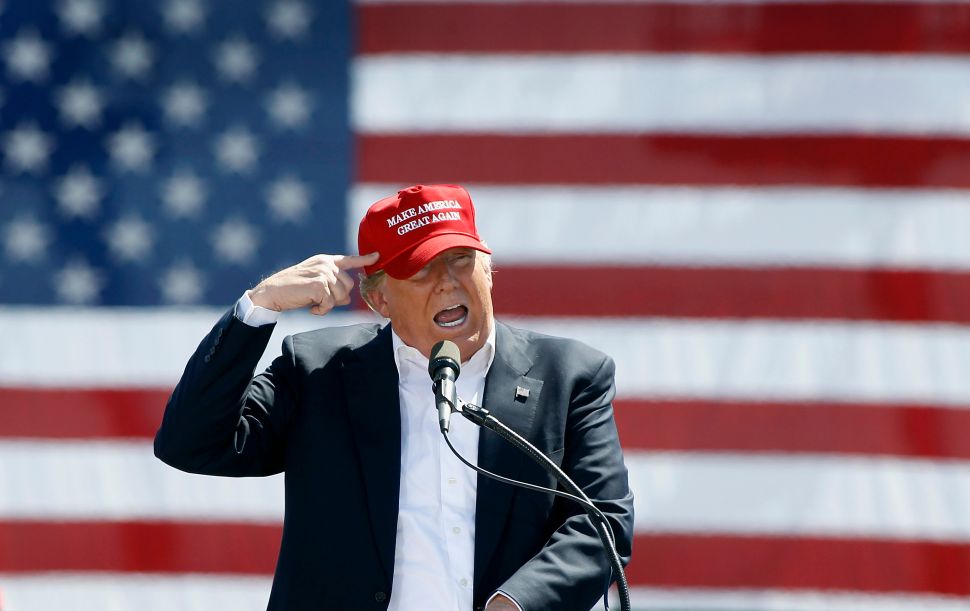 Presidential elections have a way of defining epochs around the personality who gains the office. Tom Wolfe christened the 1970s "The Me Decade" for President Jimmy Carter's claim of possessing a personal lord and savior who provided an assurance of salvation.
Political commentary at the time explained Carter's unlikely rise to the presidency as a reaction to Vietnam and Watergate and a cultural back track to a once-upon-a-time morality. But there was no once-upon-a-time morality that presumed to call the president of the United States "Jimmy." Nor that esteemed the presidency as theoretically free from God's wrath.
Tom Wolfe instead saw a cultural moment: A quasi-spiritual awakening propagated upon an eclectic mix of banalities. His observation appeared in an article in New York Magazine titled, "The 'Me' Decade and the Third Great Awakening." He nailed it. The phrase came to define the period.
Donald Trump, Manhattan real estate developer, golf course owner, vanity political candidate, reality show host, and finally, 45th president of the United States of America, has given a hint about what it all means—to him at least.
A few weeks ago, the president of the United States told the Boy Scouts of America a parable about William Levitt that was not widely reported in the hullabaloo about politicizing the event.
Kids today are told all kinds of things. They are told their litter will cause a chain reaction in the biosphere that eliminates life on earth. They are told that the impulse to pull their sister's hair is dark and abusive and foreshadows life as a serial killer.
But they are never told the cautionary tale of William Levitt, the man who invented the suburbs, which make possible door-to-door fundraising for which the Boy Scouts are known.
Mr. Levitt served as a lieutenant in the Seabees during World War II. Upon his discharge, he discerned a market for affordable housing for the soldiers returning home with access to low interest government loans.
He purchased large plots of land and mass-produced homes equipped with modern appliances, giving space and autonomy to the American dream. He became rich.
As the president pointed out, "He did it properly, and then he was offered a lot of money for his company, and he sold his company for a tremendous amount of money." Which allowed him to buy a big yacht.
Eventually, Mr. Levitt got bored with his yacht, repurchased his company from the conglomerate that bought it, and failed miserably, losing everything in the process.
Then Mr. Levitt went to a party hosted by one of the great people, Steve Ross. The hottest people were at the party and the young Donald Trump, who was doing very well, was invited. Mr. Trump spotted Mr. Levitt sitting in a corner all by himself.
Whereupon the future president of the United States walked over to the man who invented suburbs. And they had a conversation destined to be recorded for posterity in The Complete Unabridged Annals of Presidential Rhetoric:
"Mr. Levitt, I'm Donald Trump."
"I know."
"Mr. Levitt, how are you doing?"
"Not well, not well at all."
"What exactly happened? You're one of the greats in our industry. Why did this happen to you?"
"Donald, I lost my momentum. I lost my momentum."
In telling the story of William Levitt, President Trump helped to explain his presidency. And with it our selfie, Kardashian, "Look at Me" decade.
The book Dish: How Gossip Became the News and the News Became Just Another Show, written by Jeannette Walls in 2000, includes the following observation:
"A lot happened in the world that week. The Berlin Wall was toppled and Germany was reunited. Drexel Burnham Lambert, the wildly powerful junk bond company, that spearheaded the eighties financial boom, collapsed. And after twenty-seven years in prison, South African civil rights leader Nelson Mandela was freed. But for eleven straight days, the front pages of the tabs were devoted to the Trump divorce. Time and Newsweek did cover stories. Even The New York Times stooped to cover it."
Which is the definition of momentum.
Donald Trump is the ultimate weapon of mass consumption. Even the Emmys paid him the honor of unremitting attention, something he never got when he hosted a top-rated show.
The Republicans have him but, like aborigines who find a box of rifles and use them to prop up their tents, they have no idea how to use him. He gift-wrapped for them a populist platform that captured the reliably Democrat working class. They seem uncomfortable with the whole thing.
If they're not interested, Chuck and Nancy just may be. Their dalliance with identity politics is losing elections and, out of pure self-interest, they may want their working-class issues back. Democrats, certainly, would know how to use a box of rifles.
Republicans have resorted to an aggressive legislative agenda that intentionally fails, which is the worst possible strategy against this president. Nobody puts Donald in a corner, Mitch.
It doesn't matter to Trump who enacts his agenda. Tweet. Post. Repeat. What matters is momentum. William Levitt taught him that.
Thomas J. Farnan is an attorney from Pittsburgh, Pennsylvania. He can be contacted at www.farnanlawoffice.com and at tfarnanlaw@gmail.com