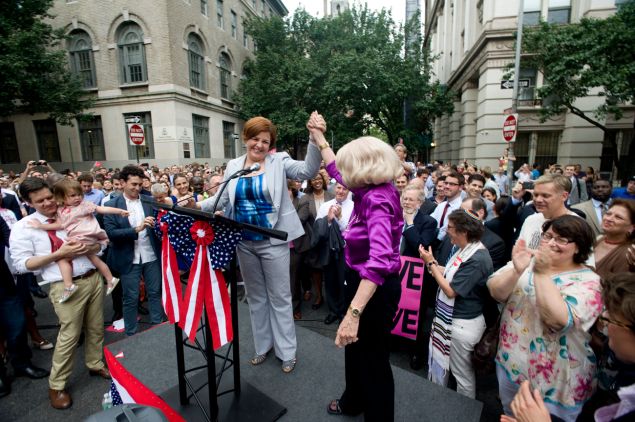 Current and former New York elected officials mourned the death of and celebrated LGBT rights activist and pioneer Edie Windsor, whose advocacy for same-sex marriage brought about a major Supreme Court ruling.
Windsor, the plaintiff in the case that led the Supreme Court to strike down the Defense of Marriage Act, died on Tuesday in Manhattan at the age of 88. Her wife, Judith Kasen-Windsor, whom she married in 2016, confirmed her death. Windsor was born in Philadelphia in June 1929 but was a longtime Greenwich Village resident.
In 2009, Windsor lost her wife, Dr. Thea Spyer, a psychologist who suffered from multiple sclerosis. When Spyer passed away, Windsor was asked to pay more than $363,000 in federal estate taxes. She challenged this in the courts.
Former City Council Speaker Christine Quinn — the first woman and openly LGBT speaker — said that Windsor was a close friend, supporter and mentor and that she was "sweet, kind and loving" to her and her partner. In 2013, Windsor endorsed Quinn for mayor.
"When New Yorkers — especially young LGBTQ New Yorkers — saw Edie on the street, they'd run up to her, thank her, hug her, sometimes with tears of gratitude and tell their stories and detail how her story touched their lives," Quinn said in a statement. "She's a civil rights giant who will impact hundreds of thousands of people for decades to come and will be remembered as a woman whose bravery and insistence on equality and respect changed the course of history."
Gov. Andrew Cuomo said that he was "heartbroken" by the news of her death and said that he "will never forget her."
"Edie was an iconic New Yorker who carried on the fight for equality and achieved an historic victory on the path to justice," Cuomo said in a statement. "She embodied the New York spirit, taking it upon herself to tear down barriers for others and ensure marriage equality was the law of the land. I will always admire her strength and her perseverance in the face of adversity."
Mayor Bill de Blasio and New York Attorney General Eric Schneiderman also took to Twitter to mourn Windsor's loss.
"The arc of the moral universe bends toward justice," de Blasio tweeted. "But sometimes it needs a good kick in the ass from people like Edie Windsor."
Schneiderman referenced a quote by Windsor: "The more of us there are, the more of us there are."
"Rest in power, Edie," he tweeted. "The work goes on."
Current LGBT elected officials also reacted to the news, including State Senator Brad Holman, Manhattan Councilwoman Rosie Mendez and Bronx Councilman Ritchie Torres.