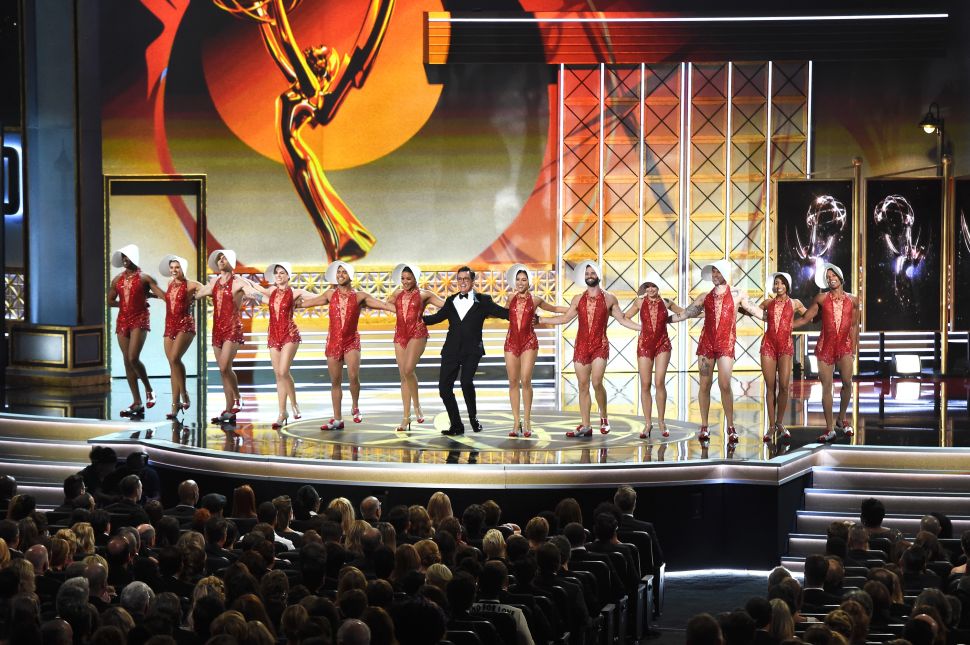 Although television has never been more popular than it is right now, audiences are apparently uninterested in TV about TV. Sunday night's 69th Primetime Emmy Awards telecast sank to an all-time low rating of 8.2 in the metered market metric, per THR. Initial estimates put the total viewership below the 11.3 million viewers that tuned in last year. To put that into perspective, the season finale of Game of Thrones this year drew 12.1 million viewers. Uh-oh.
This year's broadcast fell 2 percent compared to last year, per the outlet. Not helping matters was the telecast's direct competition with NBC's Sunday Night Football, which scored a 12.6 overnight rating. The underwhelming numbers continue the Emmys' downward trajectory over recent years.
While the Golden Globes, Academy Awards and Grammys have held relatively strong, the Emmys have set all-time lows in three consecutive years since 2015. Sure, the NFL competition isn't making matters any easier, but one culprit may also be the widening array of television representation. With cord cutting and streaming gaining in popularity, it's possible that Emmys viewers have grown increasingly unfamiliar with nominated series. Though Game of Thrones' utter domination in years past pokes a few holes in that theory.
One theory emerging online is that the event's frequent use of political humor caused viewers to tune out, but if that were the case, would Saturday Night Live really have just posted its highest-rated season in more than two decades?
This year's Oscars scored 32.9 million viewers while the Golden Globes garnered 20 million and the Grammys attracted 26 million. Whatever the case may be, it's clear that the Emmys are badly lagging behind the pack. Maybe next time they should leave Sean Spicer at home.