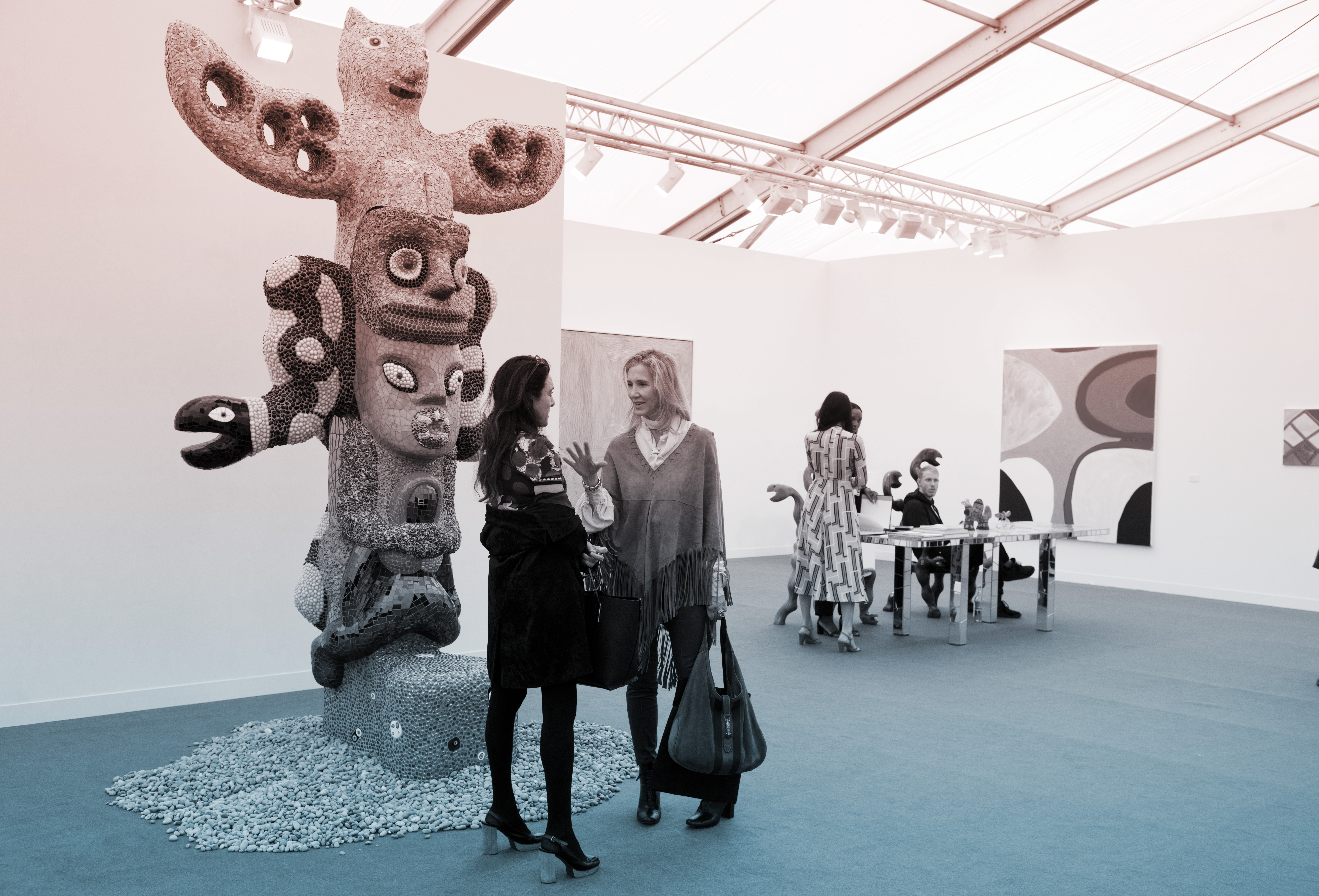 Just as important as taking in the offerings at museums and galleries is seeing what's fresh to the market at the fall's premier art fairs and not-to-be-missed at biennials—in addition to talks with artists and curators, who can lend new perspectives to works currently on view. These are the events you'll want to see and be seen at.
OCTOBER
Rife with New York artists, galleries and curators presenting cutting-edge art, the 15th edition of Frieze London returns to Regents Park with lots to take in. Works by Jasper Johns (who has a major exhibition at London's Royal Academy) grace the walls of Matthew Marks Gallery, while Hauser & Wirth presents the themed-exhibition "Bronze Age c. 3500 BC – AD 2017," with artworks and artifacts by Henry Moore, Louise Bourgeois and Rashid Johnson, among others. Alison M. Gingeras curates "Sex Work: Feminist Art & Radical Politics," a special section of the fair featuring solo shows of women artists working on the scandalous side of feminist practice during the '70s and '80s, featuring Betty Tompkins' photo-realistic paintings of sex and Marilyn Minter's controversial "Porn Grid" photographs highlighting the mix.
Globally recognized as one of the leading cultural figures of his generation, the Chinese artist, architect, filmmaker, curator and activist Ai Weiwei comes to town to stage his exhibition "Good Fences Make Good Neighbors." This site-specific security fence installation serves to comment on the humanitarian issues that have arisen from the global migration crisis. After spending the '80s in America, Weiwei returned to China in 1993 and established his reputation as an international art star. Turning to the internet to express his political views, he was censored by the Chinese government and arrested in 2011. Freed after 81 days, Weiwei was unable to travel outside of China until 2015, when he moved to Berlin and began championing the rights of migrants. Kicking off his multi-site project, the artist sits down with the Public Art Fund's director and chief curator, Nicholas Baume, to discuss the social impact of fences and the scope and symbolism of his citywide interventions.
In conjunction with "Items: Is Fashion Modern?"—MoMA's first exhibition dedicated to fashion design since 1944—this symposium features industry professionals who have behind-the-scenes roles in shaping the public perception of fashion. The event's title is inspired by Elizabeth Hawes's book Fashion Is Spinach, an insider's critique of the fashion scene around the time of MoMA's previous apparel show. While that exhibition—"Are Clothes Modern?"—examined the details of mid-century clothing, "Items" offers 111 garments and accessories that have made an international impact over of the past century and the symposium will review the ways in which fashion is designed, manufactured, marketed, distributed, worn and disposed of today. A reception and an opportunity to see the exhibition will follow the program.
Creating one of the most controversial and enigmatic installations in the 2017 Whitney Biennial, Pope.L has a history of making socially engaging art. Best known for his absurdist performances and public interventions, the artist continuously deals with politics and issues of race in his art. Recipient of the $100,000 Bucksbaum Award for his challenging biennial installation Claim, which presented 2,755 slices of baloney with photocopy portraits that claimed to represent the Jewish population of New York City, Pope.L served up a piece of work that brought the question of fake news home. Come hear what the artist has to share about this piece and his provocative art practice, with Whitney Museum's Christopher Y. Lew, who co-curated the biennial.
Fair: "Fine Art Print Fair"
River Pavilion, Javits Center, 11th Avenue at 35th Street, New York
‪October 25: Opening Night Preview
October 26 to 28: Open to the public
The largest and most celebrated art fair dedicated to the artistic medium of printmaking, the 2017 Fine Art Print Fair presents 81 leading art dealers and editions publishers from around the world. Organized by the International Fine Print Dealers Association, which has 160 members in 13 countries, the 26th edition of the venerable fair features a remarkable variety of works, ranging from Old Masters to contemporary—including a mix of unique prints and multiples. Keep an eye out for new monotypes by Diana Al-Hadid, who currently has a solo show of paintings and sculptures at Marianne Boesky Gallery, at Graphicstudio; new screenprints with added flocking and gold leaf of mod, mid-century living rooms by Mickalene Thomas at Durham Press; and John Baldessari's "Hands & Feet," a humorous, new series of pictures of body parts that are screened to reveal the appropriated imagery's ben-day dots, at Gemini G.E.L. at Joni Moisant Weyl.
Fair: "TEFAF New York Fall"
Park Avenue Armory, 643 Park Avenue, New York


October 28 to November 1
Returning to the Park Avenue Armory for a second year, the fall edition of TEFAF New York features fine and decorative arts from antiquity through the early 20th century. Offering a vetted selection of furniture, ceramics, glass, silver, tapestries, jewelry, paintings, sculptures, illuminated books and Asian art, The European Fine Art Fair (TEFAF) was founded in 1988 in the southern Dutch city of Maastricht, where it quickly gained a global community of collectors, interior designers, museum professionals and connoisseurs. Respected for the quality and rarity of the objects on view, the fair is equally appreciated for its stylish design. Fashioned by the Dutch designer Tom Postma, the Armory becomes a jewel box for such finds as an Old Master painting of Bacchus and Ariadne by Joseph Paelinck at Didier Aaron, Tiffany lamps at Lillian Nassau and a relief fragment depicting a Nile god at Ariadne Galleries.
NOVEMBER
Biennial: "Performa 17"
Various locations throughout New York City


‪November 1 to 19
Founded by curator and art historian RoseLee Goldberg in 2004, Performa has sponsored 910 productions, installations, exhibitions, and special events that have featured 707 international artists at 216 locations and venues around New York City over the past 12 years. A virtual museum without walls, Performa 17 presents 10 new commissions and 14 projects exploring three themes: the evolution of artistic experimentation in Africa, the legacy of Dada and the intersection of architecture and performance. Not-to-be-missed performances include famed South African artist William Kentridge's interpretation of Kurt Schwitters' celebrated Dada sound poem The Ursonate at the Half Church in Harlem, and Ethiopian-born American artist Julie Mehretu's collaboration with American jazz musician Jason Moran, which confronts the current political landscape with gestural articulations and New Orleans-style funeral procession sounds.
"Louise Bourgeois: An Unfolding Portrait," a survey of the artist's prints and illustrated books, is already one of the most acclaimed shows of the new season. Presenting some 300 pieces, the exhibition highlights the relationship between her graphic work and better-known sculptures, while revealing her creative process. In conjunction with the show, curator and Bourgeois scholar Deborah Wye moderates a conversation between psychoanalyst Juliet Mitchell, noted author of Psychoanalysis and Feminism, and prize-winning novelist Siri Hustvedt, who recently released A Woman Looking at Men Looking at Women: Essays on Art, Sex, and the Mind. Bourgeois, who was profoundly influenced by traumatic psychological occurrences from her childhood, found making art to be therapeutic. Mitchell, Hustvedt and Wye's conversation should shed light on the bond between the artist's emotional struggles and her stirring work. A reception follows the program.
Fair: "The Salon Art + Design"
Park Ave Armory, 643 Park Avenue, New York
November 10 to 13
Offering the three things every sophisticated urban dweller needs—smartly designed furniture, decorative arts and a collection of fine art—The Salon Art + Design returns to the Park Avenue Armory for its sixth edition. Showcasing some 50 galleries representing 11 countries, the fair features a special jewel-box exhibition presented by Maison Giampiero Bodino in the Armory's Tiffany-designed Library Room and a large-scale immersive environment, titled Parley for the Oceans, which addresses threats to our ecosystem, which was created in collaboration with artist Doug Aitken. Other highlights include Michael Eden's Wedgewouldn't Vases at Adrian Sassoon Gallery, a elegant pair of stools designed by Giò Ponti in the 1950s at Galleria Rossella Colombari, dream-inspired paintings from the 1950s by Roberto Matta at Thomas Monahan Fine Art and a somewhat surreal Pipilotti Rist photo of a nude woman listening to the sole of her foot at Vivian Horan Fine Art.
A controversial Los Angeles-based artist, Daniel Joseph Martinez's most recent solo show at Roberts & Tilton featured a sculptural re-interpretation of Jacques-Louis David's famous 18th century painting The Death of Marat, with Martinez in the role of both victim and murderer. A perennial provocateur, the artist created a series of museum admission buttons for the 1993 Whitney Biennial that, when put together, read, "I Can't Imagine Ever Wanting to Be White" and in the 2008 Whitney Biennial he presented an installation with 125 panels painted with the names of organizations using violence to promote political change. The latter piece, which is part of the museum's collection, is currently on view in the exhibition "An Incomplete History of Protest." So what better time for Martinez to come to Dia:Chelsea to discuss one of its most publicly minded artists, Joseph Beuys, who invented the notion of "social sculpture," which turned social, cultural and political concerns into art.
More Fall Arts:
Top 10 Fall Art Exhibitions
Emerging Art World Power Players
Best New Art Spaces to Visit This Fall
Top 10 Fall Movie Releases
Top 10 TV Shows to Add to Your Queue This Fall
The Art World's Most Involved Socialites