Autumn weddings are on the rise. In fact, October and September are tied for first place as the most popular months to get married. It makes sense: Summer's wilting heat and humidity have vanished; country lanes are a blaze of crimson and gold; and couples entranced by farm-to-table menus and gourd place cards can revel in an entire pumpkin-spice bridal universe.   
New England, the nation's fall foliage capital, beckons with magnificent wedding locations. So we matched three ultra-romantic resorts with gowns as lyrical as any autumn landscape. Now, all you have to do is gather your friends and family for a long weekend of hay rides, spiked cider, and dancing under a harvest moon.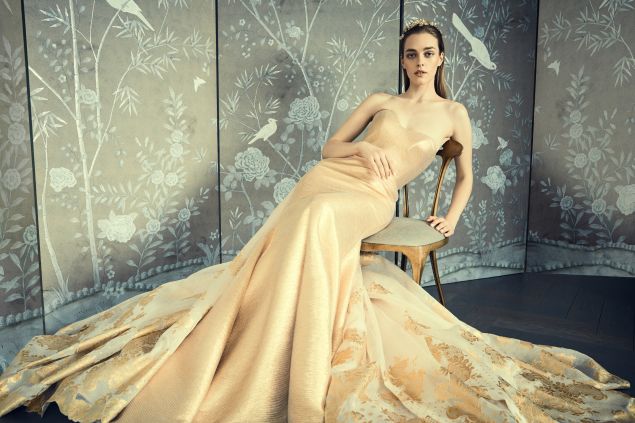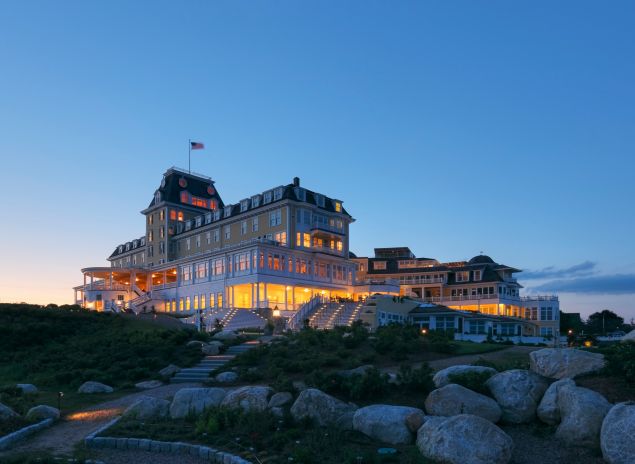 Back in the day when New York families summered in grand Atlantic hotels, Ocean House was the grandest of them all. Built in 1868 in the tiny and tony enclave of Watch Hill, Rhode Island, the Victorian resort was on the brink of ruin when far-sighted owners made a huge investment. Several years ago it was  taken apart and meticulously reassembled; each stone in the lobby's mammoth fireplace was numbered, cleaned, and placed back in its original spot.
Today, the Relais and Châteaux property  hosts extraordinary seaside weddings throughout the year, but autumn sees it at its most charming, with hundreds of pumpkins lining the front entrance and the last sailboats of the season traversing the coast. Dress the part of a gilded age heiress in this strapless metallic gold-thread linen gown (about $16,290), featuring a sculpted neckline and mermaid silhouette. Once the music starts, the leaf-printed silk organza overskirt comes off for a night of dancing.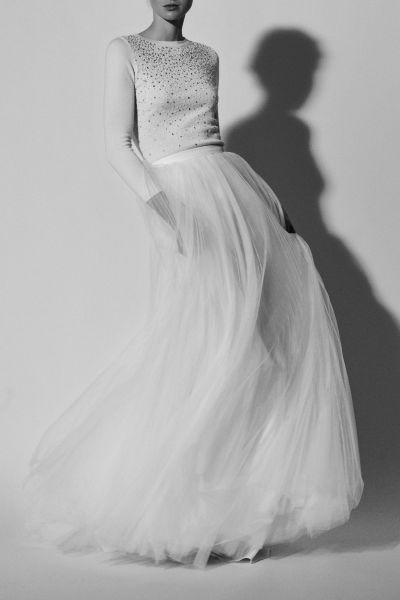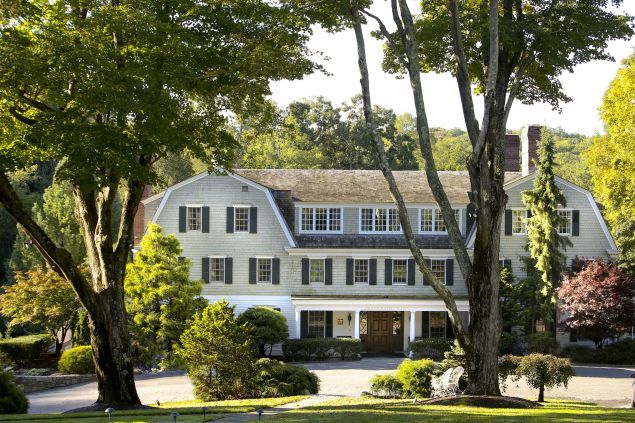 New England purists appreciate the low-key luster of Washington, Connecticut, a town where celebs and Wall Street moguls rub elbows while navigating  the classic main street and village square. (Gilmore Girls fans will recognize Washington as the model for the town of Stars Hollow.)  The center of social life, the Grace Mayflower Inn, is a Dutch colonial estate whose wicker rocking chairs oversee 58  acres of  manicured hedges and autumn-lit woodlands. Its Shakespeare garden, inspired by the bard's verses, is  the Mayflower's  most poetic  spot for a fall wedding. Brides will strike an appropriately  blue blooded figure—and shrug off the evening chill—in this embroidered wool silk sweater (about $1,990) and pleated tulle skirt (about $2,990) by Carolina Herrera.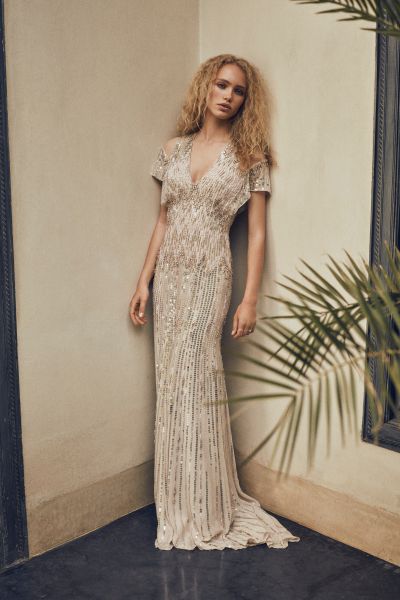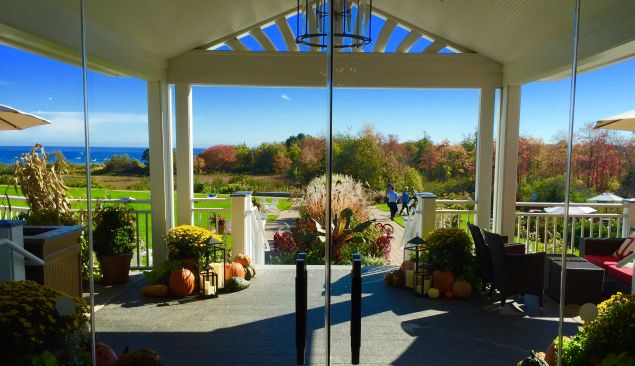 Even after summer's lobster-loving tourists have headed back south, Portland, Maine, is a beacon to foodie fans of all things artisanal: donuts, beer, olive oil, bread and  chocolate. The seaport's  harbor and surrounding blocks hum with techies headed down cobblestone streets to reclaimed brick warehouses—and working fishermen bringing in the daily catch. Just south in Cape Elizabeth, the Inn by the Sea commands an oceanfront perch, ideal for weddings. Couples generally marry on the front lawn, surrounded by native plantings and butterflies, and retire to the terrace for  blueberry martinis and lobster tacos. Give a nod to the area's hipster heart in this Jenny Packham gown (about $5,460), a funky-meets-refined dress with sinuous lines and barley embellishments.
 
Rachel Leonard was the Fashion Director of Brides Magazine for 18 years—the first employee at Condé Nast to make the jump from advertising to editorial. Rachel is currently the Editorial Director for The Bridal Council, and can be followed on Instagram @_rachelleonard
A marketing executive currently living in Arizona, Sally Kilbridge spent more than 20 years as an editor at Brides Magazine. She indulges her love of travel and romance on her website, destinationw.com, a definitive guide to destination weddings.
More from Rachel Leonard and Sally Kilbridge:
Fall Wedding Gowns for Every College Major
Your Perfect Four-Day Wedding Wardrobe
Summer Wedding Roundup: Six Destinations With Gowns to Match