This month, the economy continues with steadfast pace we have seen over the last few years. While national debates on economic policy are a constant roller coaster, once you cut through the surface-level noise, the truth is that the fundamentals of the economy have not truly changed at all recently. It is important to note that this report does not factor in the effects of Hurricane Harvey, which hit Houston after BLS' reference week (the week BLS conducts its survey). We will see this impact in the jobs report next month. While the Administration continues to tout the stock market and job growth, the state of those areas at this time is the result of existing trends that started during the last presidency and have continued into the new. Major challenges remain ahead for the American economy, with flat wages, workers on the sidelines, and congressional challenges with the debt ceiling, budget battle, and possible trade re-negotiations. One thing we know is that this economy has remained steady and will likely continue to do so.

1) The economy keeps trucking along
Economic growth has been consistent and steady. Today's numbers reflect that, as with the addition of 156,000 jobs and the unemployment rate having ticked up to 4.4%, the state of the economy remains around where it was a month ago. As the graph below shows, job growth has been fairly stable since 2012, with an uptick in hiring in 2014 & 2015. So far, in 2017, we are averaging an increase of 176,000 jobs per month—on pace with last year's job growth. While the current Administration touts its economic record, no major policy changes have occurred to trigger a fundamental change in the economy. The ACA remains law, tax reform is still in conversation, and the U.S. remains a member of NAFTA. It is true, however, that if the Administration does not act on the debt ceiling, or allows a government shutdown to take place, we could see some changing headwinds heading into the fall. Another factor will be the economic impact of Hurricane Harvey in a state that is at the heart of the oil, gas and manufacturing industries, among others.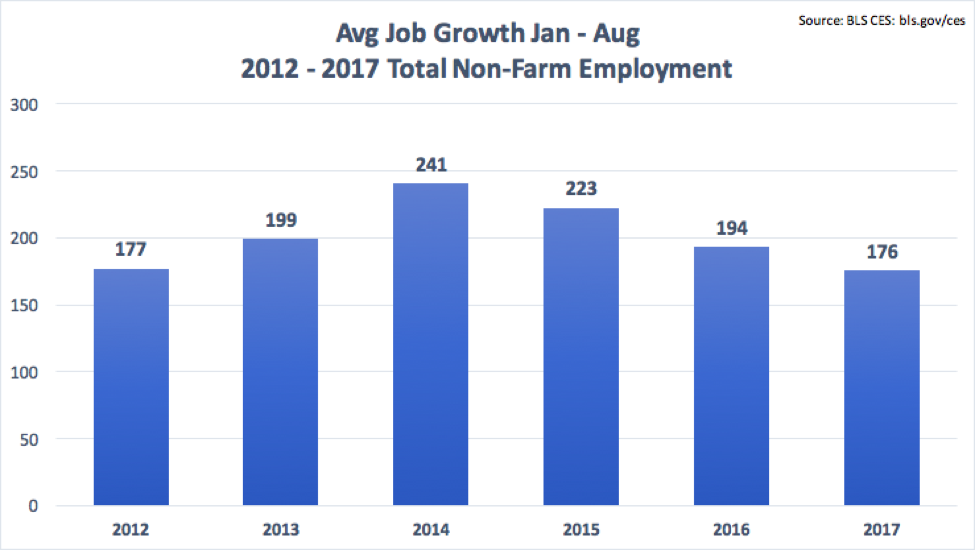 2) Are you getting more in your wallet?
Another way to analyze if the economy is doing well is to measure what workers are earning. Wages have been a major concern since the recession—while we finally saw real wage growth that followed the uptick in job growth in 2014 & 2015, wages now have leveled off. The good news remains that earnings are still outpacing inflation, but for many workers, this just won't cut it. It's our impression that unless the elevated levels of labor slack (see next section) go down, we will have to hope for a stronger pattern of job growth to help drive wage growth. Unfortunately, today's numbers show that while wages have been flat, there are some increasing inflationary pressures that will cut into worker's paychecks.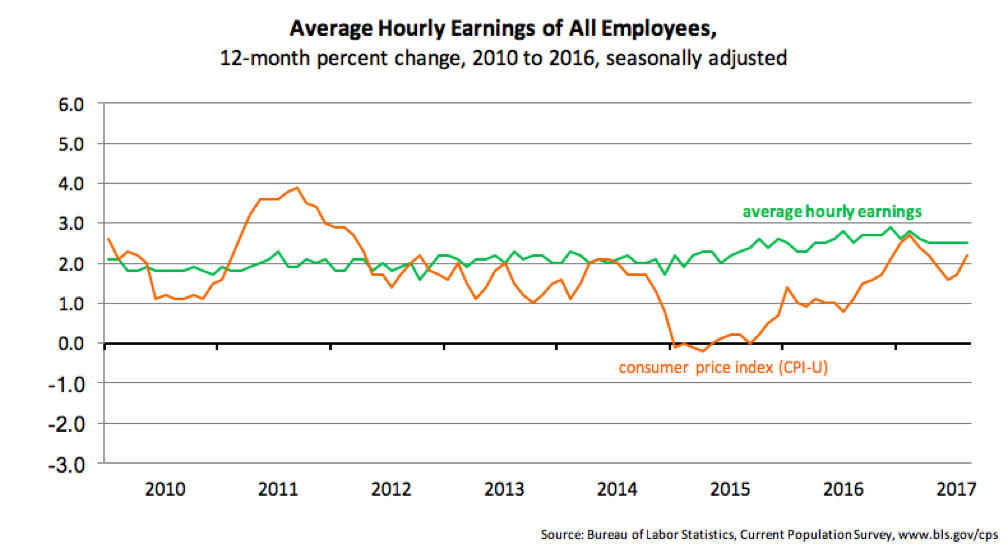 3) Plenty of room to grow
While job growth has remained steady and the unemployment rate down and hovering around 4.4%. There are a lot of workers who could be working that are not, those who want full time employment but are working part time, and many who are still long term unemployed. One way we measure "slack" in the labor market is looking at the U6 to U3 ratio. The fact that wages are steady and there remains a lot of slack, means that this notion saying they can't find workers or there's a gap in the skills of workers is a stretch, at best.
4) But the Stock Market!
While the fundamentals of the Economy haven't changed, there is quite a bit of attention being paid to the stock market. Still, it is important to note that the stock market is not synonymous with the Economy: after all, "20% of Americans own 92% of stocks." While the few may boast about stock gains, a minority of workers enjoy those benefits. The strength of the stock market is always an encouraging sign, but it remains to be seen whether that will continue—and there is always room for further improvement. In fact, stock futures were even more robust in the early days of the previous presidential administration. The bottom line is that the trend of jobs growth and stock market growth goes back many years.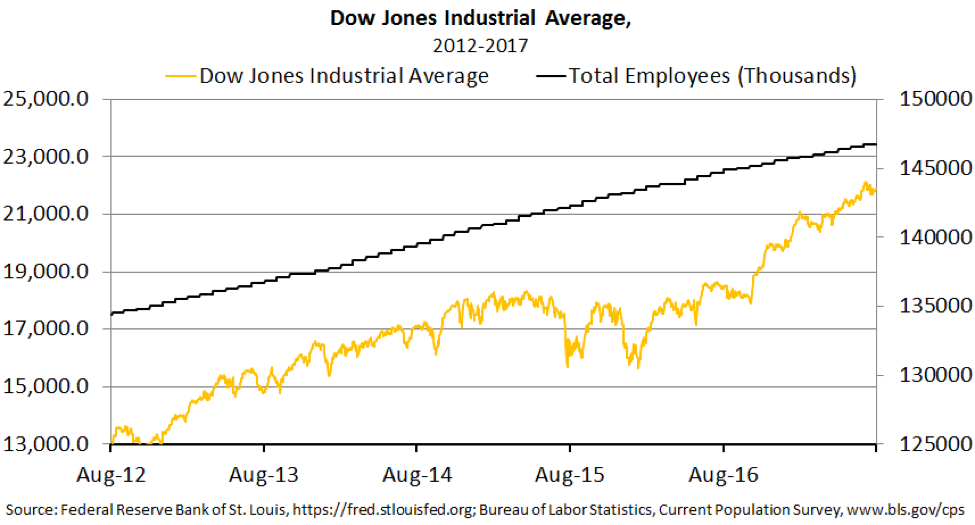 5) Back to School
The Labor Day weekend ushers in the end of summer—and, for many seasonally-employed workers, the end of summer employment. A large percentage of summertime workers are students or recent graduates aged 16-24 working in temporary assignments. Even though we see more students taking summer classes, there are still huge benefits for pushing for summer employment for students. That's why President Obama and Michelle Obama pledged $2 million for youth employment and apprenticeships programs—the effects of this program are still evident and yielding payoffs in summer productivity. The fact that summer employment continues to rise is a good sign. What may be interesting to look at moving forward is whether on-demand jobs like Lyft, Postmates, or Etsy are taking the place of summer employment as traditional retail (mall jobs) are on the decline.
Harin J. Contractor (@harincontractor) & Sonalee Rao (@sonaleerao) are labor market economists & former Department of Labor staffers for both Secretaries Tom Perez and Hilda Solis.