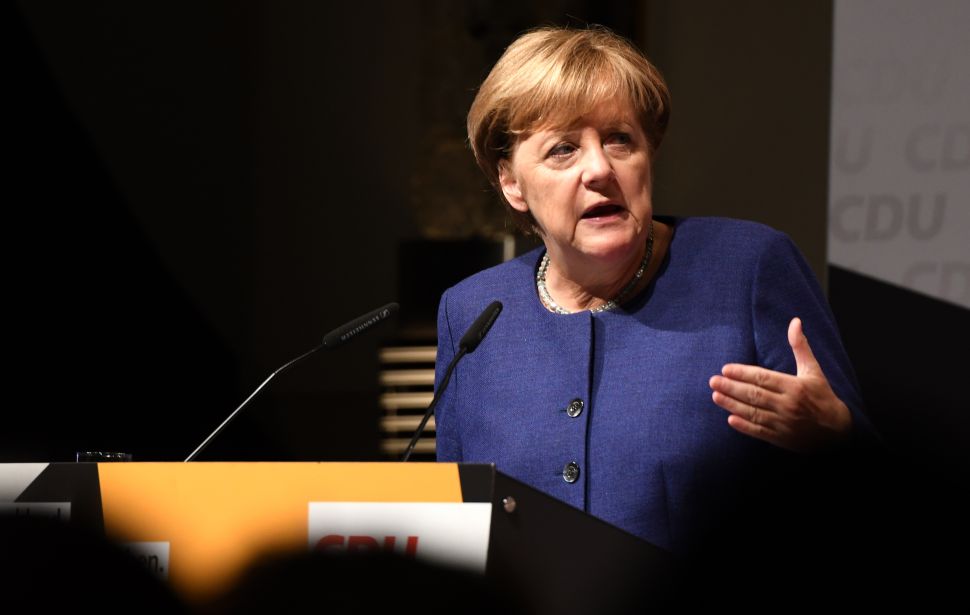 Sunday's election in Germany is expected to deliver a decisive victory for Chancellor Angela Merkel, a result that might have stunned pundits a year ago. But Merkel, angling for an amazing fourth term in office as the chief executive of Germany, is Europe's "designated survivor," who has managed to stay the course and increase her power—a true feat as North American and Western European leaders struggle at the polls and ballot boxes.
How Merkel did it is an incredible story of a political comeback. She had to contend with political and economic issues that would have felled most candidates, and she faces no shortage of rivals.
The Story of the 2017 Election
In 2016, Merkel didn't look like a sure bet for reelection. Given that she wrapped her legacy in the European Union, setbacks to the EU made her look bad. On one hand, there were poor members like Greece going bankrupt, with Ireland, Portugal and Spain possibly following suit. Bailing them out wouldn't be cheap, and the costs of these countries leaving the EU would have been politically more expensive. Such problems seemed to paralyze her administration.
Then there were refugees. Civil wars in Syria, Libya, and elsewhere in the Middle East and North Africa triggered a wave of migration from people taking their families, fleeing the violence and seeking refuge in Europe. While many East European countries flashed the "No Vacancy" sign, Germany was more welcoming to these refugees. Some of that support comes from a longstanding refugee policy in the country, but Merkel clearly wanted to help the people, even if there were risks for doing so. It did not take long for some to claim the ISIS attacks in Europe were committed by refugees, even though there was little to no evidence of a direct link.
Then there's the fatigue factor. When American political scientists write of the third term fatigue factor, they are noting how voters can get weary of a leader and ruling party after several terms. Were Germans tiring of Merkel's tactics?
Additionally, nearly everyone else in the First World struggled to contain populists and rising disillusionment among voters for traditional politics in the past year. In France, President Hollande didn't even run for re-election, a French extremist party made it to the runoff, and the winning party didn't even exist a year ago. In the U.K., Prime Minister Theresa May called a snap election to boost her party's standing and now must govern a coalition now that her party failed. And in America, both the Republicans and Democrats were felled by a candidate who was more of an independent. It's not a pro-incumbent mood out there, in other words.
Gunning for the German Chancellor
Merkel may have won multiple elections, but there were no shortage of challengers lining up to knock her out of Germany's top spot and displace her political party, the right-of-center Christian Democratic Union (CDU) and the Christian Socialist Union (CSU) in Bavaria.
First, there was her old rival, the Social Democrats (SPD), the left-of-center party led by Martin Schulz. Then there was a new threat, the AfD, or "Alternative for Germany," a hardline right-wing party, fighting Merkel for the country's most conservative voters. Other parties like the libertarian Free Democratic Party (FDP), the environmentally-conscious Green Party, and the old "Left" Party are also on the ballot.
Initially, the thinking was that the AfD would be the new dominant force in Germany, a populist response to the refugee crisis and anti-European Union sentiment. But in-fighting among AfD members undermined party cohesion. Moreover, attempts to blame the refugees and Europeanization were overplayed by forces on the right while Merkel showed herself to be a more competent manager of German crises.
The next thought was that the SPD would finally get into power, a spot they lost to Merkel back in 2005. And Martin Schulz looked like the man to do it, as his party nearly tied the CDU in the polls in the spring 2017. But his association with the European Parliament, and his party's support for the refugees, offered no policy difference from Merkel's positions. Schulz tried to campaign on "fairness and justice" in income in the German economy, making little headway on such a vague topic. As a result, his party is now behind by double-digits.
Even with so many rivals, the CDU is expected to finish first by a comfortable margin. Should the party not win an outright majority, a coalition with the Free Democrats should give Merkel enough votes to remain in power, a more likely scenario than all of the other parties uniting in some fragile "grand coalition."
Germany's Electoral System = Anti-Extremism
Merkel has also benefitted from arrangements designed after World War II to minimize the power of extremist parties, and enhance the power of bigger forces like the Christian Democrats and Social Democrats. All parties must get more than five percent to get seats in the legislature, the Bundestag, for example.
Moreover, extremists can't crash the government like they could in the Weimar Republic, Germany's pre-WWII failed experiment in democracy. Unlike most parliamentary systems, a faction can't depose the chancellor and the government without a "constructive vote of no confidence," meaning that a party needs a new majority coalition ready to go. Small parties can't disrupt parliamentary politics the way they used to before World War II.
How Merkel Managed It All
This isn't just a tale of electoral tactics, party systems, and smart constitutions with rules. It's a story of a great leader, Time Magazine's person of the year in 2015. How she keeps a steady hand on the wheel in turbulent times is a subject of great interest today. Should Merkel triumph by a big margin, Europeans and even North Americans might look to her as the role model for the next decade, and not the populists.
John A. Tures is a professor of political science at LaGrange College in LaGrange, Ga. He can be reached at jtures@lagrange.edu. His Twitter account is JohnTures2.