Ever wanted to get inside a volcano without feeling the heat? Well, thanks to GE, now you can.
The company partnered with creative agency Gin Lane and the Nicaraguan government on an immersive digital model of the Masaya volcano in Nicaragua. What makes Masaya (dubbed "The Mouth of Hell" by locals) particularly ripe for exploration is that it is one of only seven volcanoes in the world with an active lava lake, or large volume of molten lava contained in a volcanic vent or crater.
A team of explorers, scientists and technologists rode a zipline into Masaya and placed 80 sensors at different depths in the volcano's crater, from the rim (where base camp was located) to the lava lake (where temperatures regularly exceed 1,000 degrees Fahrenheit). The explorers used a drone-created digital scale model of the volcano to plan their 1,200 foot descent.
The sensors, which survived 30 days of extreme heat before eroding, collected data on atmospheric pressure, gas emissions, temperature and humidity. Cameras also captured video of the volcano and lava lake.
The researchers focused in particular on one 11-day period during which one of the volcano's vents opened, causing an increase in gas emissions, temperature and humidity. Each of these measurements stayed at heightened levels until the volcano returned to a stable state, at which point they all decreased.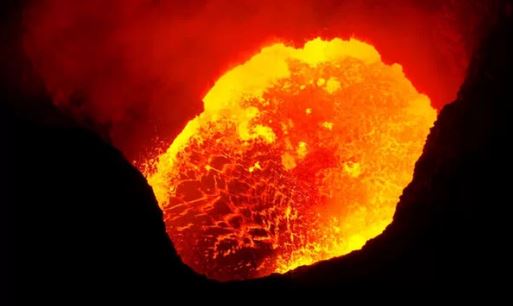 After observing this phenomenon, the research team used GE's predictive analytics tool Predix to confirm that a simultaneous increase in these three factors could potentially indicate future volcanic activity. Because of this, they hope Masaya can be "a proof of concept program" that will "inspire others to apply similar open data systems to more volcanoes in the future."
Such projects would definitely be useful, because Masaya is only one of 1,571 active volcanoes on Earth. Over 800 million people live in the shadow of these craters, and certain ones (especially in California and Antarctica) may be on the verge of erupting.
All of the Digital Volcano data is open-source so researchers around the world can analyze it independently and use it in their work.
"Internet of Things technology could help inform communities about potentially dangerous activity before it's too late," the researchers write.